It's Never Too Hot in the Kitchen for Dessert
It's Never Too Hot in the Kitchen for Dessert
It's summertime, and the kitchen is too hot for big-time baking. Still, there are hungry mouths watering for something sweet — and ice cream just won't cut it for everyone.
Cookbook author and master baker Dorie Greenspan shares with Michele Norris some ideas from her book Baking: From My Home to Yours. The desserts are quick and easy, take advantage of summer's bounty of fruit, travel or store well, and, of course, are drop-dead delicious.
Related NPR Stories
Web Resources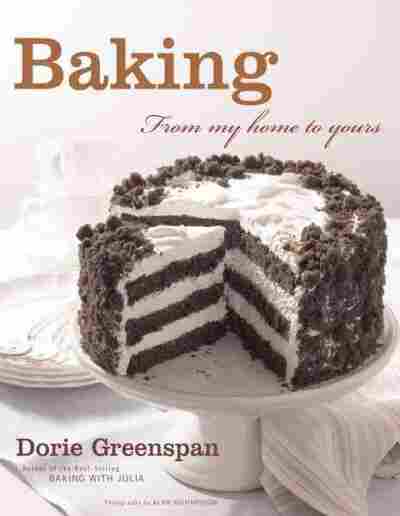 Baking
From My Home to Yours
Hardcover, 514 pages |
purchase
Buy Featured Book
Title

Baking

Subtitle

From My Home to Yours

Author

Dorie Greenspan and Alan Richardson
Your purchase helps support NPR programming. How?
Mixed Berry Cobbler
The name cobbler probably came from the idea that biscuit-topped fruit can be cobbled together with ingredients that are usually at hand. I almost always had everything needed to make the dough but rarely had enough fruit for the bottom layer — until I discovered those bags of good-for-cobbler frozen berries: wild blueberries, red raspberries, even mixed berries. In case you've never used frozen berries, I think you'll be pleased to find that, if frozen individually and not in syrup, they can be used with admirable results. You might also be pleased to know that you don't have to defrost them before cobbling them. (If you've got lots of fresh berries, though, you can certainly use them in this recipe.)
Makes 8 servings
For the topping
2 cups all-purpose flour
1 tablespoon baking powder
3 tablespoons sugar
1/2 teaspoon salt
3/4 stick (6 tablespoons) cold unsalted butter, cut into little bits
3/4 cup cold heavy cream
For the filling
About 5 cups mixed berries (go light on the strawberries, they're a bit too watery for a cobbler) — frozen, not in syrup (no need to defrost them), or fresh
4 to 5 tablespoons sugar (depending on your taste)
1 tablespoon cornstarch
Grated zest of 1/2 lemon or lime
1/4 teaspoon (or more, to taste) freshly ground black pepper (optional)
Vanilla ice cream, for serving
GETTING READY: Center a rack in the oven and preheat the oven to 375 degrees F.
Butter a 9-inch deep-dish pie plate and put it on a baking sheet lined with parchment or a silicone mat.
TO MAKE THE TOPPING: In a large bowl, whisk together the flour, baking powder, sugar and salt. Drop in the butter and, using your fingers, toss to coat the pieces of butter with flour. Quickly, working with your fingertips (my favorite method) or a pastry blender, cut and rub the butter into the dry ingredients until the mixture is pebbly. You'll have pea-size pieces, pieces the size of oatmeal flakes and pieces in between — and that's just right.
Pour the cream over the dry ingredients and toss and gently turn the ingredients with a fork until you've got a very soft dough. When the dough comes together, you'll probably still have dry ingredients at the bottom of the bowl — just use a spatula or your hands to mix and knead the dough until it's evenly blended.
Don't overdo it; it's better to have a few dry spots than an overworked dough. Even with all the flour mixed in, the dough will be soft and sticky.
Turn the dough out onto a sheet of wax paper or plastic wrap, cover with another sheet of paper or plastic and gently press or roll the dough into a circle that is a scant 9 inches in diameter. Don't worry about getting the size exact or about seeing that the edges are even — this is a very homey dessert, and a rough-around the-edges biscuit adds to its charm. Set the dough aside while you prepare the fruit. (If it's more convenient, you can refrigerate the dough on a baking sheet for up to 6 hours before baking it — just make sure it's well covered.)
TO MAKE THE FILLING: Toss all the ingredients into a large bowl and stir to mix.
Turn the fruit into the buttered pie plate and top with the biscuit. Using a small sharp knife, cut about 6 slits in the dough, just as you would for a piecrust. Then, using either the knife or a large piping tip, cut a circle out of the center of the dough.
Bake the cobbler for 60 to 75 minutes, or until the top is puffed and golden brown and the fruit is bubbling steadily up through the center steam hole and all around the scallopy edges of the biscuit. Transfer the pie plate to a rack and let the cobbler cool for at least 30 minutes before serving.
Serve the cobbler warm or at room temperature, with ice cream.
SERVING: As the cobbler cools, the berry juices will thicken a bit; cool it longer, and the biscuit will absorb the lion's share of the juices. Happily, the cobbler is great at any temperature and at any stage of juiciness. In order to get biscuit, fruit and juice in each serving, use the side of a big kitchen spoon to crack the cobbler's topping, then spoon out some of the biscuit along with some fruit and liquid into each bowl. Top each serving with a big scoop of vanilla ice cream and serve the cobbler with spoons.
STORING: Once the cobbler cools, you can keep it lightly covered for a few hours at room temperature, but you really should enjoy it the day it is made. Don't refrigerate it — the biscuit will lose its appealing texture.
PLAYING AROUND: Cobblers, like crisps and crumbles, are very free-form, so, if you'd like, use this topping over other fruit fillings — just keep in mind that this kind of biscuit does best with fruits that produce lots of juice. If you want to use it instead over an apple crisp filling, for instance, or another filling that is quite thick, you might want to think about pouring a little maple syrup or fruit syrup over the cobbler before topping it with ice cream.
Raspberry Blanc-Manger
I was tempted to change this recipe's name for two reasons: (1) many people might not know what a blanc-manger is; and (2) those who do might not want to make it. Over the years — and the blanc-manger has been around for many years, maybe even a millennium or two — the sweet has managed to make either no name or a bad name for itself. But I do love it — maybe because I never had it in America, where it has devolved into a kind of cornstarch pudding, but learned to make it in Paris, where it is light, pretty and beloved, particularly, I'm told, by newlyweds with no kitchen experience, because it is positively foolproof.
The ancient blanc-manger (pronounced "blah-mahn-jhay") was a nut cake, and today's sweet still has the nuts, usually almonds; but the crushed bones that culinary historians believe may have once provided the thickening have been replaced by gelatin. Used with a light hand, it makes the blanc-manger seem like panna cotta's kissing cousin. In my rendition, the dessert is speckled with raspberries, but you can use an assortment of berries or tiny pieces of peeled soft, ripe peaches.
I make the blanc-manger in a plain round cake pan and do nothing but unmold it before serving. Because of its ivory color and its polka dots of fruit, you don't have to do a thing to it to make it look like a fancy sweet. However, if you want an even more polished finish, look at Playing Around for a couple of additions that will make your blanc-manger more like the cakes displayed in Parisian pâtisseries.
Makes 6 servings
1 1/2 cups cold heavy cream
3/4 cup whole milk
3/4 cup ground almonds
1/2 cup sugar
1 1/4-ounce packet unflavored gelatin
3 tablespoons cold water
2 teaspoons pure vanilla extract
1 cup raspberries (or assorted berries), or soft fruit cut into small pieces
Raspberry Coulis, for serving (optional)
Have an 8-x-2-inch round cake pan at hand. Fill a large bowl with ice cubes and cold water, and set out a smaller bowl that fits into this ice-water bath.
Working with a stand mixer fitted with the whisk attachment or with a hand mixer in a large bowl, beat the cream until it holds soft peaks. Refrigerate while you prepare the rest of the dessert.
Put the milk, almonds and sugar in a small saucepan and bring to a boil over medium heat, stirring occasionally to make certain the sugar dissolves.
Meanwhile, put the gelatin and cold water in a microwave-safe bowl or a small saucepan. When the gelatin is soft and spongy, about 2 minutes, heat it in the microwave oven for 15 seconds, or cook it over low heat, to dissolve it. Stir the gelatin into the almond milk and remove the saucepan from the heat.
Pour the hot milk into the smaller reserved bowl and set the bowl in the icewater bath. Stir in the vanilla and continue to stir until the mixture is cool but still liquid — you don't want the milk to jell in the bowl.
When you've cooled down the milk mixture, use a large rubber spatula to very gently fold in the cold whipped cream, followed by the berries. Spoon the blanc-manger into the pan and refrigerate until set, about 3 hours. (If it's more convenient, you can keep the blanc-manger in the refrigerator overnight; just make sure it is not near anything with a strong odor.)
To unmold the blanc-manger, dip the cake pan up to its rim in hot water for 5 seconds, wipe the pan dry and invert the blanc-manger onto a serving plate. Serve with the raspberry coulis, if desired.
SERVING: The blanc-manger, which must be served cold, can be presented plain with no accompaniments, but it is particularly attractive and extra delicious when it is served with the raspberry coulis. It can also be served with additional fresh berries or a spoonful of fruit salad. Pineapple goes well with the sweet, shimmery cake, but because fresh pineapple reacts with gelatin, put it on the side of the serving plate, if you want to use it, not in the dessert.
STORING: The blanc-manger can be kept in the refrigerator overnight. Keep it well covered in its pan and unmold it at the last minute before serving.
PLAYING AROUND: There are two little things you can do to make your blancmanger a dead ringer for a pâtisserie offering. One is to glaze the top of the cake with a thin gloss of jelly. If you want a clear gloss, use apple or quince jelly; for a pink glow, use red currant jelly. Whatever jelly you choose, bring a couple of tablespoons of the jelly to a boil with a splash of water — you can do this in a microwave oven or in a small pan over direct heat.
Using a pastry brush, spread a very thin layer of the jelly over the very cold cake (the cake must be fully set and cold before you put hot jelly on it).
Then, if the cake looks as if it may have melted a tad, just put it back in the fridge to chill a while before serving.
The second thing you can do is put the blanc-manger on a base: The traditional base is a thin disk of sponge cake — ... any white or yellow cake, homemade or store-bought, would be good; just remember that you want a round that's between 1/4 and 1/2 inch thick, not a whole layer. ... If you decide to use a base, you should build the blanc-manger in a springform pan. Put the cake or baked dough layer on the bottom, then pour in the blanc-manger mixture and chill.
Strawberry-Rhubarb Double Crisp
Who doesn't love an oatmeal crisp? Especially when, like this one, it's got a few spoonfuls of extra sharp, spicy crystallized (or candied) ginger stirred into it. Part of the crisp mixture is pressed into the bottom of the pan to serve as a kind of crust for the chunks of super-tart rhubarb and a quickly made strawberry filling. Then the rest is strewn across the top in traditional crisp-crumble fashion. It's a cinch to put together, a pleasure to behold — nothing beats the homey look of berry-red jam bubbling around the borders of a crisp — and, not surprisingly, really great tasting.
For this recipe, you want to use the sugared ginger that is most often found in the dried-fruits-and-nuts section or sometimes the spice section of specialty stores and good supermarkets. Unfortunately, it has a tendency to become very dry and unpleasantly hard. If it has, put it in a strainer over a pan of simmering water and steam it for a few minutes, just until it softens.
Makes 9 servings
For the crisp mix
1 cup all-purpose flour
1 cup (packed) light brown sugar
3/4 cup old-fashioned oats
1/2 teaspoon ground ginger
Pinch of salt
Tiny pinch of ground cinnamon
1/2 cup finely chopped walnuts
1/4 cup very finely chopped crystallized ginger (see above)
1 stick (8 tablespoons) unsalted butter, melted and cooled
For the filling
1 pound (4 to 5 medium stalks) rhubarb, trimmed and peeled
3 tablespoons cornstarch
1/2 cup cold water
3 cups (about 12 ounces) strawberries, hulled and sliced
1 cup sugar
1/2 teaspoon ground ginger
1 teaspoon pure vanilla extract
GETTING READY: Center a rack in the oven and preheat the oven to 350 degrees F.
Put a nonreactive 9-inch square baking pan (I like Pyrex or porcelain) on a baking sheet lined with parchment or a silicone mat.
TO MAKE THE CRISP MIX: Put the flour, brown sugar, oats, ground ginger, salt and cinnamon in a large bowl and sift the ingredients through your fingers to blend them — be on the lookout for lumps in the brown sugar. Mix in the nuts and crystallized ginger, then pour over the melted butter. Using a fork, stir the ingredients until they are thoroughly moistened.
Spoon half the mixture into the pan and pat it down lightly to form a thick crust; set aside the remainder for the topping.
TO MAKE THE FILLING: Slice the rhubarb into 1¿2-inch-wide pieces and scatter them over the pressed-in base. Dissolve the cornstarch in the cold water; set aside.
Put the strawberries, sugar and ginger in a medium saucepan and, with a fork, pastry blender or potato masher, crush the berries. Place the pan over medium heat and, stirring occasionally, bring the mixture to a full boil. Pour the dissolved cornstarch into the pan and, stirring with a whisk, bring everything back to a boil. Keep cooking and stirring until the strawberry filling is thick and no longer cloudy, about 3 minutes. Pull the pan from the heat, stir in the vanilla and pour the filling over the rhubarb. Scatter the remaining crisp mix over the filling, breaking it up with your fingers so you can scatter it evenly.
Slide the crisp into the oven and bake for 60 minutes, or until the topping is golden and the strawberry jam is bubbling up all around the edges. Transfer the pan to a rack and cool until only just warm or at room temperature.
SERVING: You can try to be neat about cutting the crisp into squares, but it's pretty hopeless; better to cut pieces in the baking pan and lift them out with a spatula or big spoon into shallow bowls. Have the crisp with ice cream.
STORING: This is best the day it is made, but if you keep it covered at room temperature overnight, you'll make a bunch of breakfasters happy the next day.