Apple's iPhone: It All Depends on the Keypad
Apple's iPhone: It All Depends on the Keypad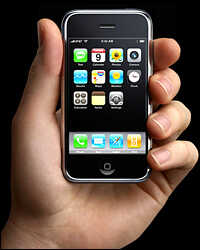 The iPhone comes out Friday, and it's being hyped for all the features it has – a music player, e-mail, Internet access and a beautiful color screen. But it is also being hyped for what it is missing: a keypad. In fact, some experts think the days of the telephone keypad are numbered.
The keyboard will pop up on the iPhone only if a user presses an icon on the three-and-a-half-inch glass screen.
When Steve Jobs, Apple's chief executive officer, introduced the iPhone at Macworld in January he made the phone look simple, but no one really knows if it will behave the way it did in the demonstration. Not many people outside of Apple have gotten their hands on one.
And, if they did, their hands might not be the right size, said Roger Kay, president of the research firm Endpoint Technologies Associates.
"You have to squeeze your fat fingers onto this fairly small, glass surface and hope to hit the right key ... that could be quite challenging," Kay said.
Make sure those fingers aren't greasy, said Michael McGuire, an analyst with Gartner, Inc.
"A supply of napkins is going to be required, especially, again, because people carry these things around all the time," McGuire said. "They're at lunch, they're at dinner, they're with them all the time."
Most people are used to pushing buttons when making a phone call. But Dr. Jakob Nielsen thinks we have been suffering needlessly.
He calls the keypad a "horrible user interface."
Nielsen knows how to make consumer technologies more user-friendly. He used to work at Bell Labs, where he said many designers and engineers tried to convince the phone company to experiment with touch screens.
"I can assure you that there are ... mobile phone manufacturers who have similar, probably actually better ideas, in designs that they've tried out, but they've never been able to get the phone companies to do them," he said.
Nielsen said it took Jobs, who is known for his iron will and vision, to finally make a change.
With the iPhone, it will be a race for others to keep up. Other cell phone makers are already experimenting with touch screens, Nielson said.
"We've had that push-button style for too long," he said. "It's just really time for it to go."
McGuire said he is willing to give Apple the benefit of the doubt because the company has such a successful history of making user-friendly products — for example, the iPod. But have you every heard of the Newton?
The Newton was Apple's failed foray into the handheld personal digital assistant market back in the 1990s.
If the iPhone goes smoothly, the day for touch screen technology may be here. Microsoft is promising a product on the market later this year called "The Surface," a coffee table-sized, touch screen computer that people can use to make food orders and pay bills at restaurants.
Related NPR Stories