True Stories to Dive Into This Summer
In the summer of 1950, 11-year-old Susan Richards Shreve traveled from her home in Washington, D.C., to a rural haven in Georgia, where water play, group sing-a-longs, and coed hijinks reigned.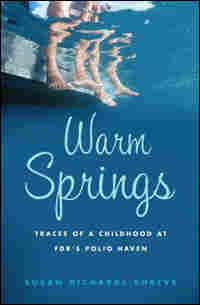 Warm Springs by Susan Richards Shreve, hardcover, 224 pages
It sounds like summer camp, but Warm Springs was in fact a retreat with a mission: to heal the spirits and bodies of Americans who'd been afflicted with polio before the Salk vaccine was developed in 1954.
Shreve, who's the author of 13 novels, has written an engrossing, somewhat offbeat memoir called Warm Springs, about the period, between ages 11 and 13, that she spent at the famous sanitarium, where she seems to have been the reigning mistress of misrule. In an anecdote that encapsulates the dopiness and high drama of adolescence as well as the developing Shreve's outrageous personality, she recalls steering herself in her wheelchair into the boys' ward, where the charismatic Joey Buckley was lying in his bed, recovering from surgery. Shreve writes: "I cannot for the life of me understand now how I had the nerve or stupidity or exhibitionism to wear a sanitary [napkin] belt around my neck, in full view of nurses and doctors and eighteen adolescents .... It occurs to me now, considerably more embarrassed for myself in reflection than I was then, that the gesture was an announcement of desire."
Shreve's voice throughout this memoir is wry and sometimes wistful when reflecting on the extraordinary world of the sanitarium. (Read an excerpt.) She smoothly navigates between pity-repelling personal recollections and an encapsulated cultural history of polio in the U.S., particularly during late 1940s and early '50s, when "the power of positive thinking" prevailed as a national credo. Throughout Warm Springs, she also pays homage to its founder, FDR, the country's most famous "polio" as those who had had the disease were then called. Roosevelt's hard- won belief in the benefits of what we would now call "holistic treatment" governed Warm Springs, and his jaunty spirit was everywhere — especially strong, Shreve recalls, in the dining hall, where a chair at the head table was always left vacant.
Fun with Rover and Other Friends (Mostly Four-Legged)
Dog Days by Jon Katz, hardcover, 288 pages
FDR had a beloved pet named Fala, a Scottie dog, and were he alive today the famous Fala, no doubt, would have penned (or pawed) his own memoir, such is the current insatiable demand for dog books, kicked off by John Grogan's mega-hit, Marley and Me. As someone who now finds herself the bewildered human handmaiden to a 7-pound Maltipoo puppy, I appreciate those bowser books that aren't too cute, but instead capture the leaky, stinky truth of rollicking life with Rover. One such canine classic, originally published in 1923 and recently reprinted, is Thomas Mann's waggish, little-known memoir about his dog, Bashan and I. I also toss a lifetime award of three liver snaps to Jon Katz, whose many books about dogs have always been enlightening and sane and have underscored the profound truth that dogs, no matter how much we love them, are not furry children. Katz's latest book is called Dog Days, and it's a chronicle — sometimes comic, sometimes mournful — about his life on Bedlam Farm in upstate New York, where he relocated from the suburbs about three years ago. In addition to two border collies and two labs, Katz also tends to donkeys, sheep, goats, chickens and an 1,800-pound steer named Elvis who tries to sit on people's laps. Though Bedlam is a real working farm, Katz admits that these animals, which he writes about in thoughtful detail, are "his main crop." (Read about the surprise birth of a donkey.) If you harbor fantasies of living far from the madding crowd, Katz's accounts of delivering lambs on rainy nights over the protests of his disintegrating spine will talk you back down to reality.
The Calm Before the Storm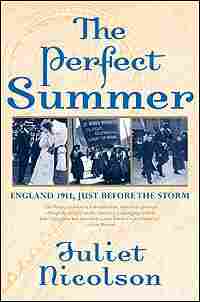 The Perfect Summer by Juliet Nicolson, hardcover, 304 pages
Like Susan Richards Shreve, I live in Washington D.C., a muggy, mosquito-ridden bog in the summertime. Teaching summer school some years ago, I'd walk home after classes and be so wiped out by the thick afternoon heat that I'd flop down, turn on the TV, and lose myself in crisp reruns of that highbrow British soap-opera Upstairs, Downstairs. Upstairs, Downstairs has long vanished from the rerun lineup, but I've found its literary equivalent in Juliet Nicolson's book, The Perfect Summer. Published last year in England to celebratory reviews, The Perfect Summer is a light cultural history of the summer of 1911, just before the "storm" of World War I. Nicolson's delightfully overstuffed account ranges from the ballrooms of the aristocracy, where eligible society maidens were advised to be "gorgeous, decorative, and dumb" and thereafter "married, matronly, and motherly," to the corridors of Parliament, where the inexhaustible Winston Churchill was making his mark, to the scandalous debut of the Ballets Russes, to the docks of London, where Ben Tillett led workers on a strike that paralyzed the shipping industry. As the granddaughter of Vita Sackville-West and Harold Nicolson, the author is endowed with the right set of genetic calling cards to research a book like this. She's also savvy enough to acknowledge that the sunlit "Perfect Summer" of 1911 wasn't perfect for every class of British citizen; but, like the other books I've mentioned here, Nicolson's lively history makes for perfect summer reading.