Remembering the Horror and Heroes of a Circus Fire
Remembering the Horror and Heroes of a Circus Fire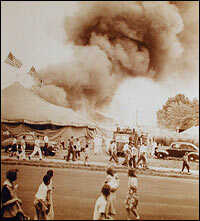 Ralph L. Emerson/Courtesy Connecticut Historical Society
Ralph L. Emerson/Ralph L. Emerson
Questions or Comments?
Sixty-three years ago today, one of the deadliest fires in the nation's history struck the circus in Hartford, Conn. Nearly 9,000 people had crowded into the big top that day.
Shortly after the show began, the tent caught fire. It was waterproofed with a mixture of gasoline and wax, causing the tent to be completely consumed in less than 10 minutes.
The fire claimed 167 lives — more than one-third of them children.
Maureen Krekian, who was 11 at the time, survived the disaster and recounts the day's harrowing events.
July 6, 1944, was a very hot day. Krekian was supposed to go to the circus with the lady next door and her daughter. Krekian knocked on the door, but they had already left.
"I had never been to the circus before, and there was no way that I was going to go home and tell my grandmother that I was alone," she says. "That would never have been permitted."
So she ran off to the circus by herself.
"I remember somebody yelling and seeing a big ball of fire near the top of the tent. And this ball of fire just got bigger and bigger and bigger.
"By that time, everybody was panicking. The exit was blocked with the cages that the animals were brought in an out with. And there was a man taking kids and flinging them up and over that cage to get them out.
"I was sitting up in the bleachers and jumped down — I was three-quarters of the way up. You jump down and it was all straw underneath.
"There was a young man, a kid, and he had a pocketknife. And he slit the tent, took my arm and pulled me out."
Krekian's uncle came running to try to find her but couldn't get anywhere near the scene.
"I came running out from the circus tent all the way home. I can still see my uncle. He was so mad. You know how you get when you have a child and you think they're lost, and you want to kill them and kiss them at the same time."
The circus didn't return to Hartford until the 1970s, Krekian says, but she never had a desire to go.
What would she say to the young man who saved her?
"I'd throw my arms around him and thank him. I wouldn't be 74 years old today. I'd be long gone."
Produced for Morning Edition by Michael Garofalo. The senior producer for StoryCorps is Sarah Kramer. Additional audio provided courtesy of CBS radio station WTIC Newstalk 1080. That audio, featuring newscasters Bernard Mullins and George Bowe, was originally broadcast July 6, 1944.