Travis Shines with Sparkling Brit-pop
Travis in Concert on All Songs Considered - 07/16/2007
This live concert webcast is a production of NPR Music's All Songs Considered and the 9:30 Club in Washington, D.C.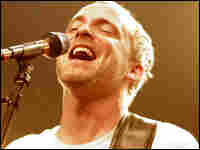 Set List:
Selfish Jean
Eyes Wide Open
Writing To Reach You
Love Will Come Through
As You Are
My Eyes
Big Chair
Pipe Dreams
Re-offender
Side
Driftwood
Good Feeling
Closer
Sing
Battleships
All I Want To Do Is Rock
Turn
20
Flowers In The Window
The Humpty Dumpty Song
Why Does It Always Rain On Me?
Back In Black
Emerging in the late '90s as one of the U.K.'s most passionate and infectious rock bands, Travis helped inspire a wave of new Britpop groups that included acts like Coldplay and Keane. The band is now on tour for its most inspired album in years. They performed at Washington, D.C.'s 9:30 Club, in a full concert originally webcast live on NPR.org July 16.
Travis' latest CD is The Boy With No Name. It's a shimmering collection of incredibly catchy, bittersweet songs. The album is the band's most creative and smartly crafted effort since 1999's The Man Who, and comes after a period of struggle for the band, both creatively and personally. Travis nearly split up in 2002 when drummer Neil Primrose broke his neck after diving in a shallow pool. The group held together, but their two post-Man Who albums – 2001's The Invisible Band and 2003's 12 Memories — were less successful, particularly in the U.S.
Frontman Fran Healy calls The Boy With No Name a return to form. "This album has all the facets of us, and some new ones," he explains. "It's rocky and then it's pop and sweet too. After a time of feeling stuck we feel we can do anything. We've come through the dark places and it feels like we've found our muse once more."
The Boy With No Name was produced by Nigel Gotrich with additional help from Brian Eno and Mike Hedges. Healy gave the album it's cryptic title when he and his wife couldn't agree on a name for their son for several weeks after he was born.
Travis first formed in Glasgow, Scotland in the early '90s and now features Fran Healy on lead vocals, guitar and piano, Dougie Payne on bass, Andy Dunlp on lead guitar and keyboards, and Neil Primrose on percussion.