Riots Rocked Detroit 40 Years Ago Today
Riots Rocked Detroit 40 Years Ago Today
Walter P. Reuther Library, Wayne State University
Walter P. Reuther Library, Wayne State University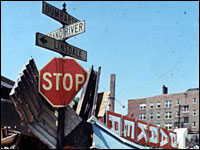 Walter P. Reuther Library, Wayne State University
Just before dawn on July 23, 1967, Detroit police officers carried out what they thought was a routine raid on an illegal after-hours club. While they were waiting to transport all 82 African-Americans to jail, a crowd gathered on the streets. They began to shout at the police, then throw bottles and rocks. So began the riot that would define Detroit for decades to come.
Early the next morning, Gov. George Romney asked the federal government for help. About 24 hours after the violence began, more than 11 square miles in the city were already in flames. Late that night, with 16 people reported dead, President Johnson announced the deployment of nearly 2,000 federal troops.
State police declared the situation under control by Friday, and officers were ordered to sheath their bayonets. By that time, 43 people had been killed in Detroit, about 350 injured, 2,500 buildings looted or burned and more than 7,200 people arrested — the youngest was 10 years old.
What caused the uprising of 1967? Was it the loss of jobs to the suburbs, the largely white government or anger over the Vietnam War? Sociologist Max Herman of Rutgers University says there was no single cause for what happened, but notes that the city's police department, which was 95 percent white in 1967, was notoriously brutal and routinely harassed blacks.
Isaiah McKinnon, one of the police force's few black officers in 1967, went on to become the city's chief of police. He stayed in Detroit after the riots, but thousands of others did not. The Motor City has lost more than 1 million residents since 1950.
Other American cities have experienced the same social unrest and abandonment, but Detroit suffered badly, and has taken longer to bounce back. Still, there are signs of recovery: The city recently hosted the Super Bowl and baseball's All-Star game, and major corporations have built headquarters in the city. In fact, the only place in the state of Michigan where the population is growing is downtown Detroit.
There is no official memorial of the 1967 uprising in Detroit, and the city has planned no events to commemorate the 40th anniversary.