Eskimo-Indian Olympics Capture Native Traditions
Eskimo-Indian Olympics Capture Native Traditions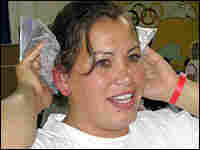 Alaska's World Eskimo-Indian Olympics moved to Anchorage last week, after 45 years in Fairbanks. The games include events such as the blanket toss, the Alaskan high kick, the seal hop and the ear pull, many of which have their roots in traditional Eskimo practices.
Take the two-foot high kick, for example. A combination of pure athletic power and breathtaking grace, the athlete takes off on both feet from a standing or running start. He launches himself impossibly high into the air, keeps his feet parallel, and kicks a small, sealskin ball that's suspended on a string. Then, he has to stick the landing.
Traditionally, someone from a returning hunting party would run toward a village and jump in the air. By the way or style of the jump, the village would know whether the hunting party was successful, explains Nicole Johnston, the head official for the event.
Johnston holds the women's record for the two-foot high kick, which she set in 1965: 6 feet 6 inches. The men's record is an astounding 8 feet 8 inches.
Another event, the ear pull, is related to Eskimo tradition a little less directly.
The goal?
"To endure pain," says Perry Ahsogeak, the chairman of the World Eskimo-Indian Olympics board of governors.
"Some of the stuff that we do when you're trying to survive out in the wild or out in the ice and you're a long way from home and you hurt yourself, you have to be able to endure that pain until help comes," Ahsogeak says.
In the ear pull, two competitors sit facing each other, their legs straddled and interlocked. A two-foot-long loop of string — similar to a thick, waxed dental floss — is looped behind their ears, connecting right ear to right ear, or left to left.
At the signal, the athletes lean backward, away from each other, pulling the loop of string tighter and tighter behind their ears.
Their faces contort in pain. Their ears turn bright red and then purple, then stretch and crumple as the string cuts in deeper — until the string slides off, or one of the athletes gives up.
Three of the ear-pull competitors are sent to the hospital for stitches.
In an upset, 34-year-old Noel Strick of McGrath, Alaska, defeats defending champion Asta Keller to be the new women's champion ear puller.
"As a native woman, I kept going, I survived, and my whole life has been like that," Strick says. "I'm not going to give up."
Web Resources