Live Music from the Film 'Once'
Glen Hansard and Marketa Irglova in Concert
This live concert webcast is a production of NPR Music's All Songs Considered and the 9:30 Club in Washington, D.C.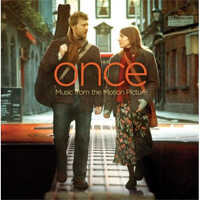 Set List:
When Your Mind's Made Up
Lies
All the Way Down
Drown Out
This Low
If You Want Me
Fantasy Man
Falling Slowly
Leave
Say It To Me Now
Golden
Cactus (Pixies cover)
Pavement Tune (I Want My Life to Make More Sense to Me)
Once
Broken Hearted Hoover Fixer Sucker Guy
Into the Mystic (Van Morrison cover)
Star Star
You Ain't Goin' Nowhere (Bob Dylan cover)
Playing under the name The Swell Season, Irish singer Glen Hansard and Czech newcomer Marketa Irglova sing affecting folk-rock songs with blissful harmonies. Hear the stars of the sleeper hit musical Once recorded live in concert from Washington, D.C.
Hansard is frontman for the Irish rock band The Frames, while the Czech-born Irglova is a classically trained singer, and their music serves as the centerpiece of the surprise hit film Once. The movie, which also stars Hansard and Irglova, tells a guy-meets-girl love story largely through song.
Before making the film, Hansard and Irglova recorded a collection of songs together titled The Swell Season. Versions of the songs wound up in the movie, and in several cases also appear on The Frames' recent CD, The Cost.
Hansard had a small part in the 1991 film The Committments, but Irglova is a first-time actor. Hansard has spent the past 15 years writing and recording with The Frames, while Irglova was just 17 when she made Once. Born in 1988 in Moravia, Czech Republic, she began playing the piano and guitar as a child and studied classical music.
Once was written and directed by John Carney, a former bassist for The Frames. The movie won the World Cinema Audience Award at the 2007 Sundance Film Festival and has since garnered widespread critical acclaim and box-office success.
Related NPR Stories