Out of the Pear Orchard and Into the Glass
Out of the Pear Orchard and Into the Glass
Oliver's Herefordshire Dry Perry and Blakeney Red Medium Perry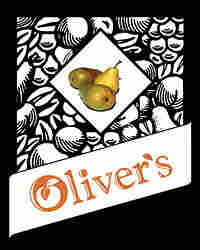 Flat pear ciders made by Tom Oliver
Produced in Herefordshire, England, from perry pear trees grown in Oliver's orchards
Dry, with complex flavors
Imported to the U.S. this summer in limited quantities — will be available in specialty wine shops
Sparkling pear cider made by Eric Bordelet
Produced in Normandy, France, from 300-year-old pear trees
Champagne-like, with subtle sweetness of pear
Found in specialty wine shops and online
Perry, or alcoholic pear cider, was a favorite drink of Napoleon's. Now, it's getting a modern makeover.
Tom Oliver of Herefordshire, England, has been making perry all his life.
"When you first try it, you can forget all about anything else you've ever tasted and drunk, because this is just a little bit different," Oliver tells Michele Norris.
Eight years ago, the Englishman's love of the libation led him to turn his hobby into a business, and he began bottling his product for sale. That move required a lot of research and planning — and the planting of 200 pear trees appropriate for perry-making.
Oliver describes the drink's aroma as a mix of "hedgerow" fruits and tropical fruits.
"They're two quite different experiences but subtly mixed," he says.
Possible combinations include elderflower and blackberry mixed with pineapple, melon and guava. Oliver's perry is between 6 percent and 8 percent alcohol — stronger than beer, but not as strong as wine.
It takes Oliver eight to 10 months to make a single batch of perry.
Now, Oliver has exported a couple of hundred cases of his perry to the United States, which should be available in stores at the end of July.
Jordana Pomeroy helped Oliver find a U.S. distributor for his perry. She joins Robert Siegel and Norris for a perry tasting during a recent visit.
Some perries, such as Oliver's version made from Blakeney pears, are less sweet and more astringent. Others, such as a poire from Normandy, France, made by Eric Bordelet, resemble champagne and are sweeter.
Pomeroy says that some gourmet grocery stores in the United States carry perries. Domestically produced perries, which are made in small quantities, can be found at some taverns with a large variety of microbrews.