Artist Records Glacier's Sounds from the Deep
Artist Records Glacier's Sounds from the Deep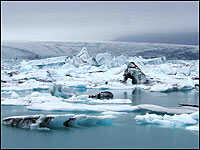 Sound of Vatnajokull Glacier melting
Artist Katie Paterson is recording the last gasps of Vatnajokull Glacier before it disappears into the ocean.
The Glaswegian artist documented a week in the erosion of Europe's largest glacier using a waterproof microphone in the lagoon at the edge of the glacier. She shared the sound with the rest of the world using a phone line and amplifier linked to the microphone.
Paterson, a student at the Slade School of Art in London, got the idea for her project after suffering hallucinations about the Iceland glacier during a bad fever. She imagined that the water she drank during recovery was making her feel part of the glacier, which is the size of Delaware.
She discussed her project and shared her recordings with Rebecca Roberts.
Related NPR Stories
Web Resources