West Side Story: The Murder That Shocked New York
West Side Story: The Murder That Shocked New York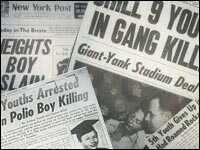 'Time' Magazine Coverage
Courtesy of the Farmer family
The musical West Side Story opened on Broadway in the fall of 1957. It was a story of romance and rivalry between white and Puerto Rican gangs on the Upper West Side of Manhattan.
Few people know that the show was originally to be called East Side Story, with the central conflict between Catholics and Jews. The story was changed to reflect new ethnic tensions brewing in New York's neighborhoods.
The new story turned out to be prophetic.
A month before the musical opened on Broadway, the brutal gang murder of a white teenager from Washington Heights on the city's West Side stunned New Yorkers.
Fifty years ago Monday, black and Puerto Rican members of two gangs — the Egyptian Kings and the Dragons — ambushed 15-year-old Michael Farmer and his friend. Farmer, who may or may not have belonged to a rival gang called the Jesters, was kicked, punched and stabbed multiple times.
Farmer's death — and the subsequent trial — marked a turning point for New Yorkers.
The summer of 1957 had already been a deadly one: About a dozen gangs on Manhattan's Upper West Side had carried out 11 murders.
"We could see that a crime of epic proportions was building," says criminologist Lewis Yablonsky, who was working with New York gang members during that period.
Rob Snyder, a historian and journalism professor at Rutgers University-Newark, says that many people think of the 1950s as a peaceful time.
"But in New York City during the 1950s, the city was in absolute transformation," he says.
Washington Heights, where Farmer lived, had been defined by an Irish and Jewish presence, Snyder explains. But by the summer of 1957, tensions were rising as increasing numbers of Hispanics and blacks moved into the southern part of the neighborhood.
In this audio history, Yablonsky, Snyder, Michael Farmer's brother Raymond, former gang member Nicky Cruz and a member of the group that killed Michael Farmer that night 50 years ago talk about the crime — and what it meant to them and to the city of New York.
Joe Richman of Radio Diaries produced this story, with help from Deborah George, Ben Shapiro and Anayansi Diaz-Cortes.
Web Resources