Murdoch Wins Bid to Buy Dow Jones & Co.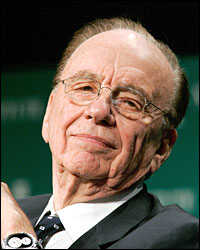 Rupert Murdoch has struck a deal to acquire The Wall Street Journal and its parent company, Dow Jones & Co.
A majority of members of the Bancroft family elected to sell to Murdoch's News Corp. to seal the $5 billion deal. The family currently holds the controlling shares in Dow Jones.
Late Tuesday, News Corp.'s board formally endorsed the deal.
But many of the Journal's reporters and editors were bracing themselves for the uncertainties of the Murdoch era.
The deal came together amid anger, angst and ambition, but the logic behind it is simple: investors felt Dow Jones wasn't making them enough money, and Rupert Murdoch's News Corp. was offering a handsome price and to spend more to win back advertisers and subscribers and expand coverage.
Norman Pearlstine was the top editor at the paper for nine years. He said he is hopeful for the deal.
"The alternatives for Dow Jones and the Journal are not so great," he said. "On balance, the idea of an owner who wants to invest in - and reinvigorate - a product is something we should be encouraged about."
Still, Pearlstine said: "We have to be wary about whether [Murdoch's] record of frequently using his publications for the interests of News Corp. is something that is going to have to be watched."
"Wary" would be an understated way of describing the mood in the Dow Jones newsroom.
"I think that the vast majority of people who work for The Wall Street Journal consider Rupert Murdoch to be a threat to what we do - and I don't think there's any great disagreement about that," said longtime reporter E.S. Browning, who is a senior figure in the paper's union.
Some colleagues believe the Journal may need new owners with deep pockets — and want to give Murdoch the benefit of the doubt.
Browning isn't among them. "There are people who want Rupert Murdoch's money, but I think they'll be unhappy at the price he exacts in exchange."
Murdoch will launch a new cable business channel in October. He already owns the Fox News Channel, The New York Post, MySpace, newspapers in the U.K. and Australia, and satellite TV operations in Asia.
The Journal's foreign correspondents warned about moves he's taken to appease Chinese leaders. The 76-year-old Murdoch has been repeatedly accused of influencing coverage - a charge he shrugs off.
That issue tore apart the Bancroft family, which holds 64 percent of the voting stock of Dow Jones. Bancroft cousin Leslie Hill quit the Dow Jones board as it - and the family - moved to endorse the sale.
Reporter Joshua Prager writes lengthy feature stories for the Journal's front page. He said a legacy is about to be lost.
"For years, it seemed that there were other principles than just money that were governing and guiding the stewardship of this paper," he said.
Prager points to the winning gambit this week, when News Corp. agreed to pay an estimated $30 million in fees to the Bancrofts' to lawyers, analysts and other consultants.
"That payment was for many people sort of emblematic of one bitter truth - that it all comes down to money. And it really, really left a bitter taste in people's mouths," he said.
Some question the advice the Bancrofts received. Merrill Lynch was hired by the Bancroft family's chief trustee to evaluate the Murdoch bid, but it's also part of a banking syndicate that agreed to lend News Corp. $2.25 billion in May.
From NPR reports and The Associated Press
Related NPR Stories