Inventor Soars with Experimental Blimp
Inventor Soars with Experimental Blimp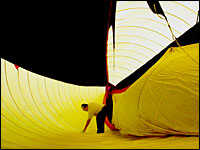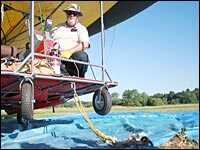 At daybreak on a recent morning, a strange-looking aircraft is joining the birds in flight.
Dan Nachbar is piloting a 100-foot experimental blimp.
The yellow and black striped blimp has a playful look to it — like the Yellow Submarine fused with Chitty Chitty Bang Bang. But why invent a new kind of blimp?
Beautiful Views, Less Noise
Nachbar is a former computer scientist. He used to be a nerdy kid who fiddled around and built things. When he was 13, he even called Goodyear to find out what it took to become a blimp pilot. That dream came back to him during a long flight in a small plane.
He recalls that the noise in the plane was horrible — but the view was terrific.
"I wanted to come up with a way to get the view without the noise," Nachbar says.
Five years and a dozen prototypes later, Nachbar has come up with a view that's really something.
Innovation at Work
The pilot is strapped into an old Toyota Camry seat bolted to a slab of wood. This "cabin" is suspended by steel cables beneath the blimp.
"There are no walls, there's no windshield, so you're very much out in the open," Nachbar says. "We wanted flying in this aircraft to feel unlike any other aircraft."
And it does, according to Mike Kuehlmuss, an airplane mechanic who built the blimp with Nachbar.
Kuehlmuss says most blimps steer like a big cruise ship — in a lumbering kind of way. But the motor mounted on the tail pivots this blimp just like the motor on the back of a small boat.
And unlike many blimps, this one isn't filled with helium but with hot air. Helium is a lot more costly.
But what's really different is the blimp's structure. Long, flexible, aluminum tubes run the length of the ship, and open and fold like an umbrella. Tents use the same technology.
"We didn't invent the tension membrane structure, but we are the first ones to use it on a blimp," Nachbar says.
Blimps: A Hard Sell for Investors
Inventing the aircraft is one thing. But for the blimp inventor from Amherst, Mass., finding additional investors has been quite another.
"When you call up an investor and ask them to invest in a blimp company, the only real question is do they start laughing before or after they hang up the phone," Nachbar says.
The blimp cost $500,000 to develop and build. His investors are mainly family and friends.
But Nachbar is confident there is money to be made in his invention by putting advertising on the side of the blimp. And he also hopes his blimp can help solve what's known as the "last mile" problem: moving things too heavy for helicopters a short distance.
Web Resources