Chris and Thomas: Drenched in Harmony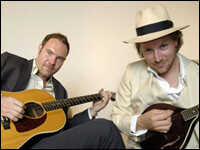 Song List
"Land of Sea"
"You're the One I Want"
The folk-pop duo Chris and Thomas formed when the pair was enrolled at art school in Liverpool, where they played shows while earning music degrees in film composition. After a stint running a traveling cooking show out of an old utility van, the duo relocated to Los Angeles and self-released the Vista Street Sessions EP. A whirlwind of touring and recording followed, as buzz built for a follow-up.
Vista Street Sessions laid the groundwork for the new full-length Land of Sea in more ways than one — the new disc repurposes five of its six tracks — but Land of Sea builds on its promise with remarkable new songs, gorgeous harmonies (think Crosby, Stills, Nash & Young) and crisp production by renowned producer/engineer Mark Howard.
Web Resources