Great Lake Swimmers: Warmly Melancholic
Hear an Interview and In-Studio Performance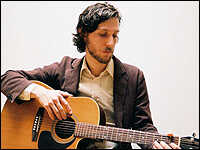 Set List
"Catcher Song"
"Various Stages"
"Moving Pictures, Silent Films"
"Your Rocky Spine"
Armed with a deep catalog of sweetly rustic, warmly melancholic folk-pop, the Ontario band Great Lake Swimmers has become something of a word-of-mouth sensation, as well as a frequent award-winner in Canada. After touring with the likes of Feist and Andrew Bird in previous years, the group has spent 2007 building awareness of its fine new album, Ongiara.
Recorded on Toronto Island, Ongiara examines the way love and nature intersect, while bathing its haunting songs in warm acoustics and shimmering reverb. Frontman Tony Dekker has never written a more ambitious batch of songs, but they remain gentle and down-to-earth, earning Great Lake Swimmers critical raves and comparisons to the likes of Neil Young and Iron & Wine.
Web Resources