Utah Mine Owner Defends Safety Process
Utah Mine Owner Defends Safety Process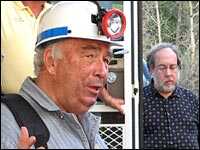 Robert Murray is the son of an Ohio coal miner. He is a successful businessman with 11 mines in five states. He also has a reputation for being outspoken and provocative, and that is how he was in a nationally televised news conference this week.
During a sometimes rambling address, he challenged reports that his workers had been "retreat mining" at the time of the accident. Retreat mining is a permitted, but potentially dangerous, way to mine. Workers remove pillars of coal from a distance, and then let the roof fall in.
"The area where these men are is entirely surrounded by solid, firm, strong pillars of coal. There was no retreat mining in the immediate vicinity," Murray said at a news conference this week.
But Murray kept going. He attacked news agencies and reporters by name, and then he turned on the people quoted in their stories.
"Number one, I wish you would take the word retreat mining out of your vocabulary. Those were words invented by Davitt McAteer, Oppegard, who are lackies for the United Mine Workers, and officials at the United Mine Workers, who would like to organize this coal mine.
McAteer is a former head of the federal Mine Safety and Health Administration. Oppegard is Tony Oppegard. He used to work as Kentucky's top mine safety prosecutor. He now represents coal miners in safety cases.
He and McAteer are both respected miner advocates with decades of experience.
But Murray says their real purpose was "to damage Murray Energy, Utah American, and the United States coal industry for their own motives.
"You weren't told this in the previous disasters last year in America, but now journalists, I'm telling you how it really is," he said at the news conference.
People who know Murray are not surprised by his diatribe.
"Frankly, I wasn't surprised, because I know Mr. Murray's pretty combative," says Oppegard. He says he has never met Murray, but knows him by reputation.
Five years ago, Murray was accused of bullying federal mine safety officials at meeting. He was upset about what he saw as over-zealous enforcement.
In notes, federal officials who attended the meeting, quoted Murray as saying: "You picked the fight. I'll have your job."
One official concluded his notes, saying "Murray lost control all together. Meeting ended."
When West Virginia Public Radio reported the story, Murray declined an interview.
Oppegard says Murray's style is unusual.
"He's an atypical coal operator in the sense that he's outspoken and he's confrontational. Which most coal operators are not. Most coal operators don't want their names in the paper, they want to operate under the radar," Oppegard says.
And if Murray feels aggrieved, he is willing to use the courts. He has filed defamation suits against the United Mine Workers and an Ohio newspaper, The Akron Beacon Journal.
After the newspaper settled, Murray told fellow coal operators he filed the suit to show them they could "stand up and fight."
He began building his business nearly twenty years ago with a lone mine in Ohio. NPR's Noah Adams interviewed him back in 1990.
"I graduated from a high school thirteen miles from this coal mine, so I think the Lord has a plan for us here and we've been able to grow from nearly 200 employees here to nearly 400," Murray told Adams.
Today, he has mines in Ohio, Kentucky, Pennsylvania and Illinois and more than 3,000 workers.
Mike Carey heads the Ohio Coal Association. He says Murray is well respected in his home state.
"I've never seen a person more committed to the safety of his workers than Bob Murray," Carey says.
But the safety record of Murray's companies has come under fire elsewhere.
Four years ago, a federal jury in Kentucky found one of Murrays' companies and four of its managers guilty of conspiring to ignore coal dust limits and cover up violations. The company was fined $300,000.
Murray could face more safety questions in Utah. He insists his workers were not retreat mining, but federal safety officials say mine maps show the area where the men are missing was being used for just that purpose.
Bob Friend is the federal safety agency's deputy assistant secretary.
"As we understand it, they were taking pillars or removing pillars," Friend says.
Right now, the agency and Murray's company are focused on trying to reach the miners.
Once they have accomplished that, the focus will turn to investigating what caused the accident.
Related NPR Stories
First Contact Yields No Sign of Life in Mine Collapse
Using Robots to Mine?
Why do human beings still risk their lives burrowing miles underground and doing one of the most dangerous jobs in the world? Engineers envision a day in the not-too-distant future when robots do most of the dangerous mining work, and even help rescue trapped miners.
Rescuers drilled through to a pocket in the coal mine where six miners have been trapped, but heard no sound through a microphone that was lowered into the collapsed mine.
The mine's co-owner remained hopeful that the six men were still alive despite the silence.
"I wouldn't look at it as good or bad news. The work is not done," said Bob Murray, chairman of Murray Energy Corp.
Mining officials were able to take an air reading from the pocket and said the air quality was good, with 20.5 percent oxygen, some carbon monoxide and no methane.
"That means if they're alive, they're going to stay alive in that atmosphere," Murray said during a news conference early Friday.
The air sample was drawn more than 1,800 feet through a steel tube, which remained in the narrow hole to keep the slender lifeline open in case the miners heard a tone from the microphone and tried to respond.
The sample, however, did not pick up carbon dioxide, the gas that is exhaled from the lungs when people breathe. Still, mine officials warned that the lack of carbon dioxide did not necessarily mean that the miners were dead.
"What you got was a quick sample from a crude instrument, so you don't get all the constituents reported," said Christopher Van Bever, an attorney for Murray Energy.
The drill bit finally broke through around 10 p.m. MDT on Thursday. Two hours later, Murray and officials from the Mine Safety and Health Administration said that there was no immediate response after the drill reached the pocket.
Drilling continued on a wider hole, which could accommodate a powerful camera to provide a view inside the pocket, deliver food and water, and hopefully give a more definitive answer about the miners' fate.
Work also continued in the mine itself, where workers were slowly burrowing through the debris to try to reach the site where the miners were when the walls caved in early Monday.
"It's incredibly labor-intensive," said Rob Moore, vice president of Murray Energy.
If the trapped miners are alive, they may be sitting in inky darkness, their headlamps having burned out. Wearing thin work clothes in the 58-degree cold, they could be chilled to the bone if water is seeping into their chamber 150 stories below ground.
Murray said they are doing "everything humanly possible" to rescue them.
Murray has repeatedly insisted that an earthquake triggered the cave-in, but evidence to the contrary is mounting.
A team of geologists from the University of California at Berkeley said the seismological data from the mine collapse does not match what they would expect to see in a natural earthquake.
"What we found is that this seismic event was is in fact very different from what we typically see in earthquakes and it seems to suggest that there was a closure of an underground cavity," said Doug Dreger, the chief author of the study from Berkeley Seismological Laboratory.
In other words, the seismic data was the result of the mine itself collapsing, not a triggering earthquake. No one from Murray Energy Corp., which owns the mine, was immediately available to comment on the study.
The cause of the collapse could be important in determining who is responsible and whether safety measures were adequate.
In a briefing with reporters, Murray would only talk about the ongoing rescue efforts.
Murray held two golf-ball-sized chunks of shiny black coal. He said tons of such coal sits between rescuers and miners.
"We'll go through this very fast to get to the men because it's loose and it's fine and it's small like this," he said.
He said he has been worried about ventilation in the mine, but now that he has seen the area of the collapse.
"I can tell you that I'm more optimistic than I ever was, that there's ventilation back there to keep those men alive," Murray said.
He said crews still were removing the rubble blocking the mine, but that it could still take a week or more. Two drills have made significant progress boring through the hundreds of feet of rock and sandstone. Murray thinks a 2 1/2-inch hole and another measuring 8 1/2inches will be completed within a day or two.
Until then, residents of this mining town have scheduled daily gatherings of mutual support.
About 200 people gathered at the rodeo grounds in Huntington, near the mine, for a candlelight vigil Wednesday night. They sat on rickety wooden benches under a white banner with the word "hope" in large letters.
Melody Sinclair's husband is a miner - not one of those trapped — but the mine collapse has clearly affected her.
"Every day that your husband goes to work anywhere — any tragedy or accident can happen anywhere. But when they go underground, there's no communication. That's what makes it really hard," she said.
From NPR reports and The Associated Press
Second Lab Doubts Quake Caused Mine Disaster
A second scientific laboratory has cast doubt on claims that an earthquake caused the Utah mine collapse that has trapped six miners. The University of California's Berkeley Seismology Laboratory says that the seismic signals that came from the mine area at the time of the accident are "consistent with the collapse of an underground cavity" and not a natural earthquake.
One of the owners of the Crandall Canyon mine, Bob Murray of Murray Energy Corp., has said he is certain that an earthquake caused the collapse.
That claim has been challenged by seismologist Walter Arabasz at the University of Utah, who said preliminary data suggested that the 3.9 magnitude earthquake measured by nearby instruments was the result of a collapse.
Arabaz's view has now been seconded by the California team, led by seismologist Doug Dreger. In an analysis posted late Wednesday on the the laboratory's Web site, the team says the seismic waveforms produced in Utah do not resemble those produced by natural earthquakes, but are "consistent with the closure of a roughly horizontal crack." The Utah mine includes long horizontal tunnels.
Dreger also told NPR that minor aftershocks recorded since the accident could be the result of the collapse, and do not necessarily indicate a natural earthquake. Murray has said the aftershocks are typical of a natural earthquake.
Mine safety experts say the question of what exactly caused the mine collapse could play a role in determining liability and adequacy of safety measures at the mine.
Web Resources