Weeki Wachee Mermaids Battle Water District
Weeki Wachee Mermaids Battle Water District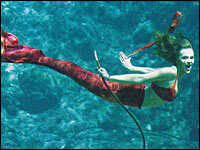 Courtesy Weeki Wachee Springs
Weeki Wachee Springs, home of the underwater mermaid shows since 1947, is at the center of a legal fight between the small Florida town (population: 9) that now owns the tourist attraction and the Southwest Florida Water Management District, which wants it to make much-needed and long-overdue improvements to comply with state regulations.
The water district has fought the tourist attraction north of Tampa, Fla., for four years and is asking a judge to terminate the lease. The water district says it doesn't want to close the tourist attraction, just make sure that Weeki Wachee and its tenacious mermaids comply with the law.
A hearing is scheduled for next week.
Web Resources