Singer Brings a Modern Sound to Chinese Jazz
Singer Brings a Modern Sound to Chinese Jazz
More from the Interview
Coco Zhao and Peng Fei discuss China's jazz scene with John Ydstie.
Singer Brings a Modern Sound to Chinese Jazz
Note: Contains language which some listeners might find offensive.
'Dream Situation'
Selections from Coco Zhao's CD:
'Full Moon, Blooming Flowers'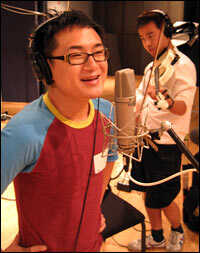 Chinese jazz singer Coco Zhao was probably destined for a career in music. Both of his parents were involved in the Chinese opera, his mother as a singer and his father as a composer.
He tried his hand at opera, but it wasn't for Zhao. Instead he found jazz, and he's glad he did.
That American import thrived in Shanghai in the 1920s and '30s, brought there by a Chinese gangster with connections to the West. It was suppressed during China's Cultural Revolution.
But jazz has enjoyed a renaissance in recent years, thanks to Zhao and others.
Zhao's, album called Dream Situation, features modern arrangements of standards popular in Shanghai more than 70 years ago.
Zhao and his arranger and violinist, Peng Fei, recently discussed the new CD and their approach to jazz with John Ydstie.
"When we first started playing these songs in public, some of the older generation [weren't] really fond of it" because it was so different from what they were used to hearing, Zhao said.
"They've heard the songs over a thousand times all their lives and then suddenly..." Peng Fei added.
"They're like, 'Why are you doing this? What are you doing?'" Zhao said.
But the audiences in China have grown to like his music, he said.
Zhao says he developed his vocal style in the shower. Then he had to get up the courage to perform on stage.
"I never had any vocal training. But I liked to sing always. I thought, 'Wow, I want to try to sing out of [the] shower and I did."
Zhao says Chinese jazz was hidden, but not forgotten during the Cultural Revolution, an era in which propaganda songs were prevalent.
"I think it was never really gone, but just never really anyone talked about it," he said.
For Zhao a crucial turning point came in 1997, when he met the late jazz vocal legend Betty Carter at an international jazz festival in Shanghai.
"People were laughing at me at the time," Zhao recalls. "Of course, I was immature, still trying to find something new and something I would like to do. When people laughed at me, I didn't know, 'Should I keep going or should I just forget about it or do as everybody else does?'
Carter's advice: "When people tell you to go forward, try backward. If people tell you to go left, try right. Don't listen to others; only listen to your own heart."
Zhao said her guidance had a big impact on him. "I learned ... just to keep going ... the way I want."
Related NPR Stories
Web Resources