Tiny Runner Completes Epic Journey in China
Tiny Runner Completes Epic Journey in China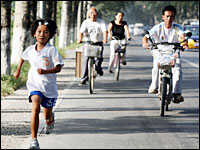 China Photos/Getty Images
An 8-year-old Chinese girl has just finished a run of truly epic proportions. In 55 days, she covered 2,212 miles, in celebration of next year's Olympics in Beijing. But her feat has sparked accusations of child abuse against her father, who is also her trainer.
Early Tuesday morning, Zhang Huimin entered Tiananmen Square in Beijing, the end of an arduous run from China's southernmost tip in Hainan island to the nation's capital. She covered about 40 miles a day — and wore out 20 pairs of running shoes — in pursuit of a dream.
"I want to be an Olympic champion — the champion of long-distance running," Zhang, who is nicknamed Little Monkey, told NPR.
"I'm happy, I'm healthy, I'm a little Olympic athlete," she said.
But many are asking whether that is really her dream, or the dream of her father. When asked whether she was happy to have arrived in Beijing, the 8-year-old's immediate reaction is telling — as is her own correction.
"I'm too excited for words. Because I've finished my task, I mean, I've realized my dream," she said.
Her father, Zhang Jianmin, accompanied his daughter on the trip, mostly riding an electric bicycle. He devised his daughter's strenuous training schedule, waking her up at 2:30 every morning to run, and sustained her along the way with stories, games, a drink made of milk powder and eggs, and snacks of raisins and beef jerky.
She started running at just 3 years old, and at first, he upped the distances slowly. But her father says she's now driven by her own determination.
"Last year, she started increasing the distances herself. She ran farther and farther. On one day alone, she added more than a mile and a half. I was worried she'd be too sore to run the next day, but she was self-confident and said 'No way,'" Zhang Jianmin said. "As parents, we can only support her. Her gifts are beyond my expectation."
Her gifts are certainly gaining a lot of attention. In the run-up to next year's Olympics, her father sees this uber-marathon as a tribute to the spirit of the games.
"Talking about the Olympic spirit is of no use. You just have to get out there and do it," Zhang Jianmin said. "And even if she pays the price with her life in the pursuit of this belief, then it's a worthy act."
Her father knows he has plenty of detractors, who believe his behavior underlines the wrong sort of Olympic spirit. Experts have warned that her bone growth could be damaged, as well as her joints and muscles.
And many, like Chen Shiyi from the China Association of Sports Medicine, see the tiny distance runner as a symbol of the failings of China's massive sports machine.
"China's sports system has long concentrated on training athletes from a very young age. And by the time these athletes should be winning gold medals, their careers are already over because they were forced to over-exercise at a young age," Chen said. "The injuries will hit her in two or three years."
The controversy surrounding the young runner may not be over yet. Her father is now talking of another, even more risky ultramarathon — from the peaks of Tibet, all the way to Shanghai.
Related NPR Stories