NASA's Leaders Plan for Mars Rock Retrieval
NASA's Leaders Plan for Mars Rock Retrieval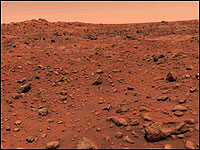 Web Resources
A top NASA official says he's keen to send a robotic mission out to grab a rock from the surface of Mars and send it back to Earth.
His enthusiasm has excited scientists, who have dreamed about doing this for decades. While the Earth occasionally gets pelted with rocks from outer space — otherwise known as meteorites – it is almost unprecedented for people to do any extraterrestrial rock collecting.
Scientists have collected some things from space, like tiny particles of solar wind.
But the last rocks the U.S. grabbed off another world were nabbed by Apollo astronauts decades ago. Nearly half a ton of moon rocks and dust went to a special lab at NASA's Johnson Space Center in Houston.
"When we talk about returning samples from space, this is where things started and this is where we learned to do it right," says Carlton Allen, manager of NASA's astromaterials collection.
Allen shows off a glass cabinet with big, gray moon rocks. His collection has some rocks from Mars, but they are meteorites — not pristine samples collected on the planet.
"We have been designing Mars sample-return missions for decades," Allen says. "NASA has not chosen yet to fly the Mars sample return mission. I hope we will."
Patriotic Determination
Allen may get his wish. Starting in April, a new guy took charge of NASA's science mission directorate – Alan Stern.
Stern has a big corner office at the agency's headquarters in Washington, D.C. He recently made it very clear that he supports the idea of a robotic mission that would get Martian samples and return them to Earth.
"The reason that we want to bring the samples back is larger than just the science," Stern says. "It's got to do with the United States and our place in history. This is something historic. There will only be one first sample return from another planet. We're going to do that. And a thousand years from now, people will know that it was the United States that pulled off that scientific feat."
Past NASA managers have made similar promises. And Stern is well aware of that.
"We have to break out of the vicious circle that sample return has been in for 30-plus years," Stern says. "The ambitions grow to be too great, the mission becomes unaffordable and we return no sample. And that's happened in the '70s and the '80s and the '90s."
He says he is already taking action to make sure that this decade is different. One of his efforts recently appeared in the e-mail inbox of Chris McKay, a planetary scientist at NASA's Ames Research Center in California.
Reeling In the Rocks
"I got an e-mail from our director, so my boss's-boss's-boss, that said, 'Come to a meeting Friday, noon, to discuss with Alan Stern, Mars tackle box.'"
McKay says he was clueless.
"I didn't know what the tackle box was, I didn't know what the concept was, I had no idea," McKay says. "But, you know, if the boss says to come to the meeting..."
At the meeting, he learned that the Mars tackle box was basically just going to be a small, metal collection box about the size of a hockey puck.
Stern wanted to see if it could be added to a NASA rover called the "Mars Science Laboratory." That rover is already scheduled to launch two years from now.
McKay says that as the rover travels all around Mars, it could use its robotic arm to place pebbles into the box.
"At the end of the trip, we hope to get 15 or 20 really interesting rocks, from 15 or 20 very different places, and have them all together in that one box," McKay says.
Then the box would have to just sit there and wait until NASA could send another robotic mission to pick it up.
McKay says that he hopes "knowing that there's a box of rocks on Mars with our name on it" will help galvanize the public for a return mission that would be expensive and technologically challenging.
Lingering Concern
But some people just hate the idea.
"I just don't think that it's a safe thing to do," says Barry DiGregorio, a freelance writer and space enthusiast. He is also head of a small group called the International Committee Against Mars Sample Return.
What if a return capsule breaks open, he says, and releases alien microbes into the Earth's environment?
"Worst-case scenario that I could think of, you know, I would be called an alarmist for it, but you could risk mass extinction," DiGregorio says.
NASA officials say the "Andromeda Strain" scenario is a natural concern. And it's not a new one.
No one knows whether Mars harbors life. But for decades, scientists have been thinking about how you would build a quarantine system for a sample-return mission, both to protect any Martian life and life on Earth.
There are many ideas. For example, McKay says the spacecraft that carries the rocks off the Martian surface could be engulfed by another spacecraft — "like a big fish swallowing a small fish." That way, everything that contacted the Martian soil would be sealed up inside a return capsule that had never touched the planet.
NASA still has plenty of time to think about this kind of thing. Stern says that later this month, officials are going to decide whether it's even feasible to put the tackle box on the next rover.
But even if that seems like a good plan, it will be at least a decade before NASA could bring any Martian rocks back home.