Distinguished Crooner Nick Lowe, in Solo Concert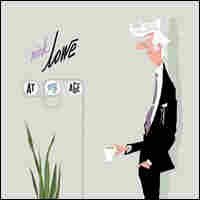 This live concert webcast is a production of NPR Music's All Songs Considered and the Birchmere in Alexandria, VA.
PC users right-click, mac users left-click and save the link to your computer:
Set List
People Change
Soulful Wind
What's Shakin' on the Hill
Long Limbed Girl
Lately I've Let Things Slide
Has She Got A Friend
All Men Are Liars
I Trained Her to Love Me
Indian Queens
Cruel to Be Kind
Heart
Man That I've Become
Hope For Us All
Without Love
Rome Wasn't Built in a Day
Shelley My Love
I Knew the Bride (When She Use to Rock and Roll)
(What's So Funny 'Bout) Peace, Love and Understanding?
Heart of the City
The Beast in Me
A brilliant, sharp-witted English singer-songwriter, Nick Lowe has been making music for more than 30 years, first as an early pub rocker and later as a new-wave innovator and rock singer. Now a distinguished crooner making country-flavored pop music, Lowe is widely loved for his eccentric, melodic songwriting and biting lyrical turns. Lowe performs in a full concert, originally webcast live on NPR.org from the Birchmere in Alexandria, Va.
Always smooth and charming, Lowe is touring in support of his new album, At My Age, a wry but intimate look at love and loss. Lowe dispenses his affectionate meditations on life in his late 50s with humor, grace and impeccable artistry. He calls the new CD "a bit like a Dean Martin country record."
Nick Lowe remains best known for writing the songs "Cruel to Be Kind," "(What's So Funny 'Bout) Peace, Love and Understanding" (recorded by Elvis Costello) and "The Beast in Me" (recorded by Johnny Cash).
Lowe got his start in the early '70s as the bassist and principal songwriter for the British roots-rock group Brinsley Schwarz, one of the primary catalysts for the English pub-rock scene and a back-to-basics movement that favored three-minute, hard-driving rock 'n' roll.
As the co-founder and house producer for Stiff Records, Lowe recorded Elvis Costello's early albums, along with works by The Damned, Graham Parker and The Pretenders. He released his first solo album in 1978, and has since made more than a dozen critically acclaimed albums. At My Age is his first new work in six years.
After recently becoming a first-time father, Lowe told Fresh Air's Terry Gross about the dramatic changes in his life: "I never thought I'd ever have children, and he suddenly turned up and it's absolutely delightful," Lowe says. "You know, I think he's great, but he is a blooming nuisance, there is no doubt about it. Somebody said, 'When the pram's in the hall, inspiration's out the window,' or something like that. And it's quite true. It's very, very difficult. I find that in order to write songs the way I did, I have to have an unlimited amount of time to just stare out of the window, to go and do whatever I needed to do. That is but a distant memory now."