Love and Texting: a Doomed Match?
Listen to this 'Talk of the Nation' topic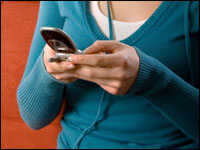 Natalie Moore, a reporter for Chicago Public Radio, doesn't mind the occasional, flirty text message. But she dreads the idea that someday she'll see "will u marry me?" appear in tiny font on her mobile. In her recent article, "Love in the time of wireless," Moore argues that text messaging is killing romance.
Related NPR Stories