Digging Up Thelonious Monk's Southern Roots
Digging Up Thelonious Monk's Southern Roots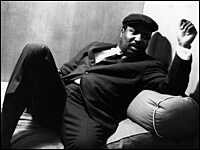 Erich Auerbach/Getty Images
Jonathan Williams/Yale University
Sam Stephenson and Frank Hunter
Today marks the 90th birthday anniversary of Thelonious Monk.
The jazz composer and pianist is remembered mainly for his time in New York, where he developed a unique, eccentric musical genius and a stage presence to match. But he was not a native New Yorker: 90 years ago today, Monk was born in the small town of Rocky Mount, N.C.
He left the South for New York with his mother and siblings at the age of five. Still, some scholars and fellow musicians say Monk's Southern roots had an overlooked but important influence on the man and his music.
According to Sam Stephenson, author of an Oxford American article about Monk's Carolina roots, Rocky Mount was a thriving city in 1917, when Monk was born. An intense tobacco culture flourished, and the rail yard was one of the largest in the entire South. Stephenson speculates those railways may have inspired Monk's composition "Little Rootie Tootie," which features explicit train whistle sounds.
"He was almost five years old when he left here, and certainly he was well old enough to remember," Stephenson says. "There would be train whistles all throughout this neighborhood all day long and all night long ... There aren't any train whistles in New York City."
Allan Gurganus, a writer from Rocky Mount, says he hears the legacy of Monk's birthplace in his playing.
"The combination of that industrial sound overlaying a sense of strangled melody, which is what you feel in him sometimes –- this flirtation with the melodic that's then sort of suppressed by these big cords and percussive overlay -– I can't help hear Rocky Mount when I hear the music," Gurganus says.
Jazz in the United States is often associated with urbanity and New York, among other major cities. However, a number of Monk's fellow jazz greats were also born in the South: The Carolinas alone can also claim Dizzy Gillespie, John Coltrane and Max Roach.
Perhaps more important than the South at large, however, was the influence that Thelonious Monk's mother exerted upon him. The pianist's son, T.S. Monk, recalls the presence of his grandmother in the Monk household.
"Now Thelonious was a mama's boy," T.S. Monk says. "I mean, for real. And his mother lived with us, and died with us, in the same house."
From his mother — who came from a well-to-do part of Rocky Mount's black community — Thelonious Monk inherited her taste in fine music, foods and clothing, according to Sam Stephenson.
Monk also inherited a devout commitment to the church, and to gospel music. On one of his albums, usually packed with original compositions, Monk recorded a old hymn called "Abide By Me."
"I know that that was a reminder to him about the church," T.S. Monk says.
According to Stephenson, Monk returned to North Carolina only a handful of times, and only once for an extended engagement, a 10-day stint at the Raleigh's Frog and Nightgown club in 1970. Still, he was proud of his Southern roots.
"Here's what Monk used to always tell me," says Paul Jeffrey, a saxophonist who worked with Monk for six years. "'You know,' he said, 'I'm a Tar Heel.' I think he was proud of being from North Carolina."
Related NPR Stories
Thelonious Monk: 'Thelonious Himself'
Thelonious Monk: 'Thelonious Himself'
William P. Gottlieb/Library of Congress via flickr.com
When you hear his name, you can expect to hear some of the most original and challenging music of the 20th century. Whether it's his dissonant chords or his uncanny sense of space and syncopation, pianist and composer Thelonious Monk's sound is easily recognizable. He left behind a legacy that has had a lasting influence on modern music and fellow musicians.
Born Oct. 10, 1917, Monk grew up in Manhattan in the '20s and '30s, with great stride pianists such as James P. Johnson, Fats Waller and Duke Ellington within earshot. Monk loved stride piano because it allowed him to infuse his playing with surprise and humor. Critic and writer Stanley Crouch calls Monk "an abstracted stride piano player ... he played it in a way that made it funny."
During the '40s, Monk was dubbed "The High Priest of Bop," and along with Dizzy Gillespie and Charlie Parker he led a generation of musicians through the bebop era.
Monk was almost as well-known for his unpredictable behavior as for his unique musical techniques. He would get up from the piano and dance around the bandstand, and was often labeled as aloof, eccentric and weird. Even Monk's son, drummer T.S. Monk, described his father as an "unusual guy." Critics dismissed Monk, and even ridiculed him, but he persevered despite the bad press.
In 1951, after doing jailtime for drug possession, he was banned from performing in New York clubs. With the help of jazz patron Baroness Pannonica de Koenigswarter, he was able to win back his right to play again.
Monk's career took off with the recording of Brilliant Corners, and his work at the Five Spot in New York also helped win him a new following and reputation. He landed a contract with Columbia Records — at the time, one of only a handful of jazz artists to do so — and was featured on the cover of Time magazine.
Almost six years before his death, Monk stopped playing. No one knows why, although some speculate that there were health reasons. He spent most of those final years alone at the home of the Baroness. Monk died of a stroke on Feb. 17, 1982.
It took years for the jazz world to understand Monk's contribution to the genre, but now his tunes rank among the most-played jazz compositions; his classic ballad "'Round Midnight" is one of the most familiar themes in all of jazz. With numerous tributes and awards for his work, as well as legions of faithful fans, Monk has earned a unique place in the pantheon of American music.