35 Years Later, Michael Caine Returns to 'Sleuth'
35 Years Later, Michael Caine Returns to 'Sleuth'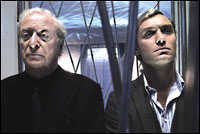 David Appleby/Sleuth Productions LTD, courtesy Sony Pictures
David Appleby/Sleuth Productions LTD, courtesy Sony Pictures Classics
Read Bob Mondello's Review:
Thirty-five years ago, a young Michael Caine starred opposite Laurence Olivier in Sleuth, a murder mystery adapted from a stage play by Anthony Schaeffer. In the 1972 version, Olivier played Andrew Wyke, an aging mystery writer, and Caine played Milo Tindle, a young man having an affair with Wyke's wife.
Now, in a newly released adaptation of Sleuth, Caine takes on Olivier's role, and Jude Law plays Caine's former part.
Caine talked with Alex Chadwick about the adaptation — not a remake, he insists — of the film. Producer Jude Law persuaded Harold Pinter, the Nobel-prize winning playwright, to undertake an entirely new script for the 2007 adaptation, which is directed by Kenneth Branagh.
Not Just a Remake
The new script by Pinter was key to luring Caine back to try Sleuthing again. It was important to him that the new version not be just an updated version of the 1972 film.
"I definitely would not have done a remake of Anthony Schaeffer's script," Caine says. "But then Jude said he had a script by Harold Pinter, which put a whole different light on it."
Caine says he did not even try to glean elements from Laurence Olivier's performance of the role of Andrew Wyke 35 years earlier.
"I wanted no sense of a remake," Caine says. "Because it wasn't a remake, it was an adaptation. There's not a single line in it that's the same as the original. Jude had gone to Harold and just taken the stage play ... He said, 'All I want from this is the plot.'"
You Can Call Me Larry
Caine explains that one of the largest differences in the new version of the film is the treatment of class distinctions. Caine says that Olivier — "the great lord of theater" — did an excellent job in the role of the snobbish, elder mystery writer.
In the 2007 version of the script, Caine says the class distinctions are much more muted. So, too, on the set: Caine remembers that before rehearsals started for the 1972 Sleuth, Lord Laurence Olivier sent him a letter:
"You may be wondering how to address me when we meet," Caine remembers Olivier wrote. In fact, Caine admits he hadn't been wondering about this. "I was going to wing it," he says.
Olivier was reassuring: "I want you to call me "Larry" the moment we meet and it will be "Larry" forever after," Olivier told Caine.
Now, 35 years later, Sir Michael Caine finds himself in a parallel position with his young co-star Jude Law — but he says times have changed.
"I am Sir Michael Caine," he says, "but it would be preposterous for me to write a letter to Jude saying, 'You may be wondering how to address me when we meet — call me Mick.'"
Caine says that with a completely rewritten script, it has not been difficult for him to work with the talented Law playing his former part. "I could never say, 'I said that better than him,'" Caine says, "because there weren't any lines that I said."
Despite the many differences between the 1972 film and the new adaptation, Caine is pleased to have the opportunity to work with the plot of Sleuth again.
"Even when I played Milo with Larry," Caine concedes, "I always thought the older man was the better part."