Hitchens: How Paine's 'Rights' Changed the World
Listen to this 'Talk of the Nation' topic
Author Christopher Hitchens discusses how Thomas Paine's writings influenced human rights, and the French and American Revolutions.
Hitchens writes that the 18th-century philosopher's easily accessible rhetoric was a key to his widespread influence.
Hitchens' book is the latest in Atlantic/Grove's "Books That Changed the World" series.
Guest:
Christopher Hitchens, author of Thomas Paine's Rights of Man: A Biography; contributor to Vanity Fair
Related NPR Stories
Thomas Paine's Rights of Man
A Biography
Hardcover, 158 pages |
purchase
Buy Featured Book
Title

Thomas Paine's Rights of Man

Subtitle

A Biography

Author

Christopher Hitchens
Your purchase helps support NPR programming. How?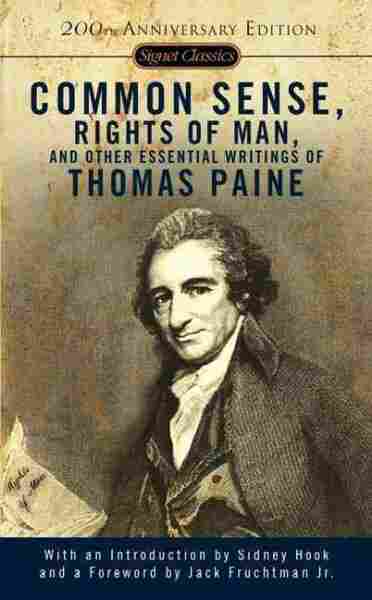 Common Sense, the Rights of Man, and Other Essential Writings
Paperback, 381 pages |
purchase
Buy Featured Book
Title

Common Sense, the Rights of Man, and Other Essential Writings

Author

Jack Fruchtman, Sidney Hook, et al
Your purchase helps support NPR programming. How?
Excerpt: 'Thomas Paine's Rights of Man: A Biography'
Thomas Paine's Rights of Man: A Biography
by Christopher Hitchens
Hardcover, 160 pages
List Price: $19.95
Chapter 1
Paine in America
To begin with a summary of Paine's astonishing life and career is to commence with a sense of wonder that he was ever able to emerge at all. A favourite poem of the mid-eighteenth century was Thomas Gray's 'Elegy Written in a Country Churchyard', and I find it impossible to think about Paine without revisiting this masterpiece of the might-have-been:
Perhaps in this neglected spot is laid
Some heart once pregnant with celestial fire;
Hands that the rod of empire might have sway'd,
Or waked to ecstasy the living lyre:
But Knowledge to their eyes her ample page
Rich with the spoils of time did ne'er unroll;
Chill Penury repress'd their noble rage,
And froze the genial current of the soul.
Full many a gem of purest ray serene,
The dark unfathom'd caves of ocean bear:
Full many a flower is born to blush unseen,
And waste its sweetness on the desert air.
Some village-Hampden, that with dauntless breast
The little tyrant of his fields withstood;
Some mute inglorious Milton here may rest,
Some Cromwell, guiltless of his country's blood.
Gray, of course, does not omit to remind us that many latent absolutists and torturers have also gone to nameless dust without fulfilling their potential. His poem is not a work of mere sentiment. But when General Wolfe lay dying on the Plains of Abraham above Quebec in 1759, having defeated the French and having forever altered the destiny of the North American continent, he is supposed to have said that he would rather have composed Gray's Elegy than won this historic victory. That year, the son of Joseph and Frances Pain was just fifteen, and living a highly unpromising life in the bucolic town of Thetford, in deep East Anglia. Joseph was a corset-maker (a 'staymaker' in the idiom of the day) and a Quaker who had married the daughter of an Anglican lawyer. Young Thomas, sometimes known as Tom, did not add the 'e' to the family name until he emigrated to America in 1774. (I shall from now on follow the example of Professor A. J. Ayer and call him 'Thomas Paine' throughout.) But that was not the first time that he had run away.
Young Thomas's first bolt for freedom came at the age of sixteen, when he fled the confining apprenticeship to his father's staymaking business and made his way to the east coast of England, at Harwich, where he followed immemorial tradition by trying to go to sea. Later writers of stirring fiction for boys might have hesitated to invent a ship called The Terrible, commanded by a certain Captain Death, but such was the vessel, and such the master and commander, that might have carried this particular boy out of history. Joseph Pain arrived at the quayside in time to prevent his son's enlistment on the privateer, whether out of Quaker principle or because of a reluctance to part with an apprentice it is not known, and the lad returned to the indentures of corsetdom for another three years before heading seaward again in 1756. The Seven Years War between the British and French empires had begun, and this time he managed to get himself signed on, by Captain Mendez of the good ship King of Prussia. He lasted only a short time in this employment, seeing some action in the coastal and Channel waters and discovering that flying splinters could be as deadly as cannonballs, before evidently deciding that the war - which was eventually to precipitate revolution in both America and France - was not for him. He took his prize money - naval warfare at that date was still semi-piratical - and went to London to try and improve himself.
We cannot know for certain the fermentation that was at work within him, but there are three possible sources for it.
The first was his upbringing. His father's Quakerism, for which Paine retained a lifelong respect, would have represented quite a strong form of dissent in the England of the day, and especially in a quasi-feudal town like Thetford, dominated by the Duke of Grafton. Quakers and other nonconformists kept alive another tradition - that of the English Revolution that had culminated in the execution of the impious King Charles I in 1649. At grammar school, Paine refused Latin lessons on his father's orders, Latin being the obscurantist official tongue of the throne and the popish altar.
He concentrated instead on the English of Milton and Bunyan: the bards of the 'good old cause' of the Commonwealth.
(One of Milton's most essential lines, 'By the known rules of ancient liberty', looked back to an innate freedom that predated kingship and nobility.) A paradoxical reinforcement of this dissent came from compulsory Bible study at school, supplemented by instruction from Paine's Anglican mother. He was later to say that he found the teachings of Christianity, especially the human-sacrifice element in the story of the crucifixion, repellent from the start. Freethinking has good reason to be grateful to Mrs Pain for her efforts.
A second influence may have been the time that Paine spent on the lower deck of the King of Prussia. As Patrick O'Brian's remarkable seafaring novels remind us, the crews of the Royal Navy were full of nonconformist enthusiasts, who may have fought for the Crown at sea but who were Levellers and Republicans on land. Third - and much better documented - we can trace the influence of the London scene.
A new class of literate artisans was making its appearance, much influenced by the thirst for knowledge and by the scientific innovations of the period. Paine became a habitué of the working-man's lecture hall and the freethinker's tavern, where enthusiastic discussion groups were the yeast for self-improvement and political reform.
This didn't give Paine a living, however, and the next few years of his life remind one of Saul Bellow's Augie March, for whom the laconic term 'various jobs' provided the 'Rosetta Stone' of his life. In 1758 he moved to the Channel port of Sandwich and became a staymaker after all. There he attended Wesleyan meetings and took part in the zealous Methodist promotion of 'good works' and charity. He met and married a serving girl named Mary Lambert, daughter of an Excise officer or Customs official, but in 1760 she died, with her baby, in childbirth. It was back to Thetford for Paine, where with some help from the local Grafton magnates he sat the examination to become an Excise officer himself. By 1764 he had been given a post of responsibility on the North Sea coast, stamping goods for duty and watching for smugglers.
He suffered dismissal after a year or so, having allegedly stamped some bales without properly inspecting them. This reverse sent him back to London to petition the Commissioners of the Excise for reinstatement. This was granted after he submitted a grovelling letter; it was evident that he was not suspected of having taken any bribe. But reinstatement did not mean immediate reappointment, and for a while Paine had to subsist on what he could get for teaching poor children.
This second period in London was to be decisive in his life, however, because he renewed acquaintance with one of his old lecturers, the painter and astronomer James Ferguson, and through him was introduced to Benjamin Franklin, a man who personified the alliance between scientific inquiry and free thought.
Exigency still drove Paine and, although he had the nerve to decline the next offer he had from the Excise - a post in a remote part of Cornwall - in 1768 he finally accepted a position at the Customs house in the Sussex town of Lewes, on the south coast. Here, he began to emerge as a figure in his own right. The town was small but like many seaports it had an open mind, and the radical tradition was deep-rooted there.
At the White Hart tavern, Paine became a notable member of the Headstrong Club, which combined spirited dining with spirited debating, and also of the local council. He took lodgings with Samuel Ollive, a well-liked local tobacconist, and on his death in 1769 succeeded to proprietorship of the business.
Two years later, he married the old man's daughter, Elizabeth. He might, if the marriage had lasted, have become a well-found and humorous Whig: a red-faced local 'character', fond of a drop of brandy, with a fund of anecdote and a reputation as a bit of a rebel.
Instead, he literally talked his way out of such a fate. When the Excise men of the south coast decided to protest at their abysmal wage and to seek redress from Parliament, they bethought themselves of the eloquent debater and sometime lay-preacher Thomas Paine, and invited him to be their advocate and spokesman. He agreed to write the Excise men's petition, and to travel to London to lobby for their cause. He was then kept hanging about in many an establishment anteroom over the winter of 1772-3, and victimized for his pertinacity by receiving yet another notice of dismissal from the Excise Commission. Meanwhile, the tobacco shop in Lewes failed in his absence, and his marriage expired in circumstances that are not clear. Paine was no ladies' man, we know, and he acted with a generosity to his wife that may have indicated an urgent desire to be gone. He settled up in Lewes, went back to London, and presented himself to Benjamin Franklin.
This distinguished gentleman, who had been in London as a representative of the American colonies, had recently had his own patriotism sorely tested. Attempting to redress some of the more obvious injustices of Britain's rule over the thirteen colonies, he had been very roughly handled at committee hearings in Parliament and accused, in effect, of being a subversive.
The long stupidity of King George's policy could have been designed to make English Americans into revolutionaries, though it had not yet had quite that effect. Franklin - the discoverer of the lightning-rod, and of the connection between lightning and electricity - gave Paine advice that could be summarized in the later slogan, 'Go West, Young Man'. Franklin went further, and equipped him with a letter of introduction to his son William, who was then the Governor of New Jersey, and to his son-in-law Richard Bache, an underwriter in Philadelphia. It read:
The bearer Mr Thomas Pain is very well recommended to me as an ingenious worthy young man. He goes to Pennsylvania with a view of settling there. I request you to give him your best advice and countenance, as he is quite a stranger there. If you can put him in a way of obtaining employment as a clerk, or assistant tutor in a school, or assistant surveyor (in all of which I think him very capable,) so that he may procure a subsistence at least, till he can make acquaintance and obtain a knowledge of the country, you will do well, and much oblige your affectionate father.
That was a slightly tepid recommendation, perhaps - Franklin's acquaintance with the young man was not a long or a deep one - but it was enough. In September 1774 Paine took ship for Philadelphia. Once again, he was almost lost to history by an outbreak of either typhus or scurvy on board, and had to be carried ashore on a stretcher. This was a shaky start to an immense redress in the New World, this time one imported from the Old.
For the first time in his life, Paine was in exactly the right place at exactly the right time. Philadelphia was the capital of a state - Pennsylvania - that had been founded by the Quaker William Penn. It was hospitable to every form of religious and political dissent, and as we have seen from the example of Priestley, Franklin and others, a magnet city for those who wished to pursue scientific inquiry. It boasted several excellent bookstores and contained many tavern-based discussion groups where a veteran of the White Hart at Lewes could prove himself. Paine had hardly begun his acquaintance with this exciting town when he met Robert Aitken, a bookstore proprietor who was hoping to start a new publication, The Pennsylvania Journal. He almost at once invited Paine to take on the managing editorship. In the first issue, Paine proved himself a natural journalist by writing an editorial which managed to extract good copy from his awful experience on the Atlantic crossing:
Degeneracy here is almost a useless word. Those who are conversant with Europe would be tempted to believe that even the air of the Atlantic disagrees with the constitution of foreign vices; if they survive the voyage, they either expire on their arrival, or linger away in an incurable consumption. There is a happy something which disarms them of all their power both of infection and attraction.
I have not been able to discover whether Paine was writing this in conscious opposition to the most illustrious European natural scientist of his day, the Comte de Buffon, who stoutly maintained that the very atmosphere of America was conducive to cretinism in man and beast. (Thomas Jefferson, then unknown to Paine, was to compose his Notes on the State of Virginia partly as a reply to Buffon's theories.) At any rate, he approached his new country with all the zeal of a new convert and enthusiast.
Excerpted from Thomas Paine's Rights of Man: A Biography by Christopher Hitchens. Copyright 2006 by Christopher Hitchens. Reprinted by arrangement with Atlantic Monthly Press, an imprint of Grove/Atlantic, Inc.
Correction
Sept. 21, 2012
Our guest incorrectly says that David Hume died on July 4, 1776. Hume died on Aug. 25 of that year.