When the Devil You Know Turns Out to be Family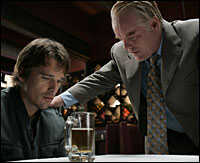 Before the Devil Knows You're Dead, a robbery thriller directed by Sidney Lumet, is perfectly weighted and expertly crafted.
It's a crime-and-punishment story starring Ethan Hawke and Philip Seymour Hoffman as brothers who are desperately in debt; when Hoffman's character talks Hawke's into a scheme to alleviate the cash crunch, events go from very bad to even worse — to as grotesquely awful as possible.
Under Lumet's sympathetic direction, the brothers' anguish gets into the viewer's bloodstream, and the movie transcends melodrama.