Guest DJ Jens Lekman
Swedish pop artist Jens Lekman talks about his latest CD, Night Falls Over Kortedala and shares some of his favorite recordings. Hear selections from his new album, plus songs and musicians he's loving now, like Kim Ki O and the Rapper's Delight Club.
Download this show in the All Songs Considered podcast.
Sign up for the All Songs Considered newsletter and we'll tell you when new music features are available on the site.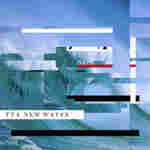 Silly Crimes
from New Waves
by The Tough Alliance
When We Were Kids
from When We Were Kids
by Rapper's Delight Club