New Book Sinks Teeth into Vampire Tales
Listen to this 'Talk of the Nation' topic
In his new book, The Dead Travel Fast: Stalking Vampires from Nosferatu to Count Chocula, author Eric Nuzum immerses himself in the unconventional world of the "undead."
He recounts his travels across Transylvania, and explains what it's like to spend hours in a coffin and — anything for research — drink your own blood.
The Dead Travel Fast
Stalking Vampires from Nosferatu to Count Chocula
Paperback, 242 pages |
purchase
Buy Featured Book
Title

The Dead Travel Fast

Subtitle

Stalking Vampires from Nosferatu to Count Chocula

Author

Eric Nuzum
Your purchase helps support NPR programming. How?
The Dead Travel Fast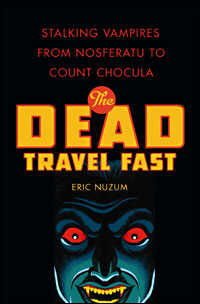 Chapter 3: I Don't Believe in God; The Crucifix Is to Keep Away Vampires
I've ridden in turbulent airplanes, ferries crossing stormy water, and roller coasters that seem solely designed to separate me from a recently consumed funnel cake, but nothing has quite matched the experience of trying to watch an old black and white movie while riding for hours in a tour bus across barely paved mountain roads in Romania.
Nosferatu.
Every time I come across it my first thought is how incredibly tired I am of seeing this movie. On this particular occasion, I couldn't decide which was worse — the movie or the act of watching the movie.
I could have looked out the window, but I was even more tired of looking out the window. All I'd seen that day were winding roads, pine-covered mountains, and tiny country houses with clay roofs.
I went to Romania to tag along with a group of twenty-five vampire enthusiasts on a Dracula-themed tour of Transylvania. It's a collection of people, ranging from the off-puttingly freakish to the shockingly normal, willing to travel halfway around the world to visit the sites of both the historical and literary Dracula, and sometimes a mixture of the two.
To this point, we'd kept to our itinerary, but things hadn't gone smoothly. To complicate matters, things are getting a bit tense on the bus: several people were sick from drinking the water, a few others were plotting how to get rid of one couple, a woman was weeping over a psychic message she received from a stray cat, our "celebrity host," the former child actor Butch Patrick (aka Eddie Munster of The Munsters), has been asleep for hours in the back of the bus, and a twenty-four-hour-old insect bite on my hand is slowly turning from pink to a disturbing shade of black.
The ride wasn't supposed to take this long, but we were forced to re-route our journey through the mountains because of flooding. The day before I arrived, it started to rain and hadn't stopped since. The floods were big news in Romania, even showing up in the international press. Earlier that day we stopped at a gas station for snacks and a Romanian man, who guessed that I was an American, confronted me. He was trying to blame me for the floods.
His argument was that the floods were the result of the Gulf War, the Gulf War was Bush's fault, and I, as an American, should feel blame for Bush. Since leaving the gas station, I was alternating between trying to understand his logic and not throwing up.
I had spent most of my time figuring out how a military action 1,500 miles away would cause a flood in the Romanian mountains and even a harder time understanding my personal responsibility for Bush. To kill time on the longer bus rides, our guide played a variety of Dracula and vampire movies. In the subjective world of vampire movies, even some of these were bottom dwellers: the movie version of the TV soap opera Dark Shadows, the pathetic and practically unwatchable Francis Ford Coppola version of Dracula, a 70s bio-drama about Vlad Tepes (entirely in Romanian with bad English subtitles), and this, the silent 1922 original Nosferatu. Whenever my mind drifts away from my personal responsibility for washed out bridges or my churning innards, my eyes wander to the screen and take in Nosferatu. Again.
From The Dead Travel Fast by Eric Nuzum. Copyright © 2007 by the author and reprinted by permission of Thomas Dunne Books, an imprint of St. Martin's Press.