Dumpster of Forgotten Musicians Launches Quest
Dumpster of Forgotten Musicians Launches Quest
James J. Kriegsmann/Courtesy Jennifer Sharpe
James J. Kriegsmann/Courtesy Jennifer Sharpe
Listen to Zummo's Music
In 1960, Guy Zummo released a single on Everest Records.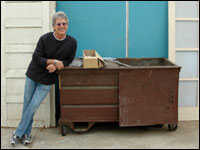 James J. Kriegsmann/Michael Ochs Archive/Getty Images
A couple of years ago, while I was on vacation, I got a call from my friend Mike, who was back in Los Angeles, standing in his alley, looking at a Dumpster filled with beautifully shot publicity photos of unknown entertainers from the early 1970s. There were old rock bands, funk bands and lounge singers, like Guy Zummo — whom I'd eventually meet and reunite with his old headshots — rescued from the garbage.
Zummo found himself in a collection I'd posted online. These photos are some of my favorites among the hundreds Mike and I exhumed from crumbling manila envelopes.
We noticed that there was a "K" insignia on most of the photos, the mark of what turns out to have been one of the most important musician photographers of the 20th century, James J. Kriegsmann, whose New York studio produced portraits of Louis Armstrong, Buddy Holly and Frank Sinatra that are considered iconic.
No one seems to know more about Kriegsmann than retired music photo archivist Michael Ochs.
"The studio was amazing," he said. "The studio was a converted nightclub. You walked down this spiral staircase. To your left, there was the original white piano that Frank Sinatra leaned against in his first publicity shots, and behind that, there were the Grecian columns the Supremes leaned against, and Ray Charles ... "
I had long theorized that Ochs had been the one to throw out the photos, though I hadn't confronted him about it yet.
He told me about Kriegsmann's photo session with a young Sinatra.
"Sinatra came in off the street," he said. He "had this frayed shirt, his hair was slicked back. So it was James' idea to pull his hair down onto his forehead, and for his sleeve, he took toilet paper and wrapped it around Sinatra's wrist to make it look like he had a decent shirt on."
It sounds like Kriegsmann gave just as much attention to Zummo.
"He spent much more time with me than I ever anticipated," Zummo said. "We must have done five different outfits and at least 20 different poses in each — so it turned into a day! And here I just thought I was going in for a couple of shots, whatever would look best, you know? And he just kept on shooting. It was really nice the way he recognized that maybe I had star quality."
Zummo had released a single in high school called "Fantabulous." At the time of the photo shoot, he was performing in small Greenwich Village clubs, which would hang his photos in their windows.
In fact, if you'd walked across Manhattan at that time, you would have spotted Kriegsmann's "K" logo in the corners of photos everywhere.
"Regardless of who it was," Zummo said, "whenever you saw a headshot, it had Kriegsmann's thing on the bottom."
But by the time Ochs met Kriegsmann in the '80s, business had slowed down.
"Above his basement studio," Ochs remembers, "they were opening a new McDonald's, and they were always drilling, so dust was always coming down and ruining his ability to make those perfect prints. He started losing clients. That really hurt him."
Fascinated by the studio's filing cabinets stuffed with old photos, Ochs made Kriegsmann an offer to buy the archives.
About halfway through my interview with Ochs, I confessed that I had raided his Dumpster. I pulled out some of the photos I'd brought with me and showed him the Zummo shots. Ochs only seemed more sure of his decision to get rid of them.
"He's got no manager name, no agent, which means that at this point, he hadn't gotten anywhere," he said.
Zummo, now a successful commodities broker, remembered the bleak epiphany he had at the age of 37.
"I was in this club in New York, and one of the young performers came up to me and said, 'Oh, gee, it's great that you're still doing this at your age,'" he said. "And I looked at him and thought: 'Ha. At my age.' I guess it's time to turn around and do something else for a living."
Strangely enough, Zummo and the filing cabinets migrated to Los Angeles at around the same time and landed in almost the same spot. Zummo's house in Marina del Rey is less than a five-minute drive from Ochs' place near Venice Beach. After my interview with him, Ochs took me out back to see the Dumpster.
I couldn't help but picture Zummo somewhere behind it, playing his piano.
Just then, my friend Mike, who'd originally found the photos, came strolling down the alley. As we all stood congregated around the Dumpster, it felt like a perfectly strange and synchronistic moment. But magical as it was, my mind wandered to the heap of photos sitting in my house and I wondered: Now what?
Related NPR Stories
Web Resources