Diagrams of the Brain Paint a Colorful 'Brainbow'
Diagrams of the Brain Paint a Colorful 'Brainbow'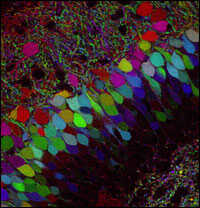 Researchers have developed a new technique to label individual neurons in the brain in different colors. This method, which the scientists have dubbed 'brainbow,' could help shed light on brain function in a way that traditional staining methods don't allow.
Jeff Lichtman, M.D., Ph.D., professor of molecular and cellular biology and member of the Center for Brain Science, Harvard University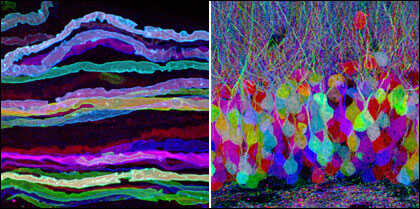 At left, parts of a motor neuron from a portion of a nerve that controls eye movement in a "brainbow" mapped mouse. At right, neurons in the dentate gyrus, part of the hippocampus a region of the brain that controls memory and spatial navigation.
See a Slideshow: