Holiday Sweets: On the Road (and in the Mail)
Holiday Sweets: On the Road (and in the Mail)
The travel season — for people and for sweets — is approaching. This time of year, cakes and cookies will be carried distances long and short, and shipped across the country or halfway around the world.
Dorie Greenspan, author of Baking: From My Home to Yours, shares with Michele Norris her advice on how to pack baked goods so they arrive tasty and intact — from picking the right cake or cookie to wrapping the right way — and a tasty alternative to Styrofoam packing peanuts.
Related NPR Stories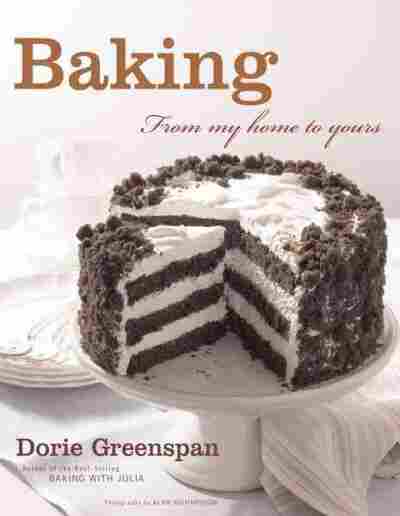 Baking
From My Home to Yours
Hardcover, 514 pages |
purchase
Buy Featured Book
Title

Baking

Subtitle

From My Home to Yours

Author

Dorie Greenspan and Alan Richardson
Your purchase helps support NPR programming. How?
Dorie Greenspan's Tips for Traveling Sweets
It's not just the time for turkey, ham, mistletoe and holly, it's also the season for pies and tarts, Bundts and breads, loaves, layers and cookies in uncountable quantities. And while the holiday roast is likely to be served just a room or two away from the oven in which cooked, desserts often put in miles and miles before they're munched.
To make sure that traveling sweets arrive safe, sound and pretty, you've got to choose a good-for-the-road recipe, then pack it up right. Here are some tips and a few recipes to set you on your way:
• Know which sweets travel well. As a rule, packable sweets are the same sweets we think of as good keepers. Moist butter cakes are keepers, as are cakes made with honey and molasses. Dried fruits help hold a cake's moisture and anything boozy will stay moist and tasty for a while, which explains why fruitcakes were so popular for so long.
• Bigger cakes stay fresher longer than dainty little things and, of course, sturdy sweets travel better than crispy, lacy, fragile sweets. Bundt and tube cakes, loaf cakes (which the French often call gateaux de voyage, or travel cakes), brownies, bar cookies and biscotti are all good candidates for packables.
• Avoid cakes and cookies with soft icings, jammy toppings and powdered sugar coatings: They won't last and, worse, they'll get gooey and messy. (Royal icing, which dries firm, is a good traveler. To make royal icing: Beat 2 egg whites and 3 cups powdered sugar together until thick and shiny; thin with a teaspoon or two of fresh lemon juice. Use immediately or cover tightly with plastic.)
• When you're packing your cookies to send, or even if you're just putting them in a big cookie jar, separate the soft, chewy cookies from the crisp, crunchy ones with a layer of wax or parchment paper; pack them together and they'll all end up soft. Do the same thing when you've got plain Janes and cookies with strong scents, like spices and molasses, or all your cookies will take on the stronger smell.
• If you couldn't resist and you made fragile cookies, such as gingerbread people with delicate hands and feet, stack three or four of them together, then wrap the bundle with plastic wrap; there's safety in numbers where these kinds of cookies are concerned.
• Wrap cakes and cookies in a double thickness of plastic wrap or in two airtight plastic bags. Airtight is the important word here, since it's air that dries out your goodies.
• Place your bundled up sweets in a large box and surround them with unbuttered popcorn (an extra treat for the gift recipient) or packing peanuts — they'll absorb any bumps in the road.
• Mark the box you're shipping "Fragile" and maybe "Perishable." But avoid labeling it "Edible" — why put temptation in the path of the postman or Santa?
Lenox Almond Biscotti
When Tony Fortuna, the owner of Lenox, one of my favorite restaurants in New York City, gave me this recipe for his biscotti, I stopped making any other almond biscotti and started making these in double batches — twice a week. They are perfect — crunchy but not rock solid, dippable, dunkable and eminently munchable, as good with breakfast cafe au lait as with late-night herbal tea. They're great with ice cream, fruit salad, mousses and puddings, too. Mille grazie, Tony.
These lend themselves to many variations, and additions (see Playing Around).
Makes about 30 cookies
SERVING: These are good with just about anything — including themselves. Eat one, and you'll want another.
STORING: Because they are dry and they're fine if they get even drier, the biscotti will keep at room temperature, covered or not, for about a week. They can be frozen, but I rarely store them that way — mostly because they rarely last long enough to get wrapped up for long-term storage.
1 1/2 cups all-purpose flour
1 1/2 teaspoons baking powder
1/4 teaspoon salt
1/2 cup yellow cornmeal
1 stick (8 tablespoons) unsalted butter, at room temperature
1 cup sugar
2 large eggs
1 1/2 teaspoons pure almond extract
3/4 cup sliced almonds, blanched or unblanched
GETTING READY: Center a rack in the oven and preheat the oven to 350 degrees F. Line a baking sheet with parchment or a silicone mat.
Whisk the flour, baking powder and salt together. Add the cornmeal and whisk again to blend.
Working with a stand mixer, preferably fitted with a paddle attachment, or with a hand mixer in a large bowl, beat the butter and sugar together at medium speed for 3 minutes, until very smooth. Add the eggs and continue to beat, scraping down the bowl as needed, for another 2 minutes, or until the mixture is light, smooth and creamy. Beat in the almond extract. Reduce the mixer speed to low and add the dry ingredients, mixing only until they are incorporated. You'll have a soft, stick-to-your-fingers dough that will ball up around the paddle or beaters. Scrape down the paddle and bowl, toss in the almonds and mix just to blend.
Scrape half the dough onto one side of the baking sheet. Using your fingers and a rubber spatula or scraper, work the dough into a log about 12 inches long and 1 1¿2 inches wide. The log will be more rectangular than domed, and bumpy, rough and uneven. Form a second log with the remaining dough on the other side of the baking sheet.
Bake for 15 minutes, or until the logs are lightly golden but still soft and springy to the touch. Transfer the baking sheet to a rack and cool the logs on the baking sheet for 30 minutes.
If you turned off the oven, bring it back up to 350 degrees F.
Using a wide metal spatula, transfer the logs to a cutting board and, with a long serrated knife, trim the ends and cut the logs into 3/4-inch-thick slices. Return the slices to the baking sheet — this time standing them up like a marching band — and slide the sheet back into the oven.
Bake the biscotti for another 15 minutes, or until they are golden and firm. Transfer them to racks and cool to room temperature.
PLAYING AROUND: I'll get you started with some suggestions for varying these biscotti, but I know you'll have several of your own — just look in your cupboard for ideas.
DRIED FRUIT BISCOTTI: Add about 1/3 cup dried fruit, such as raisins, dried cherries, cranberries, apricots (chopped) or currants, to the dough. If you'd like an extra shot of flavor, flame the fruit with port, kirsch, dark rum or amaretto.
SPICED BISCOTTI: Whisk some spice into the flour mixture: ground cinnamon, ginger, cardamom or even black pepper. For cinnamon and ginger, use 1/2 to 1 teaspoon; for cardamom, 1/2 teaspoon; and for black pepper, 1/2 to 1 teaspoon. Start with the lesser amount, then make to-taste adjustments on the next batch. If you choose to add ginger, you could also add very small pieces of stem ginger in syrup (available at Asian markets and in the Asian foods sections of some supermarkets).
ANISETTE BISCOTTI: Many traditional biscotti are flavored with anise, and these can be, too. For the best results, grind the aniseed (start with 1 1/2 teaspoons and, if you want, increase or decrease the amount in your next batch) in a food processor or blender with the sugar.
NUTTY BISCOTTI: Substitute walnuts, pecans, hazelnuts or chopped macadamia nuts for the almonds or, following the theory that more is merrier, make the biscotti with a combination of nuts.
LEMON OR ORANGE BISCOTTI: Rub the grated zest of 2 lemons or 1 orange into the sugar before beating the butter and sugar together.
Nutty, Chocolaty, Swirly Sour Cream Bundt Cake
One of the nice things about having baked for so many years is being able to see sweets come into fashion, go out of fashion and come back again. That's the case with this sour cream cake. I saw it come into fashion in the 1970s (although it may have been fashionable — and then unfashionable — well before), fall out of favor and make a comeback recently.
I've seen lots of versions with variations on the amount of flour or butter or number of eggs, but they are all essentially the same: a fairly fine-grained Bundt cake with the characteristic tang of sour cream and the equally characteristic roundness of butter. Most have something swirled through them, usually in the middle and usually a mixture of cinnamon and sugar, sometimes with a few nuts chopped in for fun.
My version is traditional, but I've toyed with it slightly over the decades and have gone heavy on the swirls. The mixture I layer into the cake has the classic cinnamon-sugar base and chopped nuts, but it's also got raisins or currants and big bits of bittersweet chocolate.
When you taste this cake, you will understand why classics become classics.
Makes 12 servings
SERVING: This cake is good the day it is made, but, like many pound cake-ish cakes, it's even better the day after. The cake can be dusted with the confectioners' sugar to show off its curves, if you like, and cut into not-so-thin slices to be served with coffee or tea. I think the cake is just fine solo — no sauce, no whipped cream, no ice cream — however, it is awfully nice with a big spoonful of marmalade or berry jam.
STORING: Wrapped well, the cake will keep for about 4 days at room temperature or up to 2 months in the freezer.
FOR THE SWIRL
1/2 cup sugar
1/2 cup chopped walnuts or pecans
2 ounces bittersweet chocolate, finely chopped, or 1/3 cup mini chocolate chips
1/3 cup plump, moist raisins (dark or golden) or dried currants
2 1/2 teaspoons ground cinnamon
Pinch of freshly grated nutmeg
Pinch of salt
FOR THE CAKE
2 cups all-purpose flour
1 teaspoon baking powder
1/2 teaspoon salt
1 3/4 cups sugar
Grated zest of 1 orange
2 sticks (8 ounces) unsalted butter, at room temperature
2 large eggs
1 1/2 teaspoons pure vanilla extract
1 cup sour cream
Confectioners' sugar, for dusting (optional)
GETTING READY: Center a rack in the oven and preheat the oven to 350 degrees F. Butter a 9- to 10-inch (12-cup) Bundt pan, dust the interior with flour and tap out the excess. (If you've got a silicone Bundt pan, there's no need to butter or flour it.) Don't place the Bundt pan on a baking sheet — you want the oven's heat to circulate freely through the Bundt's inner tube.
TO MAKE THE SWIRL: Put all the ingredients in a bowl and stir to mix.
TO MAKE THE CAKE: Whisk together the flour, baking powder and salt.
Working in the bowl of a stand mixer or in another large bowl, rub the sugar and zest together with your fingers until the sugar is moist and aromatic. Add the butter. With the paddle or whisk attachment or with a hand mixer, beat on medium speed for 4 minutes. Add the eggs one at a time, beating for 1 minute after each egg goes in. Beat in the vanilla. Reduce the mixer speed to low and mix in the sour cream. Still working on low, add the dry ingredients and mix only until they disappear into the batter.
Give the batter a last stir or two with a rubber spatula (just to make sure all the dry ingredients are properly incorporated), then scoop about one third of the batter into the Bundt pan. Evenly sprinkle on half of the swirl mixture, then spoon in the rest of the batter. Make a shallow indentation with the back of the spoon in the center of the ring of batter and fill it with the remaining swirl mixture, then cover the mixture lightly with the batter on the sides of the indentation — the batter probably won't cover the mixture completely, and that's fine.
Bake for 60 to 65 minutes, or until a thin knife inserted deep into the center of the cake comes out clean. Transfer the pan to a rack and let the cake rest for 10 minutes before unmolding it onto the rack to cool to room temperature.
Just before serving, dust the cake with confectioners' sugar, if desired.