Thanksgiving Menu: Football, Cranberry Relish
Thanksgiving Menu: Football, Cranberry Relish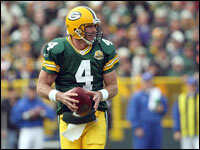 Jonathan Daniel/Getty Images
Two Thanksgiving Day traditions endure — football and cranberry relish.
They've been playing Thanksgiving games in Detroit since 1934. But for the last few years, the real turkeys have been the Lions — including a humiliating 41-9 loss to the Indianapolis Colts a few years ago.
But this year, the Lions (6-4), who face Green Bay on Thursday, are in better shape. The Lions are in wildcard contention and they've traditionally had their best Thanksgiving performances against the Packers. Still, the Packers and Brett Favre, with their 9-1 record, will be tough to beat.
Renee Montagne reviews this year's NFL matchups with sports commentator John Feinstein. And Susan Stamberg persuades Feinstein to give an old family recipe a try.
Mama Stamberg's Cranberry Relish Recipe
The Recipe's Origins
As Susan Stamberg has noted, her mother-in-law got the recipe from a 1959 New York Times clipping of Craig Claiborne's recipe for cranberry relish. In 1993, Claiborne told Stamberg: "Susan, I am simply delighted. We have gotten more mileage, you and I, out of that recipe than almost anything I've printed."
Every year as Thanksgiving approaches, fans ask NPR's Susan Stamberg for her mother-in-law's recipe for cranberry relish.
"It sounds terrible but tastes terrific," Stamberg says of the Pepto Bismol-pink dish.
Below is the cranberry relish recipe, and a bonus recipe for another Stamberg favorite — garlicky cranberry chutney.
Mama Stamberg's Cranberry Relish
2 cups whole raw cranberries, washed
1 small onion
3/4 cup sour cream
1/2 cup sugar
2 tablespoons horseradish from a jar ("red is a bit milder than white")
Grind the raw berries and onion together. ("I use an old-fashioned meat grinder," says Stamberg. "I'm sure there's a setting on the food processor that will give you a chunky grind — not a puree.")
Add everything else and mix.
Put in a plastic container and freeze.
Early Thanksgiving morning, move it from freezer to refrigerator compartment to thaw. ("It should still have some little icy slivers left.")
The relish will be thick, creamy, and shocking pink. ("OK, Pepto Bismol pink. It has a tangy taste that cuts through and perks up the turkey and gravy. Its also good on next-day turkey sandwiches, and with roast beef.")
Makes 1 1/2 pints.
Garlicky Cranberry Chutney
Susan Stamberg calls this recipe "my truly favorite cranberry side dish." It's from Madhur Jaffrey's cookbook East/West Menus for Family and Friends (Harper & Row, 1987).
1-inch piece fresh ginger
3 cloves finely chopped garlic
1/2 cup apple cider vinegar
4 tablespoons sugar
1/8 tsp cayenne pepper
1-pound can cranberry sauce with berries
1/2 teaspoon salt (or less)
ground black pepper
Cut ginger into paperthin slices, stack them together and cut into really thin slivers.
Combine ginger, garlic, vinegar, sugar and cayenne in a small pot. Bring to a simmer, simmer on medium flame about 15 minutes or until there are about four tablespoons of liquid left.
Add can of cranberry sauce, salt and pepper. Mix and bring to a simmer. Lumps are ok. Simmer on a gentle heat for about 10 minutes.
Cool, store and refrigerate. ("It will keep for several days, if you don't finish it all after first taste!")