The Sonorous Strings of the Erhu
Listen: Ma XiaoHui plays and chats with Robert Siegel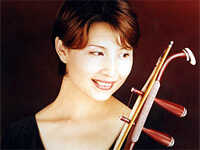 It sounds almost like a violin — but not quite.
The erhu is a traditional Chinese instrument. Ma Xiaohui says that in China, people associate it with beggars.
But Ma is a virtuoso performer on the erhu, fluent in both regional Chinese and Western repertoire. She recently spoke with Robert Siegel about her craft.
The erhu is an instrument with two long strings, played using a bamboo bow strung with horsehair. Sound projects out of the small windows on the back of the instrument's body, which is made of old redwood and snakeskin.
The right hand controls the bow. Press down, and you play one string; pull up, and you play the other.
The left hand always touches both strings. Without frets, proper intonation is difficult, but the possibilities for tonal flexibility are great.
"We have a traditional vibrato, and I have my own unique 'Xiaohui' vibrato, whatever, so it's just many different types," Ma says. "But if you press a little deeper, it sounds different."
With only two strings, performing Western classical selections is also tricky.
"I'm very careful to choose Western pieces [to] play on the erhu," Ma says. "So the first time when I heard the [Fritz] Kreisler 'Liebesleid,' I just [felt], 'Wow, that song is just right for the erhu.' The sadness, the sensitivity, the warmth, the romance: It fits my instrument."
However, Ma says she does not feel she has anything to prove just because the erhu has only two strings, compared with the violin's four.
"There's a possibility the famous melody ... play[ed] by my instrument maybe can give you another beautiful picture of this piece," she says.
Ma signs off with a demonstration of the instrument's flexibility, playing pieces with imitations of animal sounds.
"I can play the birds and the horse," she says.
Web Resources