Big-Bang Gift Books: Visual Dazzle, Thoughtful Thrills
Hollywood has its summer blockbusters; the publishing industry has its gift books. It's all about the special effects — the fold-out pages, the oversized spreads of crisp white paper, the glossy color photographs.
But not all holiday gift books are mere exercises in optic impact, and it's not solely the size and the splashy looks of some volumes that impress. The best of the breed are both physically hefty and metaphorically weighty: notable writers penning the introductions, the author's own expansive research, the gleaming reverence with which the photographers capture their subjects. And it's during the holidays that publishers really lay out their collector's editions, slip-covered sets, picture-book extravaganzas and art-history monographs.
True, any book can be a gift book: Novels, volumes of poetry, guidebooks. But the big-wow visual factor of the shamelessly packaged gift book does add a certain shiver — and it helps explain why so many gift-book publishers return to the same topics every winter: nature, travel, architecture, sports, luxury items, popular culture — especially films and music. In general, it's a gift book if it's about high art, low glitz or big landscapes.
We knew the following were holiday gift books: Opening them felt exactly like opening a present.
(You can print these titles, along with all our other year-end picks, using this master list.)
Cartographia
Mapping Civilizations
Hardcover, 266 pages |
purchase
Buy Featured Book
Title

Cartographia

Subtitle

Mapping Civilizations

Author

Vincent Virga, Library of Congress, et al
Your purchase helps support NPR programming. How?
The Deep
Hardcover, 252 pages |
purchase
Buy Featured Book
Title

The Deep

Author

Claire Nouvian
Your purchase helps support NPR programming. How?
The Beats
From Kerouac to Kesey, an Illustrated Journey Through the Beat Generation
Hardcover, 192 pages |
purchase
Buy Featured Book
Title

The Beats

Subtitle

From Kerouac to Kesey, an Illustrated Journey Through the Beat Generation

Author

Mike Evans
Your purchase helps support NPR programming. How?
Alison Jackson
Hardcover |
purchase
Buy Featured Book
Title

Alison Jackson

Author

Alison Jackson
Your purchase helps support NPR programming. How?
Dr. Johnson's Doorknob
And Other Significant Parts of Great Men's Houses
Hardcover, 207 pages |
purchase
Buy Featured Book
Title

Dr. Johnson's Doorknob

Subtitle

And Other Significant Parts of Great Men's Houses

Author

Liz Workman
Your purchase helps support NPR programming. How?
The Black Lizard Big Book of Pulps
Paperback, 1150 pages |
purchase
Buy Featured Book
Title

The Black Lizard Big Book of Pulps

Author

Otto Penzler
Your purchase helps support NPR programming. How?
Nashville Portraits
Legends of Country Music
Hardcover, 142 pages |
purchase
Buy Featured Book
Title

Nashville Portraits

Subtitle

Legends of Country Music

Author

Jim McGuire and William R. Ferris
Your purchase helps support NPR programming. How?
Murakami
Hardcover, 327 pages |
purchase
Buy Featured Book
Title

Murakami

Author

Paul Schimmel
Your purchase helps support NPR programming. How?
Dior
Hardcover, 383 pages |
purchase
Buy Featured Book
Title

Dior

Author

Farid Chenoune and Laziz Hamani
Your purchase helps support NPR programming. How?
American Ruins
Hardcover, 144 pages |
purchase
Buy Featured Book
Title

American Ruins

Author

Arthur Drooker, Douglas Brinkley, et al
Your purchase helps support NPR programming. How?
Cartographia
From 'Cartographia,' by Vincent Virga and the Library of Congress
Cartographia: Mapping Civilizations, by Vincent Virga, hardcover, 272 pages, list price: $60
The subtitle of Cartographia: Mapping Civilizations makes it sound like a conventional history of exploration and trade routes. But having pored over the Library of Congress' 4.8 million maps and 60,000 atlases — the largest cartographic collection in the world — picture editor Vincent Virga discovers maps to be more subversive, more individual, more revealing than mere navigational aids. Cartographia surprises in many ways: It's an oversized history, a fascinating map of the human imagination, of the ways we've learned to orient ourselves.
Virga points out that when Mohammed Bello, sultan of the western Sahara, gave British explorer Hugh Clapperton a misleading chart of the Niger River, the gift was a typical example of "Map as Obfuscation." Cartographia also offers us Map as Unwelcome Truth, Map as Spirit of the Age, Map as Respect for Authority, and dozens of other chart-making archetypes. In short, over the centuries, maps have been microcosmic representations of more than just land or water; sometimes, it has been political power or climate or spiritual cosmology. The more than 200 illustrations in this lavish, wide-ranging volume may not guide anyone to the right freeway exit, but they'll show readers William Faulkner's fictional Yoknapatawpha County, the layout of the human genome and the five entry points of the soul.
The Black Lizard Big Book of Pulps
Keith Alan Deutsch/From 'The Big Book of Pulps'
The Black Lizard Big Book of Pulps: The Best Crime Stories from the Pulps During Their Golden Age — The '20s, '30s & '40s, Edited by Otto Penzler, paperback, 1158 pages, list price: $25
On May 15, 1923, Black Mask magazine ran the story, "Three Gun Terry," by Carroll John Daly, and the hard-boiled detective was born. A mammoth combination of three books published separately in England, The Big Book of Pulps features plenty of work from the well-known masters who started out in the cheap weekly magazines known as pulps: Raymond Chandler, Erle Stanley Gardner, Cornell Woolrich and Dashiell Hammett (represented here by a previously unpublished short story).

But editor Otto Penzler, the redoubtable proprietor of Manhattan's The Mysterious Bookshop, has also included relative unknowns like Daly. With more than 1,000 pages and introductions by such writers as Harlan Ellison and Laura Lippman, The Big Book of Pulps is a doozy, a hefty sample of the street-smart tough guy, an American creation born in the Jazz Age and schooled by the Depression.
Murakami
Murakami, by Takashi Murakami, Dick Hebdige, Midori Matsui, Scott Rothkopf, hardcover, 330 pages, list price: $65
This one's a monster, the first comprehensive look at a boundary-breaking Japanese artist who picked up the high-art/pop-trash aesthetic of Andy Warhol and Jeff Koons and ran with it. Best known for Mr. DOB, a big-eyed, cartoon character who suggests either a smiley Sonic the Hedgehog or Mickey Mouse with a migraine, Takeshi Murakami is "aggressively unrepentant" about embracing commercial methods and self-promotion, in the words of one of the contributors to this massive monograph.

Like Warhol, Murakami has established his own "factory," cranking out a torrent of product lines (postcards, tote bags, 30-foot sculptures) that can be slick, pornographic, sinister or wonderfully silly by turns.

Murakami (not to be confused with novelist Haruki Murakami) was trained in traditional Japanese techniques but became fascinated by the flat, bold work of manga, Japanese comic books — leading to his own surreal, geometric style dubbed Superflat. The essays in Murakami put his pop art in context, explaining how his corporate ways were a rebellion against the Japanese art market, explaining how the sunny cuteness that marks much of his work actually expresses a degree of hopelessness. But it's the art work in Murakami — brightly colored squiggles, toy-like beasts and soulless smiley faces — that will make the reader pop his eyes like Mr. DOB.
Dr. Johnson's Doorknob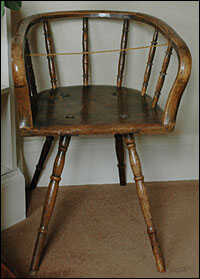 Dr. Johnson's Doorknob: And Other Significant Parts of Great Men's Houses, by Liz Workman, hardcover, 208 pages, list price: $25
Alongside the full-color heavyweight volumes that threaten to tear out the bottoms of holiday shopping bags, Dr. Johnson's Doorknob seems slender, simple and elegant. In visiting historic homes, photographer Liz Workman noticed that certain kinds of furnishings were always preserved: the inevitable books, chairs and mantelpieces. So she began to record these (plus the crockery, desks, beds, banisters and mirrors) as a way of capturing something essential about their owners — from George Washington to Jules Verne to Winston Churchill.

The result is almost contemplative, a conjuring of an unseen presence through home furnishings. There are the poignant items (John Keats' empty chair) and the amusingly ironic ones (an ashtray that once supported Sigmund Freud's cigar). In typically insightful and contrarian fashion, Germaine Greer writes in her introduction that the true unseen presences are the women who often managed these residences. Behind every great man — and his home-turned-shrine — is often a woman who may well lie buried out back, her name omitted from the chairs she cleaned, the books she dusted.
American Ruins
American Ruins, By Arthur Drooker, hardcover, 144 pages, list price: $45
As historian Douglas Brinkley notes in the introduction to American Ruins, even the title sounds like a contradiction. America is too young for ancient sites. In 1827, the German poet Goethe even hailed the United States for, in effect, having no history at all, having "no ruined castles."

Actually we do. We mostly ignore them; they're too much like failure. For the 100 photos collected here, Arthur Drooker tracked down venerable structures that most of us have never heard of, or that we didn't know had been officially designated as historic sites: Anasazi cliff dwellings, Greek Revival mansions, a Pennsylvania steel mill. The infrared technique Drooker uses to photograph these buildings makes them look even ghostlier than they already are. Isolated, empty, they still seem to glow, almost burst with light, even as the photos capture every fissure in the bricks, every missing window, every rusted bolt.
The Deep
The Deep: The Extraordinary Creatures of the Abyss, by Claire Nouvian, hardcover, 256 pages, list price: $45
"We still live in an age of exploration," French journalist Claire Nouvian declares, and the startling animals in The Deep demonstrate that some of the weirdest, most wonderful creatures may well remain undiscovered. For the past 25 years, one new deep-sea species — from the neon-colored to the nearly invisible — has been found each week. Estimates of those remaining undiscovered range from 10 million to 30 million.

By the time all those creatures are cataloged, they may well have beggared the capacity of human language to describe them. The Deep already showcases a circus menagerie that includes the ping pong tree sponge, the fangtooth, the red paper lantern medusa, the glowing sucker octopus, the vampire squid — for whom the expression "bat out of hell" would seem to have been invented— and the pigbutt worm ("a pair of flying buttocks"). Hailed when it was released in March, The Deep features 160 photos and 15 essays by deep-sea biologists. The Earth — or at least the wildly extravagant oceans that constitute our largest ecosystem — can still be wondrous strange, stranger than anything science fiction has imagined.
Alison Jackson: Confidential
Alison Jackson: Confidential, by Alison Jackson, hardcover, 264 pages, list price: $39.99
Naughty, naughty. The director of BBC-TV's Double Take, photographer Alison Jackson catches celebrities in embarrassing, tacky, sometimes explicit moments: cavorting with naked starlets, dressing up in bondage gear, taking their cute little corgis out for a stroll to buy a horse-racing tip sheet.

Wait, that last one doesn't sound particularly lurid or tabloid-y. No matter, though: None of the images in Alison Jackson: Confidential is real. Jackson studied at the Royal College of Art, and her shots are all carefully posed fakes starring dead-ringer models. Many of these "captured moments" are precisely what our mean little hearts might hope to see: Paris Hilton mopping a jailhouse floor. Or what we've always suspected: Microsoft honcho Bill Gates dancing happily with his Apple iPod.

But while "taking them down a peg" may seem like the motive behind such shots, the satiric humor and the meticulous mockumentary recreations — Jackson is fond of simulated cell-phone snaps and blurry "surveillance camera" stills — suggest something more is going on. We trust media imagery, Jackson has said, yet the camera does lie. She spoofs tabloid journalism and our cult of celebrity by giving us our fantasies, ones that seem real precisely because they look "secret" or furtive.
Nashville Portraits
From 'Nashville Portraits,' by Jim McGuire
Nashville Portraits: Legends of Country Music, by Jim McGuire; introduction by William Ferris, hardcover, 160 pages, list price: $34.95
You can get any color you want, writes photographer Jim McGuire, just by walking out your front door. Black and white is different; the photographer has to choose it and shape it. "For me, black and white had a way of making simple, mundane things seem important," McGuire writes.

With his hand-painted backdrop, the same one he's used for 35 years, McGuire has been a leading portrait photographer in the music industry, his photos featured on album covers for everyone from Carole King and Conway Twitty to Johnny Cash and Junior Brown. It was Irving Penn's "Small Trades" series that influenced his style, he says.

In the 65 handsome portraits collected here, most of them part of a touring exhibition, McGuire's august yet down-home subjects — Chet Atkins, Doc Watson, Dolly Parton, and dozens more — look even more like Instant Monuments, as American and iconic as Abraham Lincoln or William Tecumseh Sherman.
Dior
Dior, by Farid Chenoune, photography by Laziz Hamani, hardcover, 383 pages, list price: $150
Every year, one fashion house or another will commission a book-shaped altar to extol its genius, to hail the revolution it has wrought in couture. Ralph Lauren, for instance, has a major door-stop due this holiday season.

But the House of Dior has a richer history, and Christian Dior himself truly did cause a fashion earthquake. His "New Look" in 1947 was a total break from more than a decade of economic stringencies. It was a return to glamour with cinched waists, sloping shoulders and long skirts. Through the '50s, Dior set the standard for a silky, highly finished, feminine style (think Grace Kelly). The decade 1947-1957 has been called fashion's "golden age," but it really was the Age of Dior.

For the company's 60th anniversary, fashion historian Farid Chenoune has assembled 250 color illustrations from such top-flight artists as Richard Avedon. Wisely, the emphasis here is on the sumptuous, oversized photos, but Chenoune also shrewdly delineates the differences in the leading designers — from Yves St. Laurent to John Galliano — who have kept the Dior brand synonymous with fairy-tale elegance.