Roadside Attractions Fading from Landscape
Roadside Attractions Fading from Landscape
Road Rules: Attractions Worth a Pit Stop
The Titan Missile Museum tops the list of the 10 best roadside attractions in America from the editors of RoadsideAmerica.com. Find out what other roadside curiosities are recommended by the experts.
Elvis on eBay
Baptist preacher Bill Beeny has spent the past 17 years trying to convince the world that Elvis isn't really dead. Recently, his Elvis Is Alive Museum in Wright City, Mo., went up for sale on eBay.
Related NPR Stories
A staple of the American road trip could be slowly disappearing from the nation's interstates and byways. Owners of some roadside attractions are deciding that interest is waning in such treasures as the world's largest ball of string, Stinker the monkey or a flock of ducks escaping from a replica of the Titanic.
On Interstate 70 in western Kansas, the billboards call frantically to motorists to come see the world's largest prairie dog, an 8,000-pound rodent that's actually made out of concrete.
Visitors of Prairie Dog Town also get to see a six-legged cow, a five-legged steer, several stuffed Jackalopes and a wild Russian boar.
Larry Farmer charges $6.95 admission to what is essentially a large petting zoo with a couple of freak show animals. Farmer, who turned 68 this year, is no longer as passionate about prairie dogs as he once was. After 40 years and recent health problems, he has decided to put his miniature theme park up for sale.
But in the age of DVD-equipped minivans, iPods, and handheld video games, mom-and-pop attractions like this are having a harder time pulling customers off the highway.
The Elvis Is Alive Museum near St. Louis closed its doors earlier this month. The proprietor, 81, decided to auction off his museum on eBay.
Doug Kirby, who runs the RoadsideAmerica.com Web site, says that a lot of quirky attractions don't survive a transfer of ownership. Local building inspectors tend to crack down when a roadside petting zoo or an overgrown exhibit of hubcaps goes up for sale, he says.
But Kirby still has faith that the roadside attraction will persist in some form as an American institution.
For every Toilet Seat Museum or Prairie Dog Town that disappears, he says, someone has opened a backyard rollercoaster or a tribute to old glass bottles.
Web Resources
America's Best (and Strangest) Roadside Museums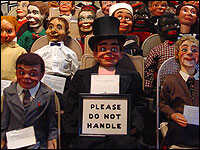 Web Resources
Take a long road trip, and you're sure to see signs for the world's largest ball of string or the world's smallest dictionary or the world's creepiest shrunken head. The interstates and dirt roads of America are teeming with roadside curiosities, so it can be hard to know which attractions warrant pulling over the car. That's why we've asked the aficionados of America's roadside attractions to offer their top 10 favorite roadside museums. From the Toilet Seat Museum in Texas to the Dan Quayle Vice-Presidential Museum in Indiana, these experts know how to spice up a good road trip.
Doug Kirby is the editor of RoadsideAmerica, a comprehensive web guide that features over 8,000 uniquely odd museums, monuments and tourist traps that enliven the U.S. tourism landscape.
Brian and Sarah Butko are the co-authors of Roadside Giants and Roadside Attractions: Cool Cafés, Souvenir Stands, Route 66 Relics, and Other Road Trip Fun.
---
Doug Kirby's Top 10:
Green Valley, Ariz.
Cold War thrills are guaranteed in a preserved nuclear missile bunker, where you get to turn the launch key, World War III-style!

2. Dan Quayle Vice Presidential Museum
Huntington, Ind.
The only museum solely devoted to a living, former vice president (the museum's slogan is "Second to One") includes an exhibit room devoted to other presidential sidekicks.

3. Vent Haven Ventriloquist Dummy Museum
Ft. Mitchell, Ky.
Do ventriloquist dummies give you the heebie-jeebies? Then tell yourself, "They're not creepy, they're cute... they're not creepy, they're cute..." before you visit this place, exhibiting room after room of retired dummies.

4. Bonnie & Clyde Ambush Museum
Gibsland, La.
This museum is in the cafe where the doomed road trippers bought their last snack. The star exhibit is the bullet-riddled V-8 Ford (only, it's the one they drove in the 1967 Bonnie and Clyde movie).

5. Ed's Museum
Wykoff, Minn.
Don't let the simple name fool you. Ed Krueger ran the general store in this tiny town, and never threw away anything. Including his dead cat. After Ed died, the ladies of Wykoff stormed in, neatened up, and opened Ed's Museum, a hodgepodge of oatmeal tins, Hollywood pinups, player piano rolls, decades of junk mail, and every TV Guide from 1954 through 1989.

Las Vegas, Nev.
"Lee" Liberace left the earthly stage 20 years ago, but fans still flock to the world's most flamboyant museum, dedicated to the world's most flamboyant entertainer, in the world's most flamboyant city. Don't miss the museum's Hope Diamond — The World's Largest Rhinestone!

7. Shenandoah Airship Disaster Museum
Ava , Oh.
Before the Hindenburg, there was... the Shenandoah. The 1925 crash of this dirigible was just as horrible, falling in pieces in a remote corner of Ohio. Each fragment crash site is marked and the whole story is told in a trailer converted into a mobile museum.

Philadelphia, Pa.
This museum is a stately-yet-fun medical collection of human pathology, so dignified that you almost forget that you're looking at skulls, conjoined twin body parts and a giant colon.

9. National Museum of Funeral History
Houston, Texas.
"Death Be Not Unprofessional" could be the motto of this impressive collection of fancy hearses, designer caskets and other relics of the funeral industry.

San Antonio, Texas.
For over 30 years Barney Smith, a master plumber, has turned toilet seats into works of personal vision and art. He works and displays in his garage, and he loves visitors.
Brian and Sarah Butko's Top 10:
North Platte, Neb.
Buffalo Bill's Wild West Show may no longer be touring, but you can still watch the show here — in miniature form. 20,000 hand-carved pieces come to life every half hour. The very hospitable Henline family owns this museum, which also has an amazing collection of Western memorabilia, tons of crazy souvenirs and a fun play area for the kids.

Cincinnati, Ohio
Signs have defined American culture for more than a century, and you'll find thousands of them here in all their glory, from gold leaf stenciled on glass to backlit clocks to neon spectaculars. Founder Tod Swormstedt served as publisher and editor of Signs of the Times magazine, which has documented the sign industry since 1906.

3. Stewart's Petrified Wood Shop
Holbrook, Ariz.
You know you've found a good roadside attraction when mannequin-chomping dinosaurs line the approach drive. You can ogle (and buy) all kinds of minerals and gems at Stewart's, dig around their pile of geodes to find a souvenir to take home and crack open, or feed their ever-hungry ostriches.

4. The Big Duck
Flanders, N.Y.
In 1931 Martin Maurer built a giant 20-foot tall concrete duck and sold duck eggs in a shop in its belly. The duck has migrated a few times since then. But tourists looking for duck-themed souvenirs can find them here.

Morrison, Colo.
The Fort is a living replica of Bent's Fort, Colorado's first trading post, which opened in 1833. Support beams and 80,000 adobe bricks were produced on site. Even the floors were made from the traditional mix of earth and ox blood. In one of nine dining rooms, you can dine on authentic dishes such as elk, quail and bison marrow bones.

Fort Lauderdale, Fla.
A tiki restaurant is hardly a museum, but this is one of the few tiki restaurants that survived since the peak of their popularity decades ago. The Mai-Kai has been in the same family since opening in 1956. Not only does it have all the tropical touches and artifacts, it also has outdoor gardens and a dazzling 45-minute revue performed twice nightly by native Polynesian dancers.

7. Harland Sanders Café and Museum
Corbin, Ky.
Colonel Harland Sanders lives on in KFC commercials — and in this museum. His vast fast-food chicken empire began here, so it's only fitting that this is where visitors can come to find a recreation of Sanders' kitchen, his "modest motel room," which was used to lure tired diners to stay overnight, and KFC artifacts – including a barrel of the Colonel's secret-recipe mixture. So bring a bucket of chicken and start dipping.

Lucas, Kan.
From the devil to Adam and Eve, S.P. Dinsmoor crafted cement sculptures of numerous Biblical characters. He also used cement to create trees, animal cages and a three-story, log cabin-shaped mausoleum, where you can glimpse Dinsmoor resting in his glass-lid coffin – made of cement, of course.

Long Beach, Wash.
Overflowing with oddities, Marsh's offers thrills, chills and nervous giggles as you browse their collection of shrunken heads, exotic mounted animals, sea shells, antique music players, and Jake the Alligator Man (an alligator-man hybrid).

10. Roadside America
Shartlesville, Pa.
This vintage wonderland of 300 miniature buildings and 4,000 figures sits among running O-gauge trains and trolleys. Founder Lawrence Gieringer died in 1963, but the displays have remained the same, creating a time-warp to pre-Interstate America.
Related NPR Stories
Buy Featured Book
Title

Roadside Attractions: Cool Cafés, Souvenir Stands, Route 66 Relics, and Other Road Trip Fun

Author

Brian Butko and Sarah Butko
Your purchase helps support NPR programming. How?