In the Winter Cold, Warmth and Light on the Page
In the Winter Cold, Warmth and Light on the Page
"Winter is icummen in," wrote Ezra Pound in a comical little poem — and winter is coming in, indeed. Its advent means shorter days and longer nights, with less natural light. So as darkness falls we readers switch on a lamp or pull a chair close to a fireplace and pick up a book.
Darkness falls, light rises.
Shakespeare has one of his characters announce that "a sad tale's best for winter." I don't entirely agree; some sad stories, perhaps, seem appropriate for the season of cold and dead vegetation, when the land hibernates, but what better way to dispel the gloom than some effervescent storytelling?
In Proust and the Squid, a fascinating new study of how we read and the neurology that makes it possible, Maryanne Wolf walks us through the stages by which we — as a species and as individuals — first learned to turn the shapes on the page into knowledge and story.
But reading is more than just a rational function of the brain. Reading is part dreaming, part imagining. You read a word or phrase — "China," "Timbuktu," "the Erie Canal," "Uzbekistan" — and you're already halfway around the world, or perhaps closer to home than you might have suspected.
And what is more personal than meeting a writer halfway, moving our eyes across a page and letting a story erupt and unfold in our minds? Nonfiction has the force of fact behind every line. But fiction moves to the force of the dancing imagination, and there is nothing we human beings possess or can create that is more powerful.
Here are my recommendations for coming out of the cold and finding good reading beneath the winter circle of light:
Across History, an Ancient Text Keeps Its Secrets Close
People of the Book, by Geraldine Brooks, hardcover, 384 pages, list price: $25.95.
First, the new novel by Pulitzer Prize-winning novelist Geraldine Brooks. Due Jan. 1, it's called People of the Book, and it carries us back into European history, into wars and inquisitions and family tragedies in a vividly narrated, powerfully emotional quest for the origins of an ancient illustrated Hebrew prayer book.

That volume turns out to mean much more for Hanna Heath, the Australian book-conservator narrator, than she ever could have imagined. My one winter prediction: This erudite but suspenseful novel (excerpted here) is going to become one of the most popular and successful works of fiction in the New Year.
Secret Lives Beside a Lake Called Wobegon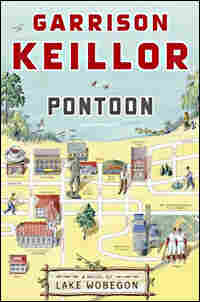 Pontoon: A Novel of Lake Wobegon, by Garrison Keillor, hardcover, 256 pages, list price: $25.95.
Think about how, on the eve of the New Year, you might sip champagne (or sparkling water, if you will), and read some of the comic passages aloud, and enjoy the bubbly savor, sequence by sequence, of Garrison Keillor's new novel, Pontoon.

It's almost as good as a command New Year's Eve performance of a monologue from A Prairie Home Companion. Or perhaps even better: You're the director, reading the lines, turning the pages at your own pace; you are the speaker, and the comedy falls from your lips. (Click here for the story of Evelyn, the insomniac who died in her sleep.)

Thank you, Mr. Keillor, for the lines. And Mr. Keillor thanks you for the reading of them.
The Physical World, Distilled Line by Line
Time and Materials: Poems 1997-2005, by Robert Hass, hardcover, 96 pages, list price: $22.95.
In the long winter nights, a farmer's dreams are narrow.
Over and over, he enters the furrow.
— "Iowa, January"
Frankly, I could think of nothing better anytime than reading aloud from the pages of Time and Materials — a fine book of poems from Robert Hass, a former U.S. poet laureate — unless it would be having Robert Hass read the poem himself.

The book won this year's National Book Award for poetry, and it makes clear why Hass, with his poems about California meadows, the Sierra and its insects and wildflowers, its shoreline, has become our own contemporary Wordsworth. (Read his "Futures in Lilacs.") His brief lines about the Iowa farmer in winter rehearse the work of the poet, as his comrade-in-verse Robert Pinsky recently suggested — "Over and over, he enters the furrow" — and his images of the natural world call us to our own imaginative understanding of it.
Coltrane: A Critic Explores that Singular Sound
Coltrane: The Story of a Sound, by Ben Ratliff, hardcover, 272 pages, list price: $24.00
Put some Coltrane on your music player — "My Favorite Things," say — and open Coltrane, the Story of a Sound. (Read an excerpt.) New York Times jazz critic Ben Ratliff traces the evolution of the jazz-saxophone genius from his earliest days as a musician on through the richly deserved canonization of his last years, focusing on his sound.
That extraordinary sound! I'm old enough to remember the marvelous event, some 50 years ago, when Coltrane opened with Thelonius Monk at the Five Spot Cafe on New York's Lower East Side. I'm young enough to dance with this sound in my mind whenever I hear it.
Meditations on the American West, Lyrical and True
The Next Rodeo: New and Selected Essays, by William Kittredge, paperback, 256 pages, list price: $15.00
The prose itself dances in The Next Rodeo, a collection of essays about life in the American West from novelist William Kittredge:
"The great floating moon was more silvery than white in the luminous blue of an early summer sky over the Tetons. Hung over and semi-heartbroken when I woke at sunup in Jackson, I'd gotten out of town in a hurry, before any true sense of my own isolation could come catch me. ... It was a getaway that didn't work. Alongside Teton Lake, leaning against the fender of my yellow Toyota, studying the daylight moon, I was anxious and frightened to an almost breathless state. This moon was what was, and I was alone in its vicinity, under its gaze. Much as I wanted to love the silence and light, that white moon was an intimation of unfathomable dooms and infinities...."
— from "How to Love This World" (Read the essay.)
Of the few writers with the requisite passion and talent to write sublimely about the West these days, Kittredge (along with James D. Houston, Barry Lopez, Terry Tempest Williams, and Gretel Erhlich ) takes us traveling to places some of which now exist only in his prose, to that border where the Old West and New West meet.
Iconic Moves, and Words on What Moved the Mover
Martha Graham - Dance on Film, starring Martha Graham, 2 B&W DVDs, list price: $39.99
Another great American sound: Aaron Copland's Appalachian Spring, written for Martha Graham's most famous piece of choreography — which you can see on disk in Martha Graham, Dance on Film from Criterion. The gifted critic Joan Acocella supplies an essay to go along with your viewing, in which she applies her fine intelligence to the history of this film project, begun in the late 1950s. Isamu Noguchi made the set for Appalachian Spring, and also for Night Journey, included here as well. Graham, in her 60s at the time of the filming, dances the lead roles in both pieces. The dissonant score for Night Journey comes from William Schuman.
Stories of Christmas for Readers of Most Any Persuasion
Christmas Stories, by Diana Secker Tesdell, hardcover, 400 pages, list price: $23.16
I recommend braving the devilish cold and frost of Christmas in Old Russia, and you can get there by way of a fable called "The Night Before Christmas," by Nikolai Gogol, collected in the Everyman's Library volume Christmas Stories. Other tales in this season-specific anthology come from John Updike, Vladimir Nabokov, Elizabeth Bowen, Alice Munro, Richard Ford — oh, and Tolstoy, and Damon Runyon and Grace Paley and Charles Dickens ...

Buddhist, Jewish, Muslim, Baptist, pagan, agnostic, we can all celebrate this feast of story, edited by Diana Secker Tesdell.
More Kindling for the Literary Hearth-Fires
A few more suggestions for fine fiction to give as gifts — or to hold in your hands yourself, moving your eyes across the page and making theater and dreams in your mind:
Three novellas about black men living in cold England, in Caryl Phillips' Foreigners
Wolves of the Crescent Moon, a new book by Saudi novelist Yousef Al-Mohaimeed, about an estranged young Arab and his adventures in the modern world
Beethoven Was One-Sixteenth Black, the latest collection of short stories from South Africa-born Nobel Prize winner Nadine Gordimer
and coming in January, along with that compelling novel by Geraldine Brooks, is an Everyman's Library original giving us four short novels by Irene Nemirovsky, the late Russian-born French writer: David Golder, The Ball, Snow in Autumn, and The Courilov Affair. The translations are by Sandra Smith, the introduction by American novelist Claire Messud.
It's cold outside. Stay in, huddle close to the light, read your way to spring.
People of the Book
Hardcover, 372 pages |
purchase
Buy Featured Book
Title

People of the Book

Author

Geraldine Brooks
Your purchase helps support NPR programming. How?
Pontoon
A Lake Wobegon Novel
Hardcover, 248 pages |
purchase
Buy Featured Book
Title

Pontoon

Subtitle

A Lake Wobegon Novel

Author

Garrison Keillor
Your purchase helps support NPR programming. How?
Time and Materials
Poems 1997-2005
Hardcover, 88 pages |
purchase
Buy Featured Book
Title

Time and Materials

Subtitle

Poems 1997-2005

Author

Robert Hass
Your purchase helps support NPR programming. How?
Coltrane
The Story of a Sound
Hardcover, 250 pages |
purchase
Buy Featured Book
Title

Coltrane

Subtitle

The Story of a Sound

Author

Ben Ratliff
Your purchase helps support NPR programming. How?
The Next Rodeo
New and Selected Essays
Paperback, 240 pages |
purchase
Buy Featured Book
Title

The Next Rodeo

Subtitle

New and Selected Essays

Author

William Kittredge
Your purchase helps support NPR programming. How?
Christmas Stories
Hardcover, 395 pages |
purchase
Buy Featured Book
Title

Christmas Stories

Author

Diana Secker Tesdell
Your purchase helps support NPR programming. How?