Top 10 Jazz Jewels of 2007, from WDUQ
Of the hundreds of jazz CDs that were released this year, these are 10 of the best. All meet these criteria: The albums feature solid, engaging and interesting compositions, they're not simply collections of same-old jazz standards, and they're worth repeated listens. Please note that these are in no particular order or ranking.
Top 10 Jazz Jewels of 2007, from WDUQ
Chris Potter
Song: The Absence
from Song for Anyone
Chris Potter proves on this CD that he's not only one of today's leading saxophonists in a small group setting, but also a brilliant composer and arranger for a larger, non-traditional ensemble. Potter weaves a guitar/bass/drums rhythm section with woodwinds and strings to create a captivating, textured, thoroughly original album. Listen to "The Absence."
Dept. of Good and Evil featuring Rachel Z
Song: Maps
from Dept. of Good and Evil
by Dept. of Good and Evil
Rachel Z seamlessly moves through jazz covers of pop songs by the Yeah Yeah Yeahs, Joy Division and Sting to a reworking of a piece from the opera Lakme to jazz standards by Wayne Shorter and Joe Henderson. The musical conversation between the band members is fresh, technically versatile and inviting. Listen to the group's version of Yeah Yeah Yeahs' "Maps."
Pat Metheny & Brad Mehldau
Song: A Night Away
from Metheny Mehldau Quartet
by Metheny Mehldau Quartet
Guitarist Pat Metheny and pianist Brad Mehldau released their first CD of mostly duet pieces (Metheny/Mehldau) in 2006. It was one of the best albums of last year, a meeting of minds that should have happened sooner. Now with a quartet, they have one-upped themselves. Listen to "A Night Away."
Medley: Maiden Voyage/Everything in Its Right Place
Robert Glasper
Song: Medley: Maiden Voyage/Everything in Its Right Place
from In My Element
Pianist Glasper melds a Herbie Hancock classic with Radiohead tune, yet still maintains his own sound on this track from his third release as a leader. His original compositions represent a nice change from ordinary piano-trio fare. Listen to "Maiden Voyage/Everything in Its Right Place."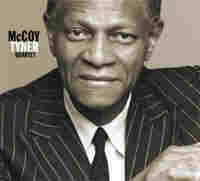 McCoy Tyner
Song: Walk Spirit, Talk Spirit
from Quartet
This one was recorded live at Yoshi's (in Oakland, Calif.) over New Year's weekend in 2006. Tyner, now pushing 70, sounds as strong as ever. The band, including Joe Lovano on sax, Christian McBride on bass and Pittsburgh's Jeff "Tain" Watts on drums, is in top form. Listen to "Walk Spirit, Talk Spirit."
Maria Schneider
Song: Rich's Piece
from Sky Blue
Although the Grammy-nominated Sky Blue is not particularly well-suited for radio airplay (some long quiet stretches and long track lengths), it is great for attentive listening on an iPod or stereo. Every note is masterfully arranged and executed. The musicianship, as with any of Schneider's projects, is absolutely stellar. Listen to "Rich's Piece." Purchase the CD.
Tom Harrell
Song: Nights at Catalonia
from Light On
One of this trumpeter's most accessible CDs in a while, this one doesn't sacrifice any of the "musician's musician" technicality and harmonic precision for which he's so well-known. Every song is an original composition. Listen to "Nights at Catalonia."
Beginning Of An Endless Happy Monday
Dayna Stephens featuring John Scofield
Song: Beginning Of An Endless Happy Monday
from The Timeless Now
by Dayna Stephens
Dayna Stephens is a notable young (well, under 30) saxophonist deserving of wider recognition. His fresh compositions don't rely as much on fancy flourishes as the use of space and restraint -- even when he burns through a song. Fans of John Scofield should enjoy the three tracks on which he appears, including this one, "Beginning of an Endless Happy Monday."
Michael Brecker
Song: The Mean Time
from Pilgrimage
This CD is the final recording from the legendary Michael Brecker, who passed away in early 2007 after battling MDS (myelodysplastic syndrome). Jazz masters and friends Herbie Hancock, Pat Metheny, Brad Mehldau, John Patitucci and Jack DeJohnette join Brecker for this powerful, passionate and personal celebration of his creativity. Listen to "The Mean Time."
Kenny Werner
Song: Uncovered Heart
from Lawn Chair Society
If you enjoy "Uncovered Heart," bear in mind that only one other track on this CD is as straight-ahead in tone. The rest is an inventive and intriguing exploration of acoustic and electronic elements. Pianist Werner is joined by a group of virtuosos: trumpeter Dave Douglas, saxophonist Chris Potter, bassist Scott Colley and drummer Brian Blade.