Nigella Lawson Offers Time-Saving Holiday Tips
Listen to this 'Talk of the Nation' topic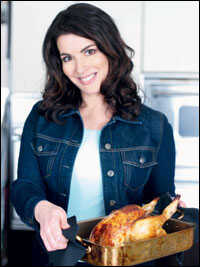 Try Nigella's Recipes
Celebrity chef Nigella Lawson shares some of the secrets from her new cookbook, Nigella Express: 130 Recipes for Good Food, Fast.
The collection of speedy recipes and clever short cuts comes in handy during the hectic holiday season. Lawson reminds hosts that entertaining is supposed to be fun.
"I am a food writer," Lawson says, "but I really think that if food is the most important thing at your house, something's wrong."
Lawson says hosts often lose sight of goal of entertaining: to enjoy good company and good conversation. Food should facilitate — not get in the way — of that goal, she says.
"I think that we've all either given dinners, or gone to them where someone has been so stressed that the tension in the room is palpable," Lawson says. "You could have the best meal you've ever, ever eaten in your life but in that atmosphere, it's not going to taste so good.
Nigella Express
Good Food, Fast
Hardcover, 390 pages |
purchase
Buy Featured Book
Title

Nigella Express

Subtitle

Good Food, Fast

Author

Nigella Lawson and Lis Parsons
Your purchase helps support NPR programming. How?
Instant Chocolate Mousse
Normally, you need to make chocolate mousse a good few hours or, better still, a day, before you want to eat it, so that the egg yolk sets and the whisked whites permeate everything with air bubbles. Forget that: Here we have no yolks, no whites, no whisking, no waiting.
Lack of raw egg, incidentally, also means that you might be happier giving the mousse to small children, though I certainly feel they should not be the only beneficiaries.
1 1/2 cups mini marshmallows
4 tablespoons (1/2 stick) soft butter
9 oz best-quality semisweet chocolate, chopped into small pieces
1/4 cup hot water from a recently boiled kettle
1 cup heavy cream
1 teaspoon vanilla extract
1. Put the marshmallows, butter, chocolate, and water in a heavy-bottomed saucepan.
2. Put the saucepan on the stove over fairly gentle heat to melt, stirring every now and again. Remove from the heat.
3 Meanwhile, whip the cream with the vanilla until thick and then fold into the cooling chocolate mixture until you have a smooth, cohesive mixture.
4. Pour/scrape into 4 glasses or small dishes, about 3/4 cup each in capacity, or 6 smaller (1/2 cup) ones, and chill until you want to eat. The sooner the better!
Serves 4–6
Mirin-glazed Salmon
This must be the fastest possible way to create a culinary sensation. You do scarcely a thing — just dip some salmon steaks in a dark glossy potion, most of which you get out of jars — and what you make tastes as if you had been dedicating half your life to achieving the perfect combination of sweet, savory, tender, and crisp.
If there are only two of you eating, I would be inclined to stick to quantities, letting a couple of pieces or whatever you don't eat cool, as it makes a fantastic salad the next day.
My favorite accompaniment here is sushi rice, and since I am wedded to my rice cooker, this is no work and needs no skill whatsoever. Just cook rice of your choice — or noodles if you prefer — according to instructions on the package if you are cruelly ricecookerless.
1/4 cup mirin (Japanese sweet rice wine)
1/4 cup light brown sugar
1/4 cup soy sauce
4 4-oz pieces of salmon, cut from the thick part of the fillet so that they are narrow but tall rather than wide and flat
2 tablespoons rice vinegar
1–2 scallions, halved and shredded into fine strips
1. Mix the mirin, sugar, and soy in a shallow dish that will hold all 4 pieces of salmon, and marinate the salmon in it for 3 minutes on the first side and 2 minutes on the second. Meanwhile, heat a large skillet on the stove.
2. Cook the salmon in the hot, dry pan for 2 minutes and then turn it over, add the marinade, and cook for another 2 minutes.
3. Remove the salmon to whatever plate you're serving it on, and add the rice vinegar to the hot pan.
4. Pour the dark, sweet, salty glaze over the salmon and top with the scallion strips. Serve with rice or noodles as you wish, and consider putting some sushi ginger on the table, too.
Serves 4
Recipe: Breakfast Bruschetta
Lis Parsons, from Nigella Express
Something that is served from California to Tuscany as an evening savory or appetizer may not seem an obvious choice for breakfast, but I say: Think again. This is quick to make, absurdly easy in fact. The strange thing is that it is as easy to eat, even first thing. I can wolf this stuff down.
FOR TOMATO BRUSCHETTA:
2 tablespoons olive oil
2 thickly sliced short pieces sourdough toast
1 ripe tomato — approximately 4 oz — roughly chopped
salt and pepper to taste
FOR AVOCADO BRUSCHETTA:
1 ripe avocado
2 teaspoons lime juice
salt and pepper to taste
4 thickly sliced short pieces sourdough toast
1 tablespoon freshly chopped parsley
1. Drizzle most of the olive oil over the toast, top with the chopped tomatoes, and season before drizzling the remaining few drops of oil on top.
2. Halve the avocado, scoop the flesh into a bowl, and mash roughly using a fork along with the lime juice. Season to taste.
3. Spread clumpingly on each waiting piece of toast and sprinkle with the parsley.
Serves 3 to 6, depending on appetite
Excerpted from Nigella Express by Nigella Lawson. Copyright (c) 2007 Nigella Lawson. Published in the U.S. by Hyperion. All Rights Reserved. Available wherever books are sold.
Recipe: Breakfast Bars
Lis Parsons, from Nigella Express
I am addicted to these, and so is everyone I give them to. Although they're quick to throw together, they do take nearly an hour to bake, so what I suggest is, make a batch on the weekend and then you will have the oaty, chewy bars ready and waiting for those days when you have to snatch breakfast on the run.
Mind you, they are just like milk and cereal in bar form, so there's nothing to stop you nibbling one with your morning coffee at home every day. If you are not a morning person, believe me, they will make your life easier.
They also store well; indeed, they seem to get better and better. So just stash them in a tin and remove when you want.
1 14-fl-oz can condensed milk
2 1/2 cups rolled oats (not instant)
1 cup shredded coconut
1 cup dried cranberries
1 cup mixed seeds (pumpkin, sunflower, sesame)
1 cup natural unsalted peanuts
1. Preheat the oven to 250 degrees and oil a 9- x 13-inch baking pan or just use a disposable aluminum foil one.
2. Warm the condensed milk in a large pan.
3. Meanwhile, mix all the other ingredients together and add the warmed condensed milk, using a rubber spatula to fold and distribute.
4. Spread the mixture into the oiled or foil pan and press down with a spatula or, better still, your hands (wearing those disposable latex CSI gloves to stop you from sticking) to make the surface even.
5. Bake for 1 hour, remove, and after about 15 minutes, cut into four across and four down, to make 16 chunky bars. Let cool completely.
Makes 16
Excerpted from Nigella Express by Nigella Lawson. Copyright (c) 2007 Nigella Lawson. Published in the U.S. by Hyperion. All Rights Reserved. Available wherever books are sold.