All Songs Considered Listeners Pick The Best Music Of 2007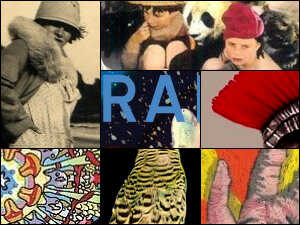 Tens of thousands of listeners voted in the All Songs Considered poll for the year's best CDs. It was tight for much of the race, with Radiohead and Arcade Fire running neck-and-neck for first place. But in the end, Radiohead's In Rainbows pulled ahead as an overwhelming winner.
There were also surprises: Some of the year's most anticipated CDs (like Rilo Kiley's Under the Blacklight), or most popular albums (like Lily Allen's Alright, Still) barely made the top 25. Meanwhile, smaller acts like Andrew Bird wound up in the Top 10.
The 25 CDs NPR listeners loved most this year are listed below. Thanks to all who voted for helping make it a great year at All Songs Considered.
More 2007 Top 10 Lists from:
Bob Boilen, Will Hermes, Robin Hilton, Tom Moon, Meredith Ochs
Download this show in the All Songs Considered podcast.
Sign up for the All Songs Considered newsletter and we'll tell you when new music features are available on the site.
All Songs Considered Listeners Pick The Best Music Of 2007
25.
Song: Moneymaker
from Under the Blacklight
by Rilo Kiley
Rilo Kiley's 'Under the Blacklight' was one of the year's most anticipated records. The band had built a huge following, but a major-label contract provided a chance for a lot more exposure. Judging from its poor showing in our poll, we're guessing that a lot of people heard a few good songs, but were generally disappointed.
24.
Song: Alfie
from Alright, Still
by Lily Allen
Lily Allen's pop masterpiece was a smash when it was released in the U.K. in the summer of 2006. Most of her music was on MySpace then, as well. The U.S. release was a bit anticlimactic -- it wasn't released until January 2007 -- and by the time of this poll, the record felt old. Still, this is a great CD.
23.
Song: Hop a Plane
from Con
by Tegan and Sara
Chris Walla of Death Cab for Cutie co-produced this album by the duo of twin sisters from Canada. The Con has a sound seemingly inspired by '80s power pop.
22.
Song: St. Apollonia
from Flying Club Cup
by Beirut
A lush and beautifully arranged album, The Flying Club Cup draws heavily on songwriter Zach Condon's love of Balkan music.
21
Song: Goodnight Rose
from Easy Tiger
by Ryan Adams
Ryan Adams is so prolific that it's easy to lose track of his individual albums: One can easily blur into the next. But NPR listeners found a lot to love on Easy Tiger, one of the singer's strongest efforts in years.
Our Life Is Not a Movie or Maybe
20.
Song: Our Life Is Not a Movie or Maybe
from The Stage Names
by Okkervil River
Okkervil River's The Stage Names is a stunning and soaring collection of songs that examine the consequences of celebrity and pop culture. Wonderful wordplay and cinematic tales from songwriter Will Sheff, with music that's upbeat and smart.
19.
Song: To the Dogs or Whoever
from Historical Conquests of Josh Ritter
by Josh Ritter
The sound of Josh Ritter's most mature album to date was as bold as the title. For Historical Conquests, he tossed his guitar aside and wrote songs on piano instead, hoping for something new. It worked, yielding some of Ritter's most inspired songwriting.
No One Would Riot For Less
18.
Song: No One Would Riot For Less
from Cassadaga
by Bright Eyes
On Cassadaga, Bright Eyes frontman Conor Oberst further explores his love of roots and country-flavored rock, with more production polish than heard on previous records.
17.
Song: Detlef Schrempf
from Cease to Begin
by Band of Horses
Band of Horses moved from a grittier indie-rock sound to a more Southern feel on Cease to Begin. For many fans, it was a huge step forward from the band's 2006 debut, Everything All the Time.
Heimdalsgate Like a Promethean Curse
16.
Song: Heimdalsgate Like a Promethean Curse
from Hissing Fauna, Are You the Destroyer?
by Of Montreal
The Athens, Ga., band Of Montreal continues to impress with its swirling synths and tangled wordplay. Hissing Fauna also boasts one of the year's best album covers, with packaging that unfolds like origami.
15.
Song: Paper Planes
from Kala
by M.I.A.
This was a fan favorite and a favorite for NPR reviewer Will Hermes who notes that M.I.A. "manages to critique and celebrate modern hip-hop in a single indelible line. She understands full well that in America, as in the world over, audiences love a charismatic outlaw."
14.
Song: Myriad Harbor
from
by
In a strong year for Canadian artists, The New Pornographers continued to stand out as a leader. Challengers' melodic and thoughtful pop masterpieces feature more textures and layers than ever.
13.
Song: North American Scum
from Sound of Silver
by LCD Soundsystem
Rock and dance pop intermingle with a sense of humor on LCD Soundsystem's Sound of Silver. "North American Scum" is a hilarious example of body-shaking, head-rattling music.

"Pagan Angel and a Borrowed Car"
12.
Song: Pagan Angel and a Borrowed Car
from Shepherd's Dog
by Iron & Wine
Iron and Wine's Shepherd's Dog was a surprising turn from the whispery folk of earlier albums. Frontman Sam Beam explores his eclectic side with forays into psychedelic rock and lush instrumentation.
11.
Song: Rehab
from Back to Black
by Amy Winehouse
It's been a wild year for Amy Winehouse. A tumultuous personal life has some fans questioning her staying power, but there's no doubting her artistry or her voice on the Motown-inspired Back to Black.
10.
Song: Imitosis
from Armchair Apocrypha
by Andrew Bird
Andrew Bird made one of the year's most subtle works of art. Not as brash as other albums, Armchair Apocrypha features delicate, handmade songs built around Bird's trademark violin work and world-class whistling.

09.
Song: Green Gloves
from Boxer
by The National
The National wins the prize for clever time-signature trickery, setting different rhythms against one another on Boxer's opening track, "Fake Empire." It sets the tone for a near-perfect collection of introspective late-night rock songs.
08.
Song: "Phantom Limb"
from Wincing the Night Away
by The Shins
The Shins returned this year with what many considered a long-overdue album. Four years after releasing the incredibly popular Chutes Too Narrow, the band survives the pressure and expectations by picking up where it left off. Wincing the Night Away is full of jangly, heartfelt pop.
07.
Song: Parting of the Sensory
from We Were Dead Before the Ship Even Sank
by Modest Mouse
On We Were Dead Before the Ship Even Sank Modest Mouse stands its ground as one of the most original bands making music today. It's filled with surprising music and words, led by the distinctive voice of Isaac Brock and the addition of Smiths guitarist Johnny Marr.
06.
Song: You Got Yr. Cherry Bomb
from Ga Ga Ga Ga Ga
by Spoon
Spoon frontman Britt Daniel makes meticulously crafted pop songs. His attention to detail results in a tight, if oddly titled, album that bounces and sways from track to track, and even surprises every now and then.
05.
Song: Icky Thump
from Icky Thump
by The White Stripes
Some critics dismissed Icky Thump as a hit-and-miss minor work for The White Stripes. But NPR listeners loved Jack White's jagged guitar solos and Meg White's elemental drum work enough to put the band in the Top 5.
04.
Song: Hate it Here
from Sky Blue Sky
by Wilco
Much less experimental than recent work, Sky Blue Sky shows Wilco returning to the more straight-ahead, folk and country-flavored rock of the band's earlier days. The addition of guitarist Nels Cline for this recording attracted as much attention as Jeff Tweedy's laid-back songs.

03.
Song: I Feel It All
from Reminder
by Feist
Few singers can hold listeners' attention as effectively as Leslie Feist. TV ads for Apple made her song "1 2 3 4" (co-written by New Buffalo's Sally Seltmann) a huge hit. But collectively, The Reminder runs much deeper, both in its mysterious sound and in its soulful meditations on love and loss.
Antichrist Television Blues
02.
Song: Antichrist Television Blues
from Neon Bible
by Arcade Fire
Arcade Fire spent much of the poll swapping with Radiohead for first place before settling in at second. But Neon Bible is no less impressive in its majestic wall of richly orchestrated sound. Political and passionate, it shines light on the darker side of humanity without seeming overly overt or self-righteous.

01.
Song: Nude
from In Rainbows
by Radiohead
They're the biggest band in the world for some and the most overrated for others. But with In Rainbows, Radiohead did something no other major player did this year. It wasn't just the group's decision to more or less give the album away as a download, or its decision to work without a record label. It was the care Radiohead took to produce In Rainbows, sculpting a three-dimensional sonic landscape unlike any other.