'Blade Runner' Director Ridley Scott
Twenty-five years after its debut, the dystopian-future classic Blade Runner has been released on DVD in a re-edited version called Blade Runner: The Final Cut. Director Ridley Scott talks about that release, as well as about his most recent film, American Gangster.
Ridley Scott Refines His Vision of 'Blade Runner'
Ridley Scott Refines His Vision of 'Blade Runner'
The Blade Runner Partnership/Warner Home Video
Comparing 'Blade Runner'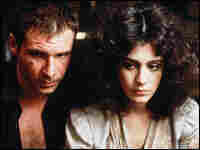 The Blade Runner Partnership/Warner Home Video
Final Scenes from Blade Runner (U.S. Theatrical Release, 1982)
Final Scenes from Blade Runner (Director's Cut, 1992)
The Blade Runnner Partnership/Warner Home Video
Was He or Wasn't He?
Frank Darabont (Director and Blade Runner Fan) and Harrison Ford and Edward James Olmos (Stars of Blade Runner) on Whether Deckard Was a Replicant
Few modern American films have achieved the cult status enjoyed by Ridley Scott's Blade Runner. But the picture's path to film legend was anything but straight, with bitter disagreement between director Scott and Warner Brothers about the film's original cut.
A flop when it premiered in 1982, Blade Runner stars Harrison Ford as Deckard, a cop who hunts renegade human-like androids — known as replicants — in a futuristic Los Angeles. It features a happy ending with a voiceover that explains how Deckard "gets the girl" — who is actually a replicant named Rachael.
Ten years later, in 1992, Ridley Scott released a director's cut of the film, in which he dropped the happy ending forced on him by the studio in 1982.
And now, 25 years after the original release, the director gets the final say. He has re-cut the original film and brushed up the visuals and sound quality to create the picture he had always intended.
Blade Runner: The Final Cut — which Scott insists truly is the final cut — will be released on DVD this week.
Scott says one reason Blade Runner has become a cult classic is its eerily prescient vision of the future.
The director employed his memories of Hong Kong and a "futurist," author Syd Mead, to help design the look of Los Angeles in 2019, when the film is set.
"A bottle of red at about 11 o'clock at night" also helped, Scott tells Michele Norris.
"Preparing a film like this, you literally have to distill and embed yourself in the world, in that little universe that you're about to create."
But that universe was not one that critics — or many audiences — understood when the movie was first released. Scott characterizes the less-than-positive reviews the movie received as "confused."
"I think (the critics) were confused; they missed the point. So yeah, it was quite upsetting, actually. I still figured I'd got it right, though. So the fall was harder when it really didn't play at all well.
"I was staring at these reviews and thinking, 'These people don't get it.' And I was actually destroyed in a couple of publications viciously, actually, it was really strange. It stirred up a lot of very hot opinions, and I thought, 'Listen, it's only a movie. Relax guys, if you hate it that much, don't write about it or give me an inch,'" Scott remembers.
He says he doesn't blame the studio executives who demanded he change the ending of the film before its original release in 1982.
"If I was a studio head ... and I were giving you in excess of $100 million, I would want to have a say as well," Scott says.
But the danger, he says, is when financial backers start relying too much on audience testing.
"It's not the end in itself. You've got to know how to read it and know how to use it and also, you have to know how to reject it if you think it's wrong," Scott says.
Another hot debate over Blade Runner is the question of whether Deckard — who hunts replicants — is actually a replicant himself. Even director Scott and star Harrison Ford didn't agree.
Scott says that Ford thought the idea of Deckard as a replicant was "corny" and "too neatly tied off."
In response, Scott recalls, he said that in a movie as unusual as Blade Runner, it would be OK to actually have a narrative come full circle.
And in the end, Scott says, "I'm the one cutting the movie. Sorry, Harry."