The Year's Best Jazz CDs
In a year of great jazz music, the finest album belonged to the final recording by saxophonist Michael Brecker, who died in January, having left his mark on more than 900 records. Brecker's style owed a lot to John Coltrane, but he found musical partners far and wide, from Joni Mitchell to Paul Simon to James Brown.
What follows are the Top 10 jazz recordings of 2007, led by Brecker.
Michael Brecker
Song: The Mean Time
from Pilgrimage
With Pilgrimage, the late Michael Brecker leaves us with a strong reminder of why many musicians said that one of their hardest tasks was to follow a Brecker solo. Herbie Hancock, Brad Mehldau, Pat Matheny, John Patitucci and Jack DeJohnette all rise to the occasion here. Listen to "The Mean Time."
Abbey Lincoln
Song: The Music Is the Magic
from Abbey Sings Abbey
A composer, lyricist, poet and singer, Lincoln reinvents herself here with a new musicality dedicated to some of her classic encounters, with highlights including "Blue Monk," "Throw It Away" and "The Music Is the Magic." Listen to "The Music Is the Magic."
SF Jazz Collective
Song: San Francisco Holiday/Worry Later
from 4th Annual Concert Tour
Comprising eight composers and performers, all acclaimed bandleaders in their own right, SF Jazz Collective alternates original compositions with new interpretations of jazz master Thelonious Monk. Listen to "San Francisco Holiday/Worry Later." Purchase the CD.
"Rich's Piece" from the Maria Schneider Orchestra's Sky Blue
Maria Schneider
Song: Rich's Piece
from Sky Blue
Maria Schneider won a Grammy for her 2004 Concert in the Garden CD. With childhood memories, dreams, poems, a trip to Peru or hang-gliding for inspiration, her all-star cast responds in a way which makes us understand that when the orchestra appears anywhere, you can't get near the place. Listen to "Rich's Piece." Purchase the CD.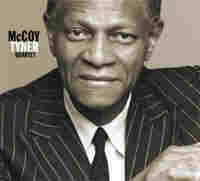 Various Artists
Song: Blues in the Night
from We All Love Ella: Celebrating the First Lady of Song [16 Tracks]
Ella Fitzgerald had an impact on most of today's singers, regardless of genre. Here you have Diana Krall, Etta James, Queen Latifah, Natalie Cole, Gladys Knight, Lizz Wright and others sharing love for the first lady of song. There's even a wonderful archival gem included here, featuring Fitzgerald and Stevie Wonder together. Listen to Ledisi sing "Blues in the Night."
Robert Glasper
Song: Medley: Maiden Voyage/Everything in Its Right Place
from In My Element
Houston native Robert Glasper seldom wears the same musical hat. Here, with bassist Vicente Archer and drummer Damion Reid, the pianist shares an infectious energy on originals mixed with tunes from Sam Rivers, Herbie Hancock and Radiohead. Listen to "Maiden Voyage/Everything in Its Right Place."
Dee Dee Bridgewater
Song: Children Go 'Round [DeMissènw]
from Red Earth
Dee Dee Bridgewater gives us a worldly call and response with this visit inside the music of Mali. When she's completed the journey, we're back home for a spirited version of the classic "Compared to What." Listen to "Children Go Round (Demisènw)."
'Lullaby' from Kids with Joe Lovano
Joe Lovano & Hank Jones
Song: Lullaby
from Kids: Duets Live at Dizzy's Club Coca-Cola
One's in his 50s. The other is in his 80s. Coming together, they're obviously delighted to be in each other's musical company. Captured live in New York, it's just a kick to hear how these masters of sax and piano, respectively, respond to one another's ideas. We should only hope to be in the moment like this. Listen to "Lullaby."