Remembering Those Who Left Us in 2007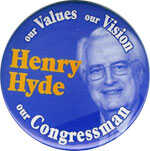 Thursday is the big day: the Iowa caucuses, where voters – not pundits – will begin the process of selecting presidential nominees of both parties. It's the first election in a long, long time where no one can be really sure what is going to happen, making this an extremely exciting time for political junkies.
But we will have plenty of time to look ahead. This week's column, the first of 2008, wishes to take one more look back at 2007, a remembrance of those voices in the world of politics we lost. Among the departed is Sen. Craig Thomas, the Wyoming Republican, as well as five members of the House, three of whom were women. Gone also were a first lady (Lady Bird Johnson) and two others who might have been (Eleanor McGovern and Jane Wyman). From the era of Watergate, we lost one of the leading conspirators of the scandal (Howard Hunt) and three congressmen from the House Judiciary Committee who wrestled with presidential impeachment (Robert Drinan, Wiley Mayne and Bill Hungate). A vice presidential candidate who lasted just 18 days on the ticket (Tom Eagleton) and a congressman who dearly wanted to be named to the ticket (Guy Vander Jagt). The voices of powerful congressmen (Henry Hyde) and phenomenal journalists (David Halberstam, for one) were lost as well.
Presented here is a chronological list of those who died last year. It doesn't claim to be complete, but it includes many of those who made our lives more interesting and the world a better place.
C. William Verity, 89, a former steel company executive who was named Secretary of Commerce in the Reagan administration after the first secretary, Malcolm Baldridge, was killed in a rodeo accident. (Jan. 3)
Jane Bolin, 98, whose appointment by NYC Mayor Fiorello La Guardia in 1939 made her the nation's first black woman to become a judge; she remained on the bench for 40 years. (Jan. 8)
George Smathers, 93, a Florida Democrat whose election to the Senate in 1950 remains to this day as one of the most classic, controversial and bitter of all campaigns. Smathers was a close pal of John F. Kennedy and, later, Richard Nixon. He was first elected to the House in 1946 – the same year as Kennedy and Nixon – by beating an incumbent in the Democratic primary. Four years later, in the 1950 Dem primary, Smathers challenged left-wing Sen. Claude Pepper (D) and defeated him in a race that centered on communism and civil rights. Easily re-elected in 1956 and '62, Smathers retired in '68. (Jan. 20)
E. Howard Hunt, 88, a former CIA operative whose litany of bungled schemes and "dirty tricks" included Watergate. Hunt recruited four of the five Cuban exiles who broke into the offices of the Democratic National Committee in 1972 and ultimately brought down the president he was working for. (Jan. 23)
Charlotte Reid, 93, an Illinois Republican who became an unlikely candidate for Congress in 1962 after her husband, Frank – the GOP nominee for an open House seat – died of a heart attack. Mrs. Reid won that year and served until 1971, when she resigned to become a member of the Federal Communications Commission. (Jan. 25)
Eleanor McGovern, 85, wife of former South Dakota Sen. George McGovern, the 1972 Democratic presidential nominee. (Jan. 25)
Robert Drinan, 86, a Jesuit whose 10 years in the House as a liberal Democrat from Massachusetts (1971-80) ended following a papal order barring priests from holding public office. Drinan ended the long career of Rep. Philip Philbin in the 1970 Democratic primary by challenging the incumbent's support for President Nixon's Vietnam War policy. Forced to abandon his office in 1980, Drinan was succeeded by Barney Frank (D), who still serves. (Jan. 28)
Deborah Orin, 59, D.C. bureau chief for the New York Post. (Jan. 28)
Molly Ivins, 62, a Texas liberal columnist, author and humorist, who had the knack of getting under the skin of conservatives. (Jan. 31)
Nat Hentel, 87, who briefly served as district attorney for Queens County, N.Y., succeeding Frank O'Connor (D), who was elected president of the New York City Council. Appointed to the post by Gov. Nelson Rockefeller, a fellow Republican, Hentel was defeated in the election by state Sen. Thomas Mackell (D). (Jan. 31)
Richard Kelley, 91, who became Bill Clinton's stepfather when he married his mother, Virginia, in 1982. (Jan. 31)
Ralph de Toledano, 90, a conservative writer who had a long friendship with Richard Nixon. (Feb. 3)
Nelson Polsby, 72, a political scientist at the University of California at Berkeley who was an authority on politics and the presidency. (Feb. 6)
Harriett Woods, 79, whose election as Missouri's lieutenant governor in 1984 made her the first woman to win statewide office there. Woods was twice the Democratic nominee for the Senate, losing to GOP incumbents John Danforth in 1982 (in a squeaker) and Kit Bond in 1986. She later served as president of the National Women's Political Caucus. (Feb. 8)
Charles Langford, 84, a lawyer for Rosa Parks following her 1955 arrest, which led to the Montgomery bus boycott. Langford later served as a Democratic state senator in Alabama. (Feb. 11)
Thomas Fairchild, 94, who as Wisconsin's former state attorney general was twice the Democratic nominee for the Senate, losing to GOP incumbents Alexander Wiley in 1950 and Joseph McCarthy in 1952. Later, as a federal appeals court judge appointed by President Johnson, he reversed the convictions of the Chicago Seven, the group of protestors arrested in the riots during the 1968 Democratic National Convention. (Feb. 12)
Rep. Charlie Norwood, 65, a member of the House from Georgia who was swept into power in the 1994 Republican wave — he trounced Rep. Don Johnson (D) that year. While in Congress, Norwood, who was a dentist, focused on health care. (Feb. 13)
Gene Snyder, 79, a conservative Kentucky Republican who in three successive elections won, lost, and won again a House seat in a congressional career that eventually lasted 22 years. He unseated Rep. Frank Burke (D) in 1962, lost two years later in the LBJ landslide to Charles Farnsley (D), then moved to a neighboring district in 1966 and ousted Rep. Frank Chelf (D). He held the seat until retiring in 1986, when he was succeeded by now-Sen. Jim Bunning (R). (Feb. 16)
Earl Mazo, 87, a political correspondent for the old New York Herald Tribune and The New York Times who wrote a biography of Richard Nixon in 1959. (Feb. 17)
William Anderson, 85, a Naval officer who sailed the first nuclear submarine, the Nautilus, beneath the North Pole, and went on to serve four terms in Congress as a Democrat from Tennessee. In 1964 he won the House seat being vacated by Ross Bass (D), who was elected to the Senate. Anderson's increasingly anti-Vietnam War views, combined with the redrawing of his district, which added more Republicans, led to his 1972 defeat at the hands of Robin Beard (R). Two years before coming to Congress, he ran for governor of Tennessee as an independent, finishing a strong second, well ahead of the GOP nominee. (Feb. 25)
Arthur Schlesinger Jr., 89, a liberal intellectual and historian, who served as a special assistant to President John F. Kennedy. (Feb. 28)
Thomas Kleppe, 87, a North Dakota Republican whose two terms as a member of the House (1967-70) were sandwiched by two unsuccessful runs for the Senate (1964 and 1970) against Democratic incumbent Quentin Burdick. He later served as interior secretary under President Ford. (March 2)
Thomas Eagleton, 77, a three-term senator from Missouri who will always be remembered for his short-lived (18 days) stint as George McGovern's choice for vice president in 1972, which ended following revelations that Eagleton had undergone electric-shock treatment for depression. A favorite of organized labor, Eagleton had previously been elected as state attorney general and lieutenant governor. (March 4)
Bob Hattoy, 56, a strong advocate for gay and lesbian rights as an adviser to President Bill Clinton. (March 4)
Jack Metcalf, 79. As the GOP nominee for the Senate against Democratic incumbent Warren Magnuson, Metcalf got clobbered twice (1968 and '74). He then resurfaced as a member of Congress 20 years later, in 1994, and served three terms before retiring. (March 15)
Mary Dent Crisp, 83, a co-chair of the Republican National Committee whose support for abortion rights and the Equal Rights Amendment led to her ouster in 1980, when she was also publicly rebuked by presidential nominee Ronald Reagan. Later that year, Crisp became the campaign manager for Rep. John Anderson, the Illinois Republican who was running for president as an independent. (March 24)
Jim Jontz, 55, a liberal Democrat from Indiana who captured an open GOP House seat in 1986 and held it until 1992, when he was ousted by Republican Steve Buyer. Two years later, he took on GOP Sen. Dick Lugar and barely got 30 percent of the vote. (April 14)
Greg Stevens, 58, a Republican media strategist who is credited with using Michael Dukakis' ill-advised ride in a tank against him during the 1988 presidential campaign. (April 16)
Steven Derounian, 89, whose 12 years as a Republican congressman from Long Island in New York came to an end in the 1964 rout of GOP presidential candidate Barry Goldwater. First elected in 1952, Derounian fell victim to the LBJ landslide in '64, narrowly losing to Democratic candidate Lester Wolff. Two years later Derounian tried again; he defeated a more moderate Republican in the primary, William Casey – who later went on to become director of the CIA – but lost again in the general to Wolff. (April 17)
Rep. Juanita Millender-McDonald, 68, a Democratic member of Congress from California who was chair of the Committee on House Administration. She had served in the House since winning a special 1996 election to replace convicted Rep. Walter Tucker (D). (April 22)
David Halberstam, 73, a Pulitzer Prize-winning author whose coverage of the Vietnam War helped change U.S. attitudes towards the conflict. (April 23)
Jack Valenti, 85, former president of the Motion Picture Association of America. He had earlier been a confidant of Lyndon B. Johnson. (April 26)
Norman Frank, 82, public relations adviser. Frank devised the campaign to defeat NYC Mayor John Lindsay's 1966 ballot initiative to create a civilian review board that would oversee police behavior. Frank himself made a short-lived campaign for mayor in the 1969 Democratic primary. (May 11)
Mendel Davis, 64, a South Carolina Democrat who won his House seat in a 1971 special election, following the death of Rep. Mendel Rivers (D). (He beat James Edwards, who later went on to become the state's first Republican governor.) Davis retired after 1980; he tried to regain the seat in 1986 but lost in the Democratic primary. (May 13)
Jerry Falwell, 73, preacher and founder of the conservative Moral Majority organization. Falwell helped bring evangelical Christians into politics and, more specifically, the Republican Party. (May 15)
Wiley Mayne, 90, whose eight-year career in the House as an Iowa Republican ended with the Watergate debacle of 1974. He was first elected in 1966, ousting freshman Rep. Stanley Greigg (D). But his defense of President Nixon, while he was a member of the House Judiciary Committee during the Nixon impeachment hearings, led to his defeat in '74 at the hands of Berkley Bedell (D), whom Mayne had defeated two years before. (May 27)
Sam Garrison, 65, the minority counsel for the House Judiciary Committee, who defended President Nixon during the 1974 impeachment hearings. (May 27)
Parren Mitchell, 85. Mitchell defeated Rep. Samuel Friedel (D) in the 1970 Democratic primary (on his second try) — the first step to his becoming Maryland's first black congressman. During his eight terms (1971-86), Mitchell was a tireless fighter for civil rights, at one point chairing the Congressional Black Caucus. (May 28)
Warren Anderson, 91, a longtime GOP power in New York, who served 36 years in the state Senate, 16 as majority leader (1972-88). (June 1)
Sen. Craig Thomas, 74, an unassuming three-term Republican from Wyoming who was diagnosed with leukemia. He had been hospitalized prior to his 2006 election, which he won with 70 percent of the vote, and announced his health diagnosis two days later. Thomas won a special election to the House in 1989, after Rep. Dick Cheney (R) was named defense secretary. In 1994, when Sen. Malcolm Wallop (R) retired, Thomas easily defeated Gov. Mike Sullivan (D) for the first of his three terms. (June 4)
Jim Clark, 84, the longtime sheriff of Selma, Ala., who regularly used violence to enforce segregation and keep blacks from registering to vote. (June 4)
Gilbert Gude, 84, a liberal Republican congressman from Maryland who was first elected in 1966 and served until his retirement 10 years later. (June 7)
Donald Clancy, 85, an Ohio Republican. While mayor of Cincinnati, Clancy was elected to an open House seat in 1960 and served until 1976, when he was defeated by Democrat Tom Luken. (June 12)
Robin Beard, 67, a Tennessee Republican who unseated Rep. William Anderson (D) in 1972 and served until 1982, when he made an unsuccessful Senate bid against Democratic incumbent Jim Sasser. (June 16)
Guy Vander Jagt, 75, a Republican congressman from Michigan whose oratory skills landed him the role of keynote speaker for the 1980 GOP national convention, where he gave the speech by memory. Vander Jagt won the House seat vacated in 1966 by Robert Griffin (R), who was appointed to the Senate; he rose to become chair of the National Republican Congressional Committee. An early bid for House minority leader whip resulted in a loss to Robert Michel. Vander Jagt remained in Congress until 1992, when he was defeated in the GOP primary by Peter Hoekstra, who still serves. (June 22)
William Hungate, 84, a Democratic congressman from Missouri. While serving on the House Judiciary Committee in 1974, Hungate sponsored one of the articles of impeachment against President Nixon that passed. Hungate was first elected to Congress in 1964, following the death of Rep. Clarence Cannon (D), and retired after 1976. He was later appointed to the federal bench by President Carter. (June 22)
Jack Flynt, 92, a Georgia Democrat who served 12 terms in Congress (1955-78) and is best remembered as the one who defeated a GOP college professor by the name of Newt Gingrich, later the Speaker of the House, in 1974 and 1976, the last two times Flynt ran. (June 24)
Byron Baer, 77, a longtime Democratic state legislator from New Jersey who narrowly lost his bid to defeat indicted congressman Henry Helstoski in the 1976 Democratic primary. (June 24)
Frank Burke, 87, a former Democratic congressman from Kentucky who later served as mayor of Louisville. Burke unseated Rep. John Robsion (R) in 1958 and was re-elected two years later by a slim margin. In 1962, Burke lost his seat to Republican Gene Snyder. Seven years later he was elected mayor and served four years. (June 29)
John Hill, 83, the first Democrat to lose a Texas gubernatorial race to a Republican since Reconstruction. Hill, the Texas secretary of state, first ran for governor in the 1968 primary and finished sixth. Two years later he was elected state attorney general. In 1978, he knocked off Gov. Dolph Briscoe (D) in the gubernatorial primary, but he in turn was narrowly defeated in November by Republican William Clements. He was later elected chief justice of the Texas Supreme Court. (July 9)
Edwin McDowell, 72, a former political reporter for The New York Times. While working for the Arizona Republic, McDowell wrote Barry Goldwater: Portrait of an Arizonan in 1964. (July 10)
Doug Marlette, 57, a Pulitzer Prize-winning political cartoonist. (July 10)
Lady Bird Johnson, 94, the widow of President Lyndon Johnson (born Claudia Alta Taylor), who championed the environment and highway beautification during her time as first lady. (July 11)
Jeremiah Milbank, 87, a longtime leading Republican fundraiser. (Aug. 7)
Richmond Flowers, 88, a former Alabama state attorney general who opposed segregation and was a political foe of Gov. George Wallace. Elected AG in 1962, Flowers ran for governor in 1966. But with Wallace barred from succeeding himself, he had his wife, Lurleen, run in his stead, and she easily won the Democratic primary, then tantamount to victory in Alabama. (Aug. 9)
Michael Deaver, 69, a public relations expert who helped shape Ronald Reagan's image for decades, from his time as governor of California through his presidency. (Aug. 18)
Daniel Brewster, 83, a two-term Democratic congressman from Maryland who went on to serve one term in the Senate. Brewster defeated Fife Symington (R), whose son later became governor of Arizona, for an open House seat in 1958 and beat him again two years later. In 1962 Brewster won the Senate seat being vacated by Republican John Marshall Butler. In 1964 he was the stand-in for President Johnson in Maryland's Democratic presidential primary, defeating segregationist Alabama Gov. George Wallace. In 1968, running as a supporter of Johnson's Vietnam policy, Brewster was unseated by liberal Republican Charles Mathias. (Aug. 19)
Leon Shull, 93, who served as national director for the Americans for Democratic Action (ADA), a liberal advocacy group, for two decades beginning in 1964. (Aug. 25)
Charles Vanik, 94, a liberal Democratic congressman from Cleveland (1955-80). Along with Sen. Henry Jackson (D-WA), Vanik famously sponsored a 1974 trade bill amendment that allowed Jews to emigrate from the Soviet Union. In 1968, when his district was redrawn to become majority black – designed to get Louis Stokes into Congress – Vanik switched to another district and defeated a fellow incumbent, Republican Frances Bolton. In 1982, after he left the House, he unsuccessfully sought the Dem nomination for lieutenant governor. (Aug. 30)
Rep. Paul Gillmor, 68, a 10-term Republican congressman from Ohio. Gillmor was one of the first in his party to call for the resignation of Attorney General Alberto Gonzales. In 1988, when Rep. Delbert Latta (R) retired, Gillmor defeated Latta's son Bob for the nomination by 27 votes; he won re-election without difficulty ever since. Bob Latta won this year's special election to succeed Gillmor. Earlier in his life, Gillmor was president of the Ohio state Senate and made an unsuccessful bid for governor in the 1986 GOP primary. (Sept. 5)
Jennifer Dunn, 66, one of the highest-ranking Republican women in the history of the House. Dunn represented a suburban Seattle district from 1992, when she succeeded GOP Senate candidate Rod Chandler in the 8th CD, until her retirement in 2004. She served as the vice chair of the House Republican Conference and unsuccessfully challenged House Majority Leader Dick Armey (R-TX) for his post following the 1998 elections. Prior to coming to Congress, she was Washington State GOP chair for more than a decade. (Sept. 5)
Effi Barry, 63. As first lady of Washington, D.C., she had to endure the humiliation of the arrest of her husband, Marion, in an infamous sex and drug scandal. (Sept. 6)
Jane Wyman, 90, an Oscar-winning actress who was the first wife of Ronald Reagan; they divorced in 1948. (Sept. 10)
Christian Herter Jr., 88, son of the former Massachusetts congressman and governor, whose own political career included stints as a GOP member of the state legislature and the state Executive Council; he later was defeated in a bid for state attorney general. (Sept. 16)
Harry Dent, 77, a former aide to Sen. Strom Thurmond (D, then R-SC) who became a key architect of Richard Nixon's "Southern strategy," which led to Nixon capturing the presidency in 1968. (Sept. 28)
Harry Lee, 75, who was in his seventh term as the Democratic sheriff of the majority-white New Orleans suburb of Jefferson Parish (first elected in 1979). His tenure included constant battles with blacks. (Oct. 1)
Rep. Jo Ann Davis, 57, a four-term Republican member of Congress from Virginia's 1st District who was a constant advocate for federal employees. Her election in 2000 made her the first Republican woman to represent Virginia in Congress. (Oct. 6)
Joe Waggoner, 89, a conservative Democratic House member from Louisiana who won a special election in 1961, following the death of Rep. Overton Brooks (D), and served until his retirement in 1978. (Oct. 7)
George Sangmeister, 76, a former three-term Democratic House member from Illinois (1989-94). Sangmeister was embarrassed in 1986 when he was running in the Democratic primary for lieutenant governor and defeated by a disciple of Lyndon LaRouche. But he came back two years later, narrowly ousting Rep. Jack Davis (R); he won twice more before retiring in 1994. (Oct. 7)
Robert Young, 83, a five-term Missouri Democratic congressman who won the House seat being given up by Senate hopeful Jim Symington (D) in 1976. Young served until his 1986 defeat at the hands of Republican Jack Buechner. (Oct. 17)
James Catterson, 77, a former Suffolk County (NY) district attorney who was the GOP nominee against Rep. Otis Pike (D) in 1966. (Oct. 18)
Thomas Meskill, 79, a Connecticut Republican who ousted Rep. Bernard Grabowski (D) in 1966 on his second try. Meskill served in the House until 1970, when he was elected governor, defeating fellow congressman Emilio Daddario (D). Declining to run for re-election in 1974, he was later appointed by President Ford to the federal bench. Prior to serving in Congress, he was mayor of New Britain. (Oct. 29)
Peter Hoagland, 65, a Nebraska Democrat who narrowly won an open GOP House seat in 1988 and served three terms before being ousted by Republican Jon Christensen by less than 2,000 votes in 1994. (Oct. 30)
Ray Smith, 83, a Democratic member of the Arkansas state House of Representatives (1955-82). Following the integration of Central High School in Little Rock, Smith cast the only vote against a bill giving Gov. Orval Faubus (D) the power to close public schools. (Nov. 1)
John Grenier, 77, one of the leading architects of Barry Goldwater's 1964 run for president. Grenier was the Alabama GOP Senate nominee against Democratic incumbent John Sparkman two years later. (Nov. 6)
Earl Dodge, 74, six-time presidential nominee of the Prohibition Party; the last time was in 2004. (Nov. 7)
Augustus Hawkins, 100, the first African-American elected to Congress from California. When Hawkins was first elected, in 1962, there were only five other blacks in the House. A founding member of the Congressional Black Caucus, Hawkins was deeply involved in the Civil Rights Act of 1964. He also chaired the House Education and Labor Committee and the Committee on House Administration during his tenure. He retired in 1990 and was succeeded by Maxine Waters (D), who still serves. (Nov. 10)
Norman Mailer, 84, a larger-than-life novelist who made a mostly serious bid for the Democratic nomination for mayor of New York in 1969, where he finished fourth in the primary. His campaign, along with that of running mate (for City Council President) Jimmy Breslin, advocated making New York City the 51st State. (Nov. 10)
Robert McNair, 83. McNair was considered a progressive on race during his time (1965-70) as governor of South Carolina, but he paid a political price for an incident known as the Orangeburg Massacre, when three black students were gunned down in 1968 by state highway patrol agents. McNair (D) was lieutenant governor when, in 1965,Gov. Donald Russell (D) resigned to have himself appointed to a vacant Senate seat; McNair was elected to a full term in 1966. (Nov. 17)
William O'Neill, 77, a Democrat who, as lieutenant governor, became governor of Connecticut on New Year's Eve, 1980, following the health-related resignation of Ella Grasso (D). O'Neill won on his own in 1982 (53 percent over Lewis Rome) and 1986 (58 percent over Julie Belaga). No Democrat has been elected governor of the state since. (Nov. 24)
Joseph Minish, 91, a New Jersey Democrat who was elected to Congress in 1962, after the incumbent, Hugh Addonizio (D), was elected mayor of Newark. Minish served until his defeat in 1984 at the hands of Republican Dean Gallo. (Nov. 24)
Karl Ohs, 61, a Montana Republican who was elected to one term as lieutenant governor in 2000. (Nov. 25)
Henry Hyde, 83, an influential conservative Republican House member from Illinois for 16 terms (1975-2006). A strong abortion opponent – the Hyde Amendment barring federal funds to provide for abortions bears his name – he chaired the Judiciary Committee during the House vote to impeach President Clinton in 1998 and was a leading House manager during the Senate trial. His first bid for Congress, in 1962, resulted in a narrow loss to Dem incumbent Roman Pucinski. (Nov. 29)
Moses Weinstein, 95, a Democrat from Queens who served as majority leader of the New York state Assembly in the 1960s. (Nov. 30)
Fife Symington, 97 father of the former governor of Arizona, who himself was a three-time (1958, 60, 62) unsuccessful GOP candidate for Congress in Maryland. Symington was President Nixon's ambassador to Trinidad and Tobago. (Dec. 9)
Rep. Julia Carson, 69, whose election in 1996 made her the first black and the first woman to represent Indianapolis in Congress. Diagnosed with cancer, she recently announced she would not seek a seventh term next year. She started her career as an aide to Rep. Andy Jacobs (D-IN) and succeeded him when he retired in '96. (Dec. 15)
Tom Murphy, 83, a fiercely partisan "yellow dog Democrat" who served as speaker of the Georgia House for 28 years (1974-2002), all the while frustrating the GOP's attempts at attaining power. (Dec. 17)
Tommy Byrne, 87, a former pitcher for the New York Yankees who was named comeback player of the year in 1955. He merits mention on this list because he was elected mayor of Wake Forest, N.C., after his baseball career ended. (Dec. 20)
Evelyn Gandy, 87, a Mississippi Democrat who was the first woman in state history to be elected to the state house of representatives (1947), state treasurer (1959), insurance commissioner (1971) and lieutenant governor (1975). But her two attempts at the governorship failed: She lost the Democratic primary runoffs to William Winter in 1979 and Bill Allain in 1983 after coming in first in the initial primary both times. (Dec. 23)