A Musician's Guide to the Pre-Concert Warm-Up
A Musician's Guide to the Pre-Concert Warm-Up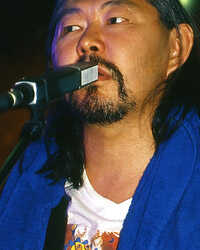 Art of the Warm-Up
Artists heard in this feature (in order):
Abigail Washburn, folk musician
Flora Purim, Brazilian singer
Lang Lang, classical pianist
Cecilia Bartoli, opera singer
Albert Kuvezin, Tuvan rocker
Gillian Welch, country singer-songwriter
Dar Williams, folk singer
Lawrence Brownlee, opera singer
Yo-Yo Ma, cellist
Do you have a warm-up routine? A morning cup of coffee and a shower? A few sit-ups and stretches?
For musicians, the ritual of warming up can be the key to a great performance. Brazilian singer Flora Purim's routine is unusual.
"I go to the natural history museum, to the bird room," she explains. "I try to imitate the birds, to try to speak with them." She's remarkably good with the seagulls.
Opera star Cecilia Bartoli plays it more laid-back. She likes to have a light, healthy meal, a cat nap and then very little singing to warm up, "to preserve the freshness in the voice," she says.
Folksinger Dar Williams takes the opposite approach.
"The best thing to do is sing along with the radio on the way to the gig," Williams says. She prefers belting it out to the sounds of oldies stations.
Tenor Lawrence Brownlee has a regimen that begins with what he calls "lip trills," in which he rapidly buzzes the lips like a gurgling baby. From there, he moves on to "sirens," sliding the voice up and down its range. "It wakes up the entire voice from top to bottom," he says.
Yo-Yo Ma plays music every morning and says he likes to ease into his relationship with his cello and his bow.
"When I make the first sound, I always want it to be a friendly sound," he says. "You're not gunning the motor; you're trying to just ease it in and feel the lay of the land, because you're about to enter into some kind of partnership."