Bob Mondello's Take on the Best Picture Nominees
Here in one place: All of Bob Mondello's short reviews of this year's nominees for the Best Picture Oscar — complete with clips from the films.
'There Will Be Blood'
Director: Paul Thomas Anderson
Genre: Drama
Running Time: 158 min
Watch Clips
'There Will Be Blood' Trailer
To music that sounds like a hive of angry bees, Daniel Day-Lewis falls down an oil well he's digging and breaks his foot — his left foot — in the opening moments of Paul Thomas Anderson's oil epic. Based on Upton Sinclair's 1927 novel Oil, about a clash of capitalism and religion at the turn of the last century, this sometimes magnificent, decidedly strange film is a portrait of a terrible, rapacious man.
The American Dream, or perhaps simple greed, has turned him into a sociopath, though there are moments when he seems briefly empathetic — adopting the infant son of a fellow well-digger who's killed in an accident, or opening up his life to a stranger who shows up claiming to be a brother he never knew he had.
These flashes of humanity don't turn out well, however, and the character's as hard to like as he is hardbitten. A young preacher played obsessively by Paul (Little Miss Sunshine) Dano is no easier to warm up to. And few other performers make much impression. But the imagery — an oil boom town is built before your eyes, then nearly burns down in a Western landscape that seems a character in its own right — is undeniably powerful.
Anderson, an indie director with a streak of intriguing art-film hits to his credit (Magnolia, Boogie Nights, Punch-Drunk Love) proves to have a real eye for epic filmmaking, though with a screenplay that sometimes goes for half an hour without a word being spoken, an extreme, violent ending, and a running time that stretches to 158 minutes, that film ends up seeming a blunter instrument than it might.
'Juno'
Director: Jason Reitman
Genre: Comedy
Running Time: 92 minutes
As played by the fabulously watchable Ellen Page, Juno McGuff is a sharp-tongued, self-possessed 16-year-old who's not about to let an unexpected pregnancy get in the way of her life — or her quirky sense of humor.
Deciding to put the baby up for adoption, she finds prospective parents through the PennySaver, and heads off to sign contracts with barely a backward glance at her astonished folks (Alison Janney and J.K. Simmons, both wonderful).
If Juno's not quite as worldly as she thinks she is, she's still a helluva lot more so than her boyfriend (Michael Cera) or her baby's adoptive dad (Jason Bateman), who are, respectively, just leaving adolescence and clinging to its memory.
Screenwriter Diablo Cody and director Jason Reitman make Juno the marvelously un-still center of a wistfully acerbic comedy that qualifies as a feminized version of Knocked Up — and one that's not afraid of raising hackles in pursuit of laughs. What's the point of having hackles, after all, if they never get elevated? (Recommended)
Related NPR Stories
'Atonement'
Alex Bailey/Focus Features
Director: Joe Wright
Genre: Drama
Running Time: 130 minutes
A little girl's spiteful lie and its terrible consequences are at the heart of this gorgeous, resonant adaptation of Ian McEwan's 2001 bestseller. A tale of heartbreak set in the 1930s and '40s, it chronicles events set in motion when 13-year-old Briony (a terrific Saoirse Ronan) sees something she thinks she understands, but actually doesn't. Her misinterpretation, born of a mix of naivete and class stereotyping, destroys two lives and profoundly warps a third.
The filmmakers swathe their story in the richly upholstered elegance of a stately English estate and steep it in the heady romance that's budding between Briony's sister Cecelia (Keira Knightley) and their housekeeper's son, Robbie (James McAvoy). Joe Wright (Pride and Prejudice) directs Atonement with an eye to framing each performance with spectacularly vivid images, including a genuinely breathtaking tracking shot on the bloody, wreckage-strewn beach at Dunkirk. (Recommended)
'No Country for Old Men'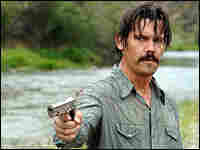 Richard Foreman/Miramax Films
Directors: Ethan Coen
Joel Coen
Genre: Crime Drama/Thriller
Running Time: 122 minutes
Related NPR Stories
Cormac McCarthy's 2005 novel about American violence — a drug deal gone bad, a traffic stop gone wrong, carnage so far gone it's off the charts — has been turned into the sharpest Coen Bros. film in years.
It's basically a genre exercise, one harrowingly extended chase sequence in which psychopath Javier Bardem trails hunter Josh Brolin, who's found $2 million in the Texas desert near a pile of bodies. Leavened with humor — Tommy Lee Jones cracks wise from the sidelines as a laconic sheriff as things turn ever grimmer — the unpredictable narrative has shocks 'round every plot twist, many of them provided by a reliably eerie Bardem with his slaughterhouse air-gun and Buster Brown haircut.
Still, for a film that traffics in implacable malice, this movie remains remarkably grounded in the everyday. Writer-directors Joel and Ethan Coen use silences (a hotel-hallway sequence will have audiences afraid to breathe) as well as the promise of excruciating violence to ratchet up the tension.
But they also know the value of understatement, at one point dramatizing mayhem with a breathtaking economy simply by having a character check his boots as he steps through a doorway. By that point in this sanguinary film, blood has pooled so often that you know exactly what he's checking for. (Recommended)
'Michael Clayton'
Director: Tony Gilroy
Genre: Drama
Running Time: 119 minutes
In this smoldering corporate thriller, Tony Gilroy — the screenwriter behind the three Bourne films — works a less frenetic, lawyerly variation on that same basic plot line: You know, the one involving a tough character who has an identity crisis about working for the bad guys.
George Clooney plays a fixer for a high-powered law firm who is asked to look after one of the firm's star litigators (a terrific Tom Wilkinson). The older man has stopped taking his medication and gone off the rails, thereby threatening a huge corporate merger. Clayton slowly realizes that the litigator's madness may stem from the case he's investigating — a chemical company's multibillion-dollar environmental settlement — and as the minder's own allegiances shift, he finds himself in danger.
As a corporations-are-scum morality tale, the film is hardly unorthodox, but it's uncommonly smart in its writing, and sharply acted by its principals — including Tilda Swinton as a corporate counsel who's professionally chilly, but made to sweat plenty by Clayton's discoveries. Gilroy's direction is crisp, unhurried, and except for a couple of dead ends in the script — the title character's family story doesn't go anywhere — as taut and controlled as the performance of his leading man, who's likely to be remembered come awards time.