Costa Rica's Señor Scissorhands
Costa Rica's Señor Scissorhands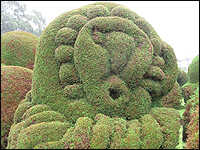 Correspondent John Burnett was on assignment in Costa Rica late last year when he happened upon a most unusual garden, and the gardener who had the inspiration. He filed this reporter's notebook:
It was 10 years ago when I first visited the highland town of Zarcero, in Alajuela Province, Costa Rica, with my wife, Ginny, and our children, Willie, Grant and Helen.
We had come to see the famed topiary garden in front of the pink and blue Iglesia de San Rafael.
The kids were enraptured, racing around the more than a hundred juniper bushes sculpted and clipped into whimsical shapes.
When I returned in November, just as before, the gardener sauntered out of the groundskeeper's house with a welcoming grin.
Evangelista Blanco Brenes — a dapper man with a mustache, a fedora and a pair of hedge clippers — created his fanciful garden in 1964, and he's been expanding it for the past 44 years.
He delights in taking a visitor on a tour, pointing out the giant rabbit, the helicopter, the airplane, the baskets, the monkey on a motorcycle, the dancing couple.
There's a peacock, a dinosaur, an octopus, strange masks, Christ carrying a cross, and an oxcart — the Costa Rican national symbol. The local favorites are the 16 growing green arches leading to the Catholic church. His living sculptures require constant trimming. The snipping releases a wonderful fresh evergreen scent.
"It's so much, it takes a month to trim them all," he says, "and when I'm finished, it's time to start over."
He says he gets his brother, Benedicto, to help him.
Topiary has been around since the time of Julius Caesar, reaching its zenith in English gardens, where shrubs were pruned into architectural shapes.
With the eccentric topiary garden of Zarcero, the 64-year-old Blanco has found his life's calling, and his medium for sharing his philosophy.
Scattered between the green shapes are hand-lettered signs:
--"Persevere and you shall succeed."
--"No one is better than another."
--"Dedicate yourself to love and peace."
I'll suggest another aphorism: "If you let your mind wander, keep your hedge clippers sharpened."