Steampunk Brings Victorian Flair to the 21st Century
Steampunk Brings Victorian Flair to the 21st Century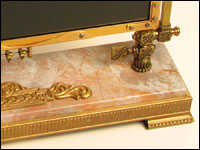 Imagine a computer monitor with polished brass fittings, a laptop equipped with a Morse code key or a document scanner nestled within an embossed leather casing.
Props from a science fiction movie? Not exactly. Rather, they're all embodiments of steampunk, a new literary, artistic and design trend that blends modern-day technologies with Victorian-era aesthetics.
Steampunk is partially a backlash against the mass-produced, sleek — and sometimes boring — look of modern-day consumer technologies. Each steampunk object is forged or soldered by hand, and many are powered by steam.
"Steam is such a beautiful source of energy," explains Zachary Rukstela of Kinetic Steam Works. "There's just so much motion in a vintage steam engine. The rhythm of a steam engine, it just creates a great sensation in everyone who comes close to it."
Kinetic Steam provided power recently to the San Francisco "World's Faire," a turn-of-the-century party, complete with period costume, period art and steam technology.
"The steampunk aesthetic is obviously science fiction," says Daniel James, CEO of Three Rings, a video game company in San Francisco. "It's just saying, what if it was modern day but the Victorian [aesthetic] was still the style and the fashion?"
Three Rings' headquarters features a steampunk-themed work environment, with nearly half of its offices resembling the Nautilus, the submarine from Jules Verne's 20,000 Leagues Under the Sea. There are nautical fittings around the door archways, Victorian-era furniture and lighting, even a bookcase that swings back to reveal a secret room.
Sean Slattery, who goes by the online moniker Jake von Slatt, runs the popular steampunk Web site, steampunkworkshop.com. Slattery has created a computer keyboard with a manual typewriter, and his latest project is converting a 20th century Mercedes to steam power.
"If someone from the 19th century came and looked at these things ... I think they would think that they looked normal," says Slattery. "They wouldn't be as interested in them as they would be in the sleek beige plastic versions of the same thing, because that's what would be new and different to them."
Web Resources