Do Superdelegates Hold Super Powers?
Do Superdelegates Hold Super Powers?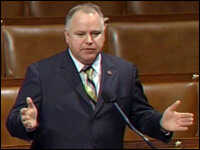 Unpledged GOP Delegates
Republicans do not technically have superdelegates. They do have 463 unpledged delegates that function in a similar way, however. Of those, 123 are members of the Republican National Committee. Though they are not bound by the electoral decisions in their state or district, they are likely committed to a particular candidate.
There is something magical about the term, "superdelegate," as if it's a representative with superhuman powers who might fly in at the last minute to save the election.
This is not totally far from the truth. Unless, of course, you don't approve of how the political superheroes use their special abilities. (Or, if you are a Republican. Technically, there aren't any superdelegates in the GOP).
Democratic hopefuls Hillary Clinton and Barack Obama emerged from Super Tuesday neck and neck, separated by less than 100 delegates by most counts. This suggests — if the race continues to be similarly tight — that the technically uncommitted superdelegates could impact the final outcome.
If you don't know what a superdelegate is, don't feel bad. Even Superdelegate Tim Walz, a freshman Congressman from Minnesota and former high school civics teacher, admits that for a long time, he had no idea what belonging to this group entailed. He discusses his experience as a superdelegate with Madeleine Brand.
Who Are These People?
Superdelegates are elected officials, such as Walz, and party leaders, including former presidents (such as Bill Clinton), former vice presidents (such as Al Gore) and members of the Democratic National Committee. They make up roughly 20 percent of the total delegates.
Although superdelegates are "unpledged," meaning they are permitted to back any candidate they want at any point during the process, Walz has resisted throwing his vote to anyone until now.
"The reason that I've stayed out of voicing a public opinion is that I've felt that it was the citizens and constituents of my district and state's responsibility. My take on it — let's just let the people make up their mind and we'll cast it according to that," he says. "I don't believe I have any special insight to be a special delegate."
Not everyone feels this way. The Democratic Party devised the superdelegate system following the presidential election of 1972, when George McGovern lost to former President Richard Nixon in a landslide. Had party officials been more involved in choosing a nominee, perhaps they could have helped picked someone better-suited to win a national election, the logic goes. An exceptionally close primary is required, however, for this elite group's "super powers" to hold any sway.
The Dangers of Back-Room Politics
Presidential hopefuls are free to court the superdelegates — many of whom, like Walz, are also up for re-election. Walz admits that campaigning can get "back-roomy." A candidate is free to entice a superdelegate with allusions to past and future favors.
"The campaign says you've gotten help from these people, we try to say, 'Thank you, but we are going to stay neutral,'" he says. "I would hate to see a back-room deal make the decision when the people are voting on this."
Although Walz holds a coveted superdelegate position, he admits that the system is not without its flaws. It troubles him that superdelegates could potentially override the decision of voters.
"I think it should be more direct election," he says. "I think what I saw last night is what it should be: loud, chaotic, passionate. It was the people."