Brazile: I'll Quit DNC Position Over Superdelegates
Brazile: I'll Quit DNC Position Over Superdelegates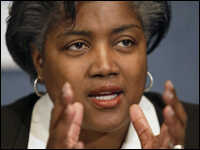 Democratic strategist Donna Brazile — who managed Al Gore's 2000 presidential campaign and is herself a superdelegate — says she will quit her position within the Democratic Party if her superdelegate colleagues decide the party's nomination.
"Let's wait for some of these other states to help sort this out," Brazile, a News & Notes contributor, told Farai Chideya.
As Hillary Clinton and Barack Obama continue to run neck-and-neck in amassing the total delegates needed to win the nomination, some have suggested that the party's superdelegates — comprising party activists and high-ranking officials — could make the deciding vote.
But Brazile says the superdelegate vote "should reflect the will of the people."
Brazile is a nationally syndicated columnist who also teaches at Georgetown University. She is the author of Cooking with Grease: Stirring the Pots in American Politics.
Related NPR Stories