Kendrick Scott: Consulting the Jazz 'Oracle'
Kendrick Scott in Studio on WBGO 2008
Just the Music
Kendrick Scott in Studio on WBGO 2008
Kendrick Scott in Studio on WBGO 2008
Kendrick Scott in Studio on WBGO 2008
Performers
Kendrick Scott: drums
Fabian Almazan: piano and Fender Rhodes
Derrick Hodge: bass
Mike Moreno: guitar
John Ellis: tenor saxophone and bass clarinet
Credits
Producer: Josh Jackson
Mix: Darren Jones, assisted by Yujin Cha and David Tallacksen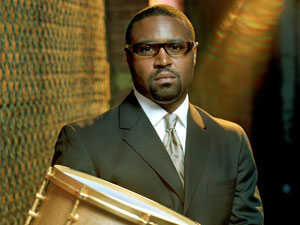 Oracle. What an intriguing name for a jazz ensemble — one that conjures prophecy, divination, mythological seers and soothsayers. It's also reminiscent of drummer Kendrick Scott's inspiration: another drummer-led group, Art Blakey and the Jazz Messengers.
Kendrick Scott brought his group, Oracle, to the WBGO studio to play music from his self-released debut, The Source. The quintet plays three Scott originals, including "Memory's Wavering Echo," words borrowed directly from Rainer Maria Rilke's Letters to a Young Poet.
Every language has a poet. Consider the language of jazz, which happens to have many. New composers in jazz function like emerging wordsmiths. They inject the narrative of humanity with a fresh shot of adrenaline, and they reinvent the basic vocabulary of a cultural tradition. Scott is a new voice in jazz. He is a drummer, a composer, and a 2008 recipient of the ASCAP Foundation Young Jazz Composer Award.
Scott's music doesn't lay so easily in the beat, as one might expect from a drummer. "Whenever I'm composing, I'm actually singing melodies," he says. "I'll call my voicemail and sing a melody into the voicemail. Then when I get home, I sit down at the Fender Rhodes or at the piano and I'll try to harmonize it. And then I'll come up with some rhythms. Melody is first, harmony is second, and rhythm is actually third."
The results are often sprawling, cinematic compositions like the twofer, "Retrospect/View from Above." It's worth the wait, seven minutes into the medley, to hear guitarist Mike Moreno and pianist Fabian Almazan in cascading harmony. This kind of heightened interaction and listening is the result of directing live action in the moment.
Scott learned some valuable lessons when he recorded his debut release, The Source, on his own label, World Culture Music. He labored over every minute detail until his mentor, Terence Blanchard, offered some advice about making records. "It's just a snapshot of who you are at this moment," Blanchard says. "This record doesn't define your whole life. And hopefully after this moment, you'll have more and more records to document that."
Our session with Oracle ends with "The Source," featuring an introduction from bassist Derrick Hodge, Kendrick Scott's bandmate in the Terence Blanchard Sextet.
Mysticism aside, it takes more than a drummer and composer to give Oracle its power.
"The band itself is the oracle, not just me," Scott says. "They send out the messages, and it's free for whoever is listening to interpret however they feel the music should be. You go to the oracle not to get the answer, but to find out what the question is. So you can get to the answer."
Listen to the previous Favorite Session or see our full archive.
Web Resources