Corporations Play Financial Role in Campaigns
Top Campaign Donors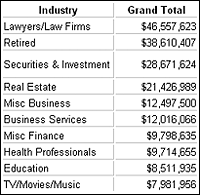 Center for Responsive Politics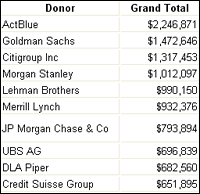 Center for Responsive Politics
In Depth
Read an overview of the major presidential candidates' money outlook, based on their most recent federal filings.
Bundlers are the super fundraisers of the presidential campaigns. A primer on how they work:
Political campaigns run on lots of hard work, ideas and, of course, cash. While corporations are prohibited from contributing directly to candidates, they are nevertheless big players in the political money game.
While their motives can be ideological, their goal is often gaining access to the halls of power in the next administration, says Massie Ritsch of the nonprofit Center for Responsive Politics.
"People give money for all sorts of reasons," Ritsch says. "It can certainly be ideological, that they [agree] with a candidate on an issue. But we also know that [contributors] are looking for access, that they are looking for something in return if their candidate gets elected. And they will ... hedge their bets."
Lawyers and law firms have consistently been the biggest contributors to presidential campaigns, and this year is no exception, Ritsch tells Steve Inskeep. And although the oil and gas industries are big givers, college professors and others in the education industry give even more.
'The Mutual Funds of Politics'
Corporations are prohibited from directly donating to candidates, but they can form political action committees that do contribute to campaigns.
PACS are like the "mutual funds of politics," Ritsch says. "You, as the employee of the corporation, are asked to give to the PAC. You believe in the general investment direction of it, but you don't get to decide where the money goes. The corporation — the PAC — decides that. Unions have PACs. Ideological groups, like environmental groups, gun-rights groups, they also have PACs."
And, in a practice known as bundling, individuals can hold super fundraisers, events at which friends are asked to contribute to a particular candidate.
Other big givers this election cycle are investment firms. Goldman Sachs, the largest corporate contributor, based on donations from its employees, has given more than $1.5 million to presidential candidates, Ritsch says.
"If you read the top 10 list, it reads like a Yellow Pages for Wall Street," he says.
Among the top givers, most of the top 20 are favoring Democrats — a big shift from previous cycles, according to Ritsch.
If it seems like they're covering their bases, they are, says Ritsch.
"It's important that they have access to whoever is going to be leading our country," Ritsch adds.
Unions give relatively little cash to the campaigns, he says. Rather, their value to the candidates is in turning out support at the polls.
Related NPR Stories
Web Resources